Guess what!!! My dad has been given the all clear to go to the beach! His Dr had him do a few test….all came back negative…no cancer present! Praise God:) He will be having another surgery on his bladder in May to basically begin to heal his bladder from the inside. We are beyond thankful and relieved. Thank you so much for all your kind emails and prayers. It means so much to me and my family:) My parents are going to be leaving for the beach early this morning. They will be there for almost a week. My dad will be doing a bunch of projects for us…and my mom will be helping I am sure (in between beach breaks:) I will keep you posted:)
Like I said before…this tutorial will not go down in history as the most stellar tutorial ever….but I hope it gives you a good idea of how to go about building your own outdoor shower. Our beach house only has one full bathroom….so an outdoor shower was on the top of our list for things to do. It makes summertime rinse downs so easy. Come right off the beach and shower…leaving all the sand outside:)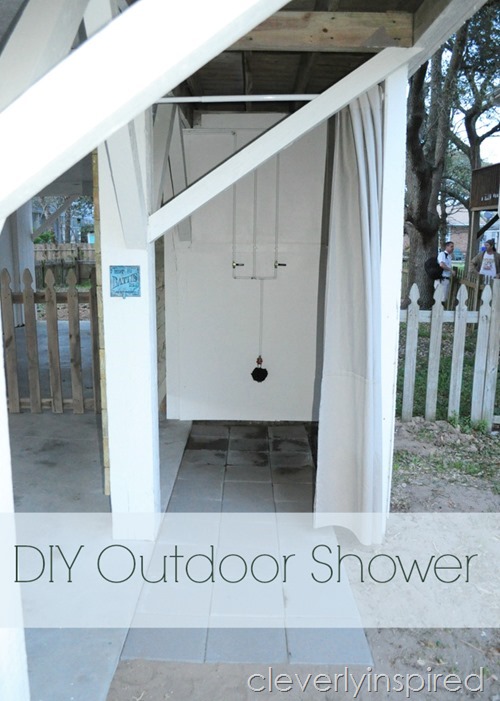 We decided to place our shower under the deck. It provided some privacy and some stability for our structure. We wanted to speak to a plumber first to be sure the hot and cold lines could be run to the area we wanted to build the shower. The plumber came and told us no problem and to just call him when we had the shower built. The cost for him to run hot and cold was $400. Not bad for a new bathroom (well, half a bathroom I suppose:)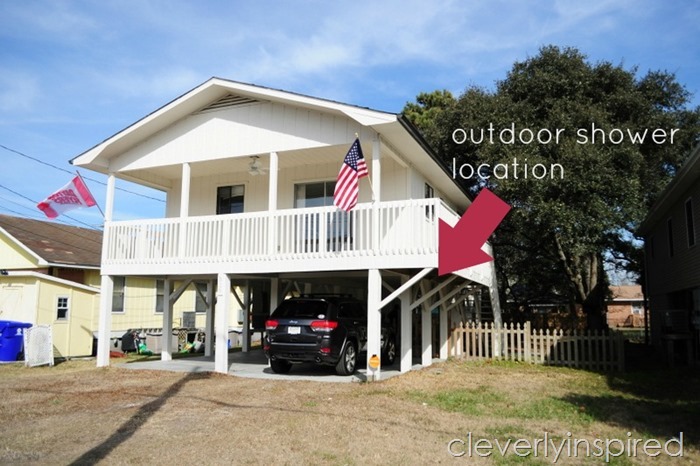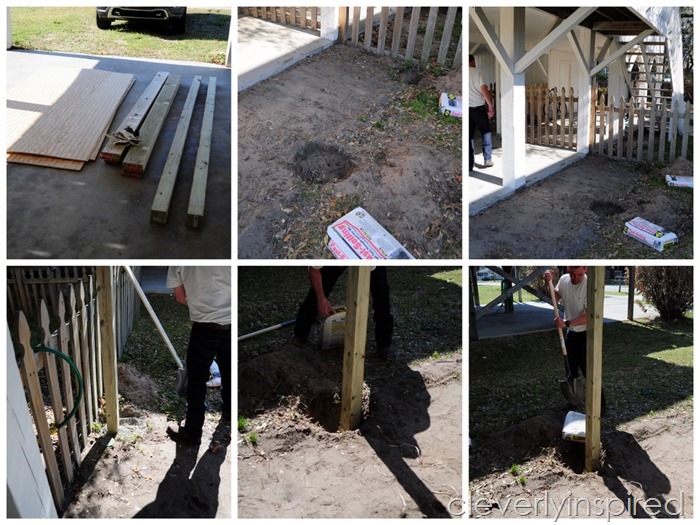 So we (and I use that term loosely, hubs did a lot while I was really busy reading on the beach:) began by digging a couple of holes for the 4X4 post we were using to support the one side of the shower…
He dug the holes about a foot deep….I held the post and we made sure it was level. He secured the post to the bottom of the deck with long screws (to hold in place while the quick-crete cured). One bag of quick-crete for each post was plenty. We let that set up.
This is the point where I took my beach chair and headed to the beach….so it might get a bit sketchy on the details here:)
We used beadboard panels for 2 of the sides. Our plan was to cover all the wood with exterior paint. Everything deteriorates fairly quickly at the beach. The salt, sand and sea air just break things down a lot quicker. We are hoping that we will be able to maintain the shower with a few coats of good quality exterior paint every year (which is basically what my Grammies did at her beach house.) Time will tell I suppose…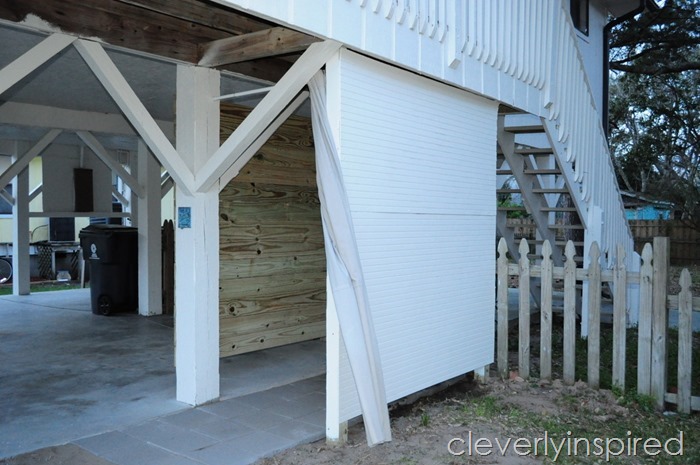 On the other side of the shower, we used treated wood boards. I will paint these the next time we visit. We wanted something a bit more sturdy on this side so that we can have hooks and maybe a bench attached in the future….a "landing spot" for beach items.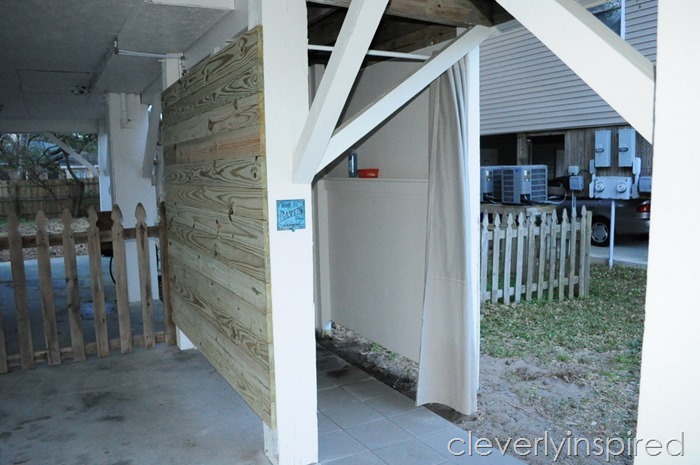 After we had the shower built the plumbers came back to run the lines. We are pretty much set to go…except we need to construct a door—the curtain blows around too much…and I am not a fan of peep shows:)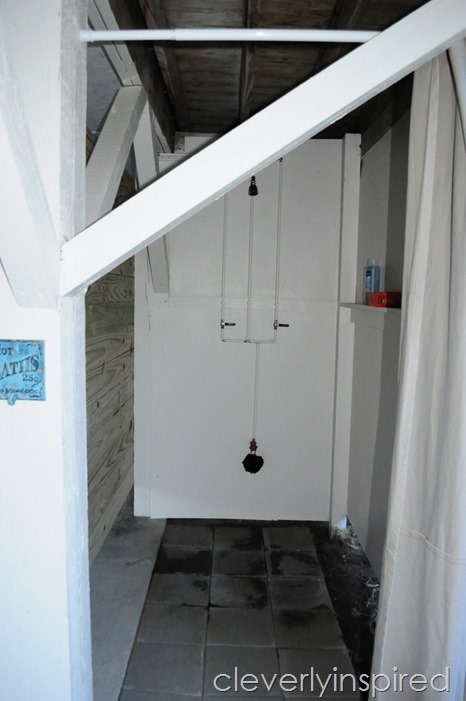 The last thing to do was lay some pavers. Since my honey is in the concrete and asphalt business…he is very versed on leveling and all things "ground" related. He leveled the sand so that the run off would go away from the house. We plan to spread some more sand in between all the joints when we go back next time (and I am thinking of maybe painting a stencil on them with outdoor paint to dress them up a bit:)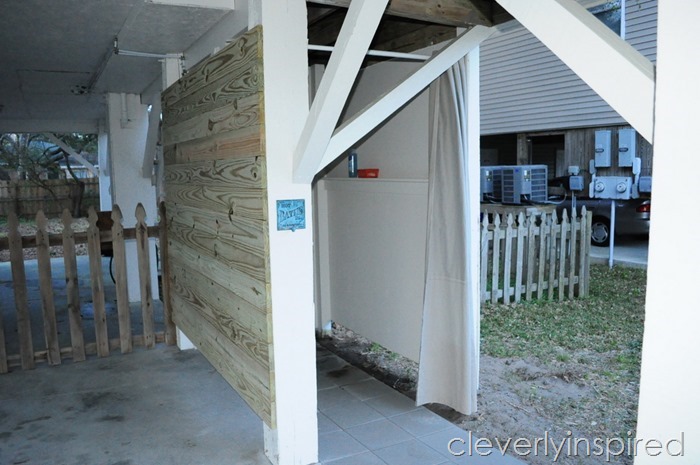 I hope that makes sense…a little bit:) We really love how it turned out so far…of course I already added a cute little hook for towels. I can't help myself:)