Hey yall! Hope you had a great weekend:) We returned from the beach on Saturday and laid low pretty much. Hallmark movies may or may not be taking over my life…I am ok with that though:) I did finish..( in no less then 2 days)…an amazing book my bff recommended…(she never fails with recommended reads…not once.) The book is called The Girl You Left Behind by Jojo Moyes. Oh my goodness….I couldn't put it down…and hubs was thrilled that I brought it along on our mini-vaca…. #ornot… haha. Anywho, if you are looking for a book….get it today!!! The Girl You Left Behind: A Novel
I have used the cheapo cedar fence parts before….long time ago when I made a art piece for my friend Patti. They are really affordable…possibilities are endless for small craft projects or large ones like this! I will show you the rest of the porch on Wednesday….but before I get to editing all those pics I wanted to share with you this very large Christmas sign that cost just under $10! An easy afternoon project too…would be such a nice gift to give too. I painted mine in candy cane stripes….but obviously you are only limited by your imagination. GO crazy I say! Here is how I put mine together and finished it to look a bit aged…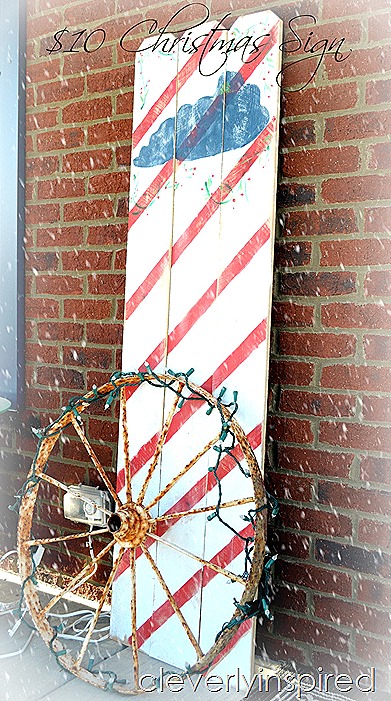 I got three pieces of cedar fencing from the hardware store put them together similar to the sign that I showed you last week and painted it. I used a few pieces of scrap wood I had….along with some wood screws.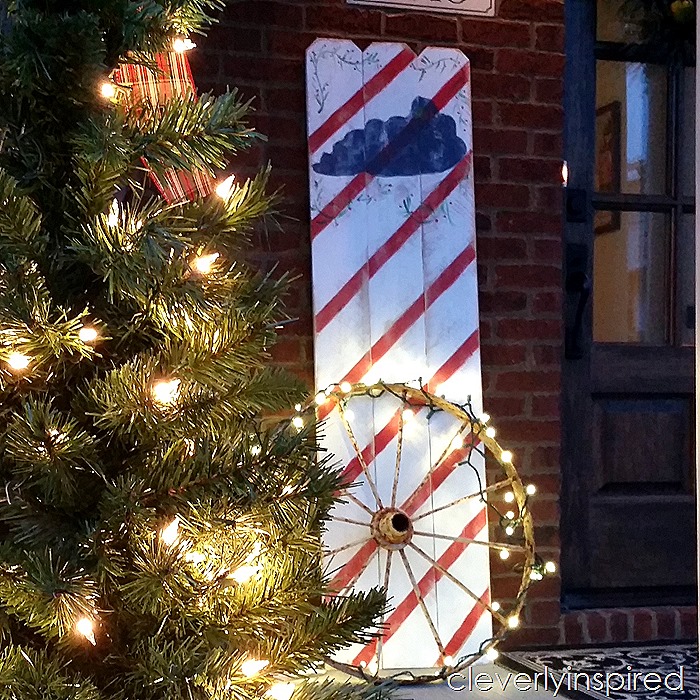 Then I used some painters tape and put some diagonal stripes (no I didn't measure…total eyeball job…)  I painted them with white chalk paint…although any paint will do really… When the white was dry I removed the tape and filled in the stripes with red craft paint.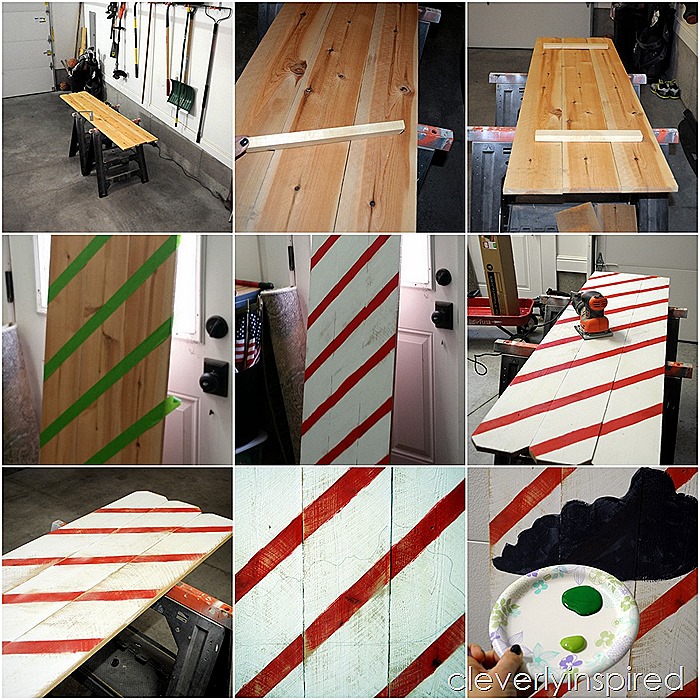 I wanted to age it a bit so I rough sanded it after it was completely dry. I traced the state of Kentucky (just printed a stencil I found online) and painted that in blue along with some holly vines with red berries with just some craft paint. I sanded the whole thing down again when it was dry….
I think it looks so sweet behind the vintage wagon wheel that I wrapped with lights:)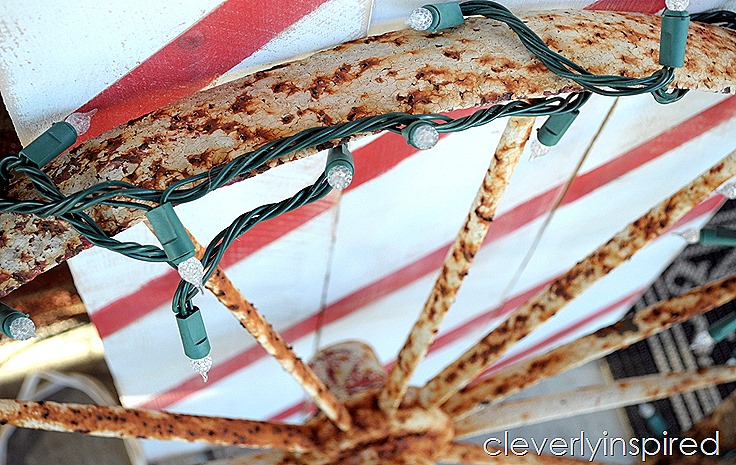 I'll show you the rest on Wednesday….so be sure to grab some coffee and stop by:) Have you decorated yet? Share pics with me so that I can share with everyone:)
xo