Wow….73 degrees here yesterday! Springtime is in the air. Every year when March 1 rolls around we get a few 70 degree days, and you can feel the end of winter is in sight. And, right about this time of year we all start to think about celebrations….and with that comes yummy desserts :)
Everything in mini form is so cute…. puppies…babies…kittens… and waffles of course! This month, I was challenged to create a fun and easy dessert for you to serve at your upcoming Easter brunches and springtime parties. I was up to the challenge and headed straight for my grocer's frozen section to find ready-made (and super convenient) waffles—Kellogg's Eggo has some of the best—along with some of my family's favorite ice cream flavors to create a unique and utterly delicious dessert for your guests.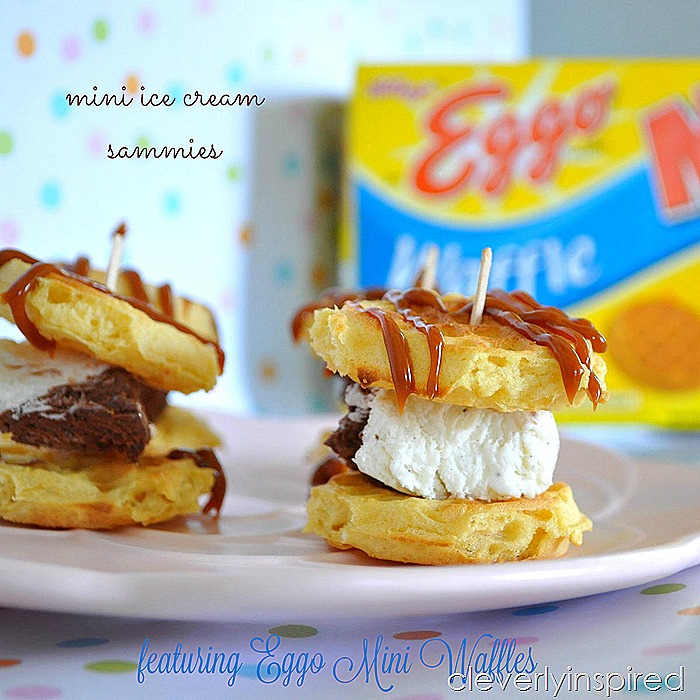 These ice cream sandwiches can be assembled a bit ahead of time–just toast the waffles and then you can let your guests make their own and customize the ice cream flavors and toppings. Or, you can just assemble them when you're ready to serve. They're so versatile and can be drizzled with your favorite whipped cream or decadent sauces like caramel, marshmallow or chocolate. They are also super delicious all on their own and eaten as is, directly from the box. It's a fun (and so easy) little take on an ice cream sundae bar in waffle form.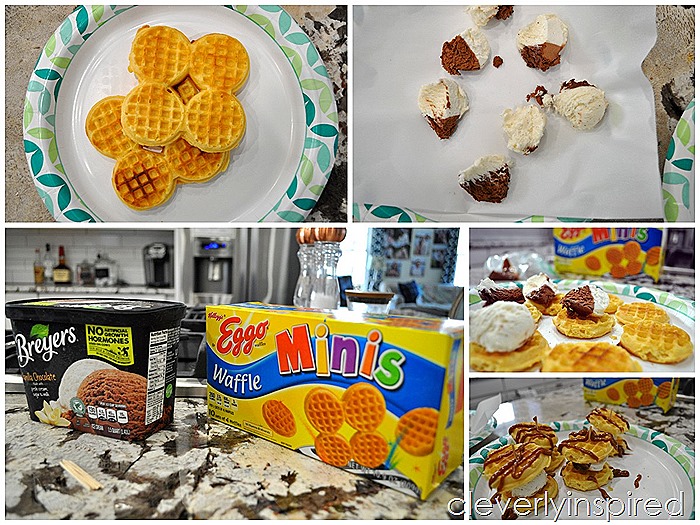 Here are some tips for preparing these adorable sandwiches:
1. When preparing for a crowd, toast the mini waffles in the oven so that when everyone is ready for dessert, everyone can assemble at the same time.
2. Toast waffles at 425 degrees for about eight minutes, and flip halfway through.
3. Scoop out the ice cream onto a piece of parchment paper, and place the little balls in the freezer.
4. Guests can choose their ice cream and make their own sammies.
5. A toothpick is helpful to keep the bite size dessert in place.
March is National Frozen Food month…so it's the perfect opportunity to check out some of the great new products from your grocer's freezer aisle. In our house we love the quick and easy Eggo waffles. They warm up quickly—slap with some peanut butter and a banana and you are out the door. Another great treat is frozen waffles with Nutella….mmmmm!!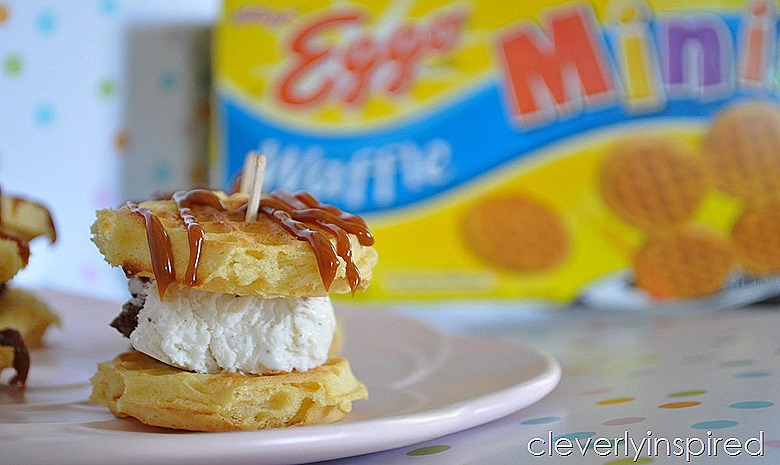 It's a fun little take on an ice cream sundae bar waffle form:)
I am a brand ambassador for the NFRA (National Frozen and Refrigerated Foods Association) & a member of the Cool Food Panel. I have been compensated for my time spent writing this post. All opinions, photos, and thoughts are 100% mine own.