Hey yall….I'm undecided as to weather or not I will be posting next week. I know that many of you are taking off and enjoying the week long holiday as we head to Christmas Day! I thought that I would share something completely unrelated to the holidays today. A few of you were curious about the home that I helped design—wanting to see how it looked when it was all done. We implemented some really cool features in this home that would work well in many different areas of your own home. (home built by Mark Simpson Builders)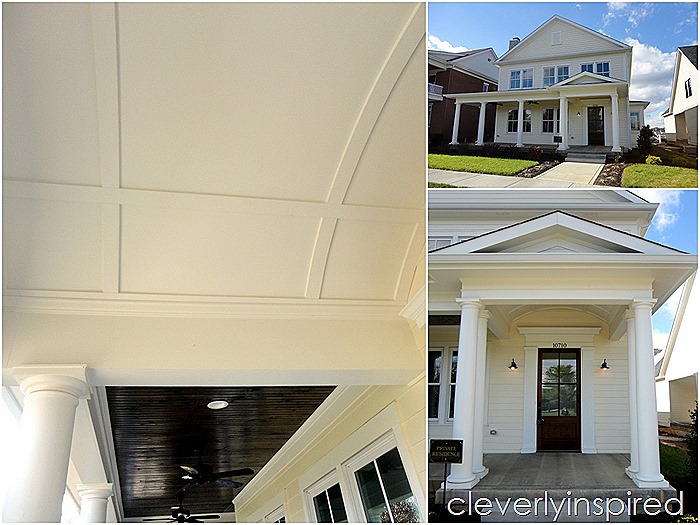 We start off at the entry….a barrel ceiling near the door. I love the trim detail here! Very subtle and not too expensive to do but has a big impact! The exterior colors I chose are Crème by Sherwin Williams for the siding. Pure White for the trim. The stained ceiling and door are Jacobean by Minwax.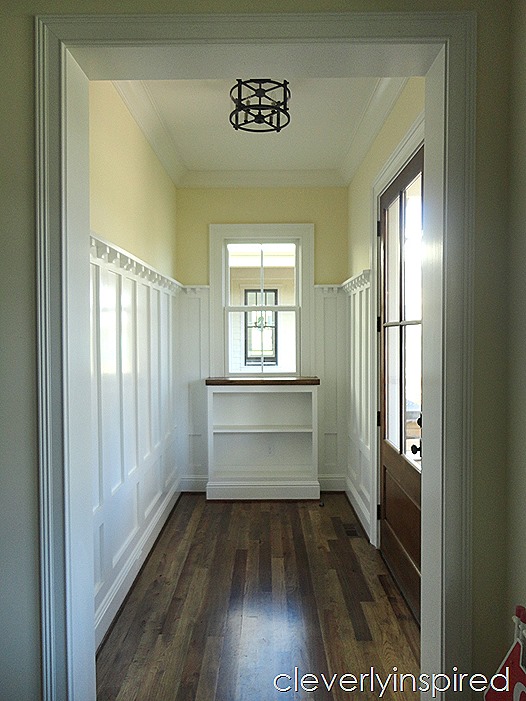 You enter the foyer which isn't that big….but I love that it still feels like a room onto itself. We chose classic board and batten trim with a picture shelf above…along with a custom made bookshelf. The wall color is Crème by Sherwin Williams. The floors are hickory stained Jacobean.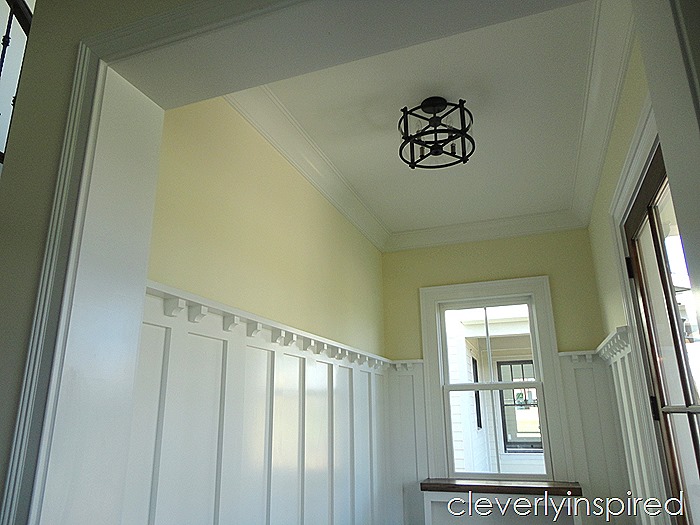 You continue walking into the family room….which is also Crème by SW. A simple ceiling echoes the ceiling on the exterior barrel vault outside….Light is from World Market and is the same light that hangs in our dining space:)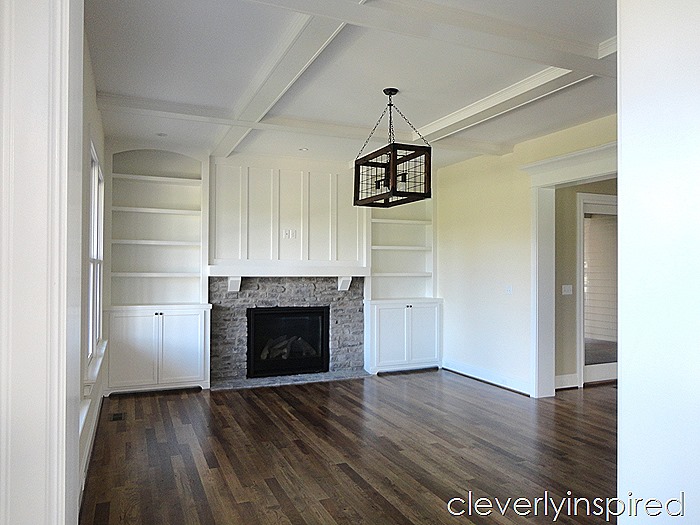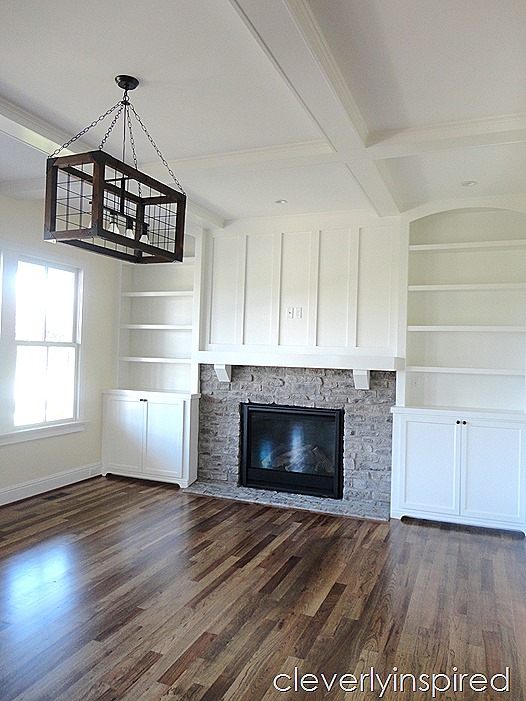 You then enter the open kitchen and dining space….this is a bit different than our home. This dining space is a bit smaller but it has a nice open bar and seating space….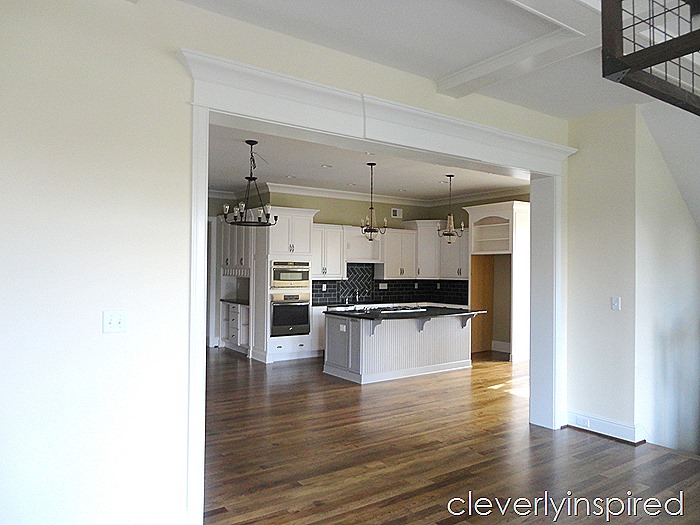 I chose white cabinets with a grey island….honed black granite counters….black slate subway tile with white grout….the color on the wall was originally pale blue—but the builder chose to switch it last minute to tan—and I am not positive what color this is…sorry!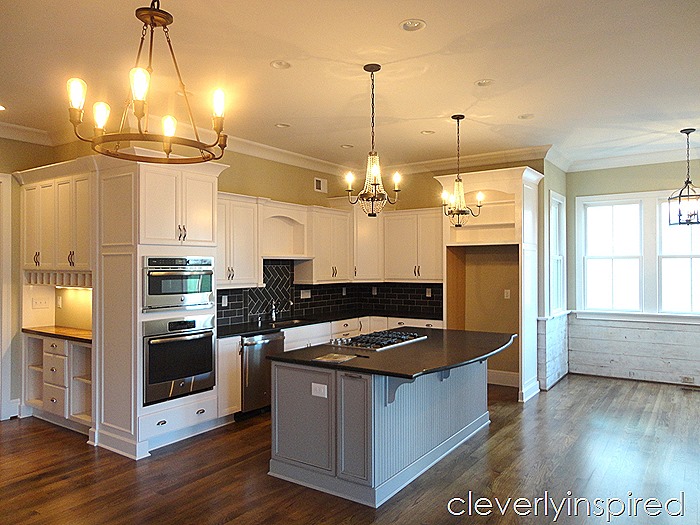 I adore this backsplash….clean and simple but yet kind of farmhousey….I love it!!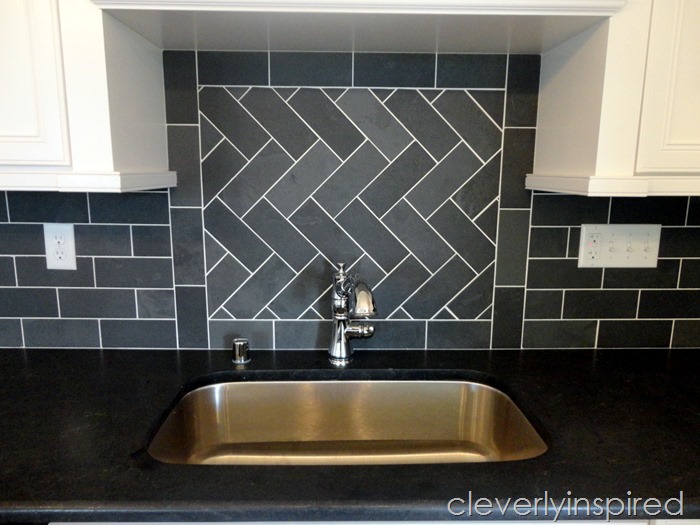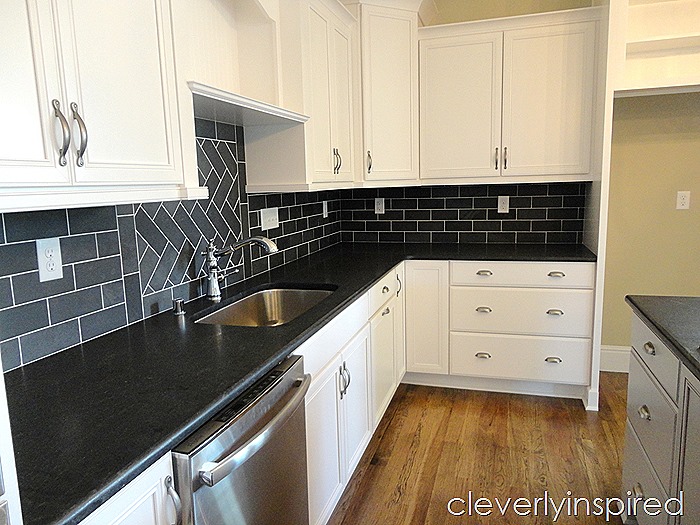 In the sitting area by the bar we did "shiplap" 8 inch pine. We originally stained it grey—but it looked a bit blue….so I had the painter paint it white….then sand it…then glaze it a bit with stain. Perfect!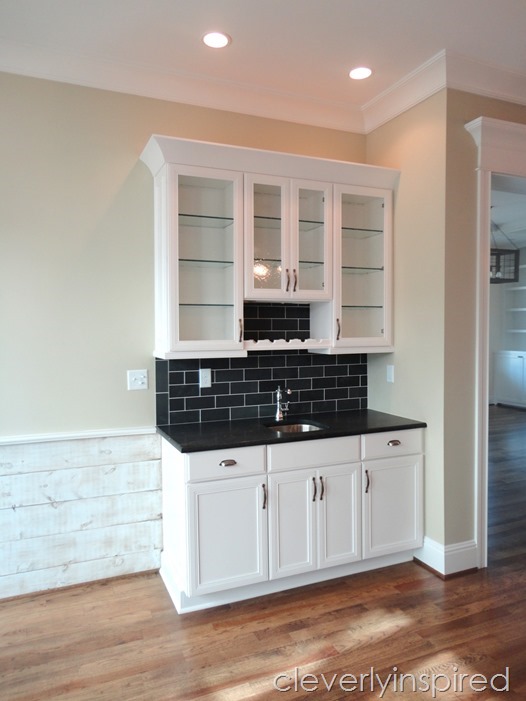 Lighting came from Brecher's (which is a local shop here in Louisville.)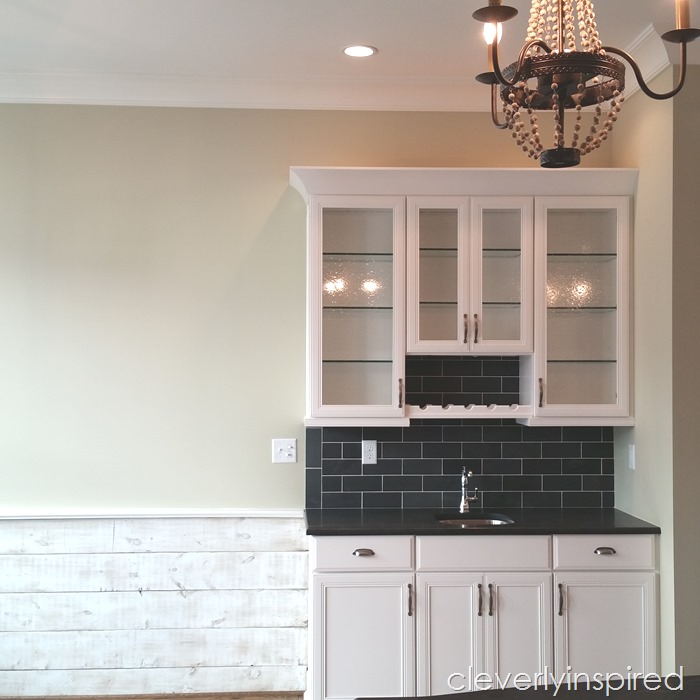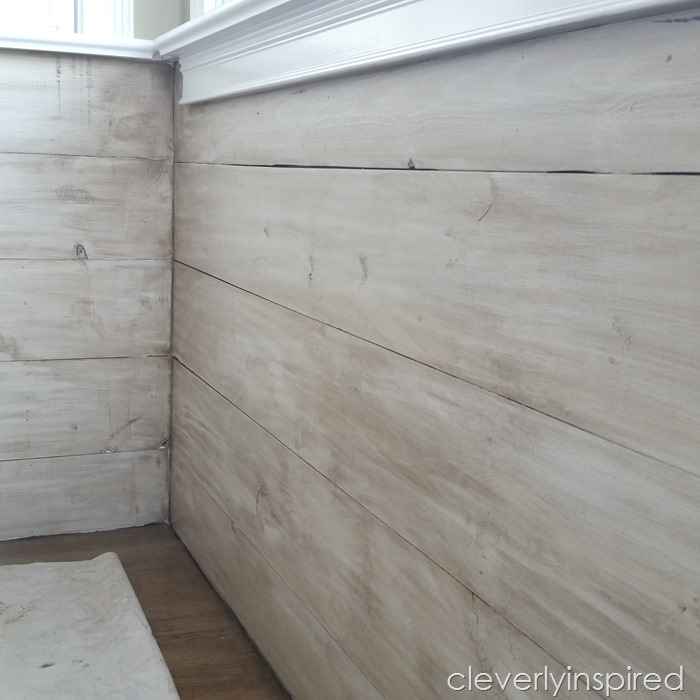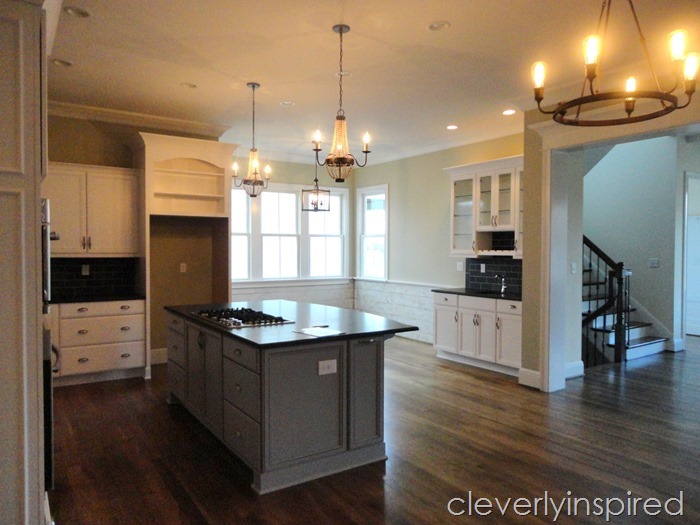 Across from the pantry we made good use of this small hallway area with a command center….cubbies and drawers along with some ample storage above. The top is the wood floor (hickory) that we did in a pattern and stained Jacobean.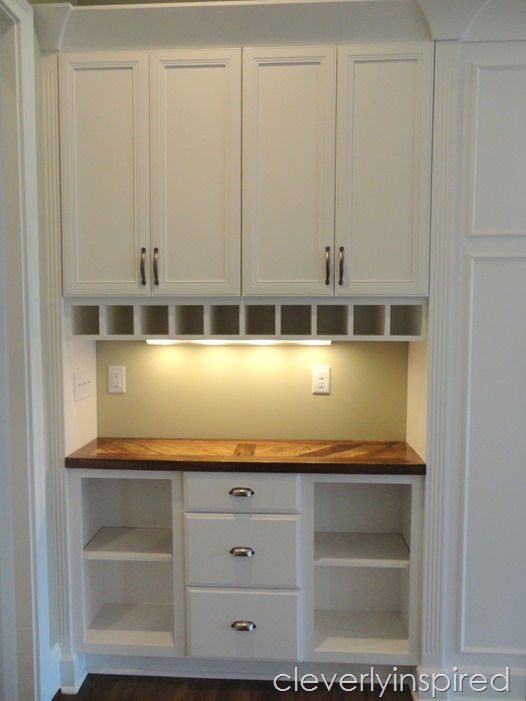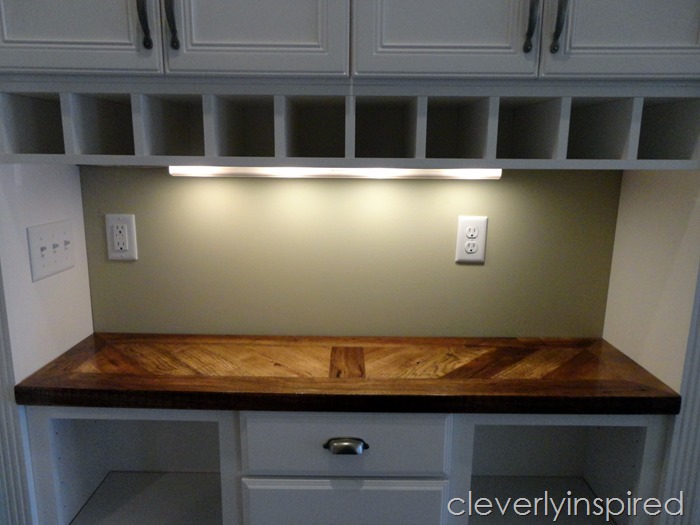 The master is in the back of the house…a gorgeous vaulted ceiling with beams….light is from Ballard Designs…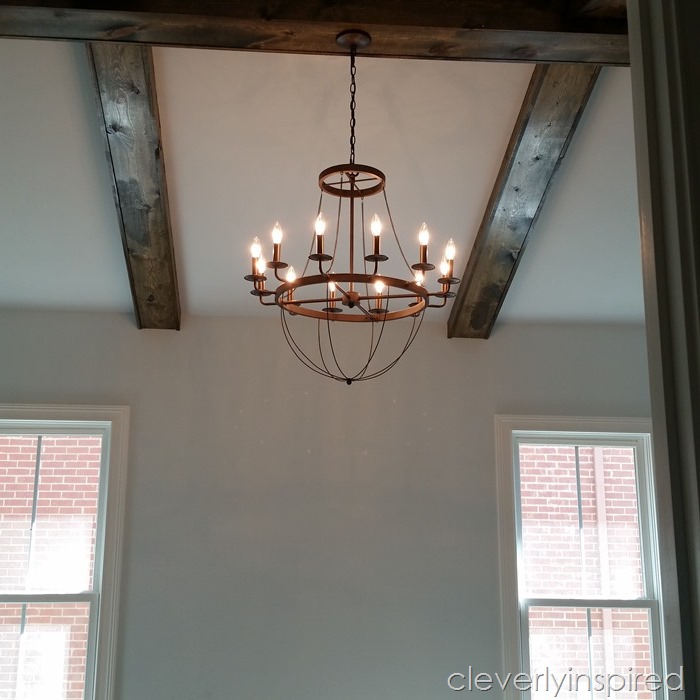 This house sold and folks already moved in and have Christmas decorations up:) Makes me so happy—I love seeing how these houses come together and then seeing families move in and enjoy them:)
Hope this little tour gave you some ideas for your own home:) Have a great weekend friends! Also, if you want to see a few more pics of the behind the scenes on these homes that I help design you can search #cidesignhome :)
And by the way….I am available to help you with any room you are stuck on in your home. Gift cards available too:) See this page for more info…
xo