I told you all last week about the table situation in our dining area. We were able to bring home our new handcrafted table late last week and we are completely loving it! It fits the space so much better than the other table. We got it locally from a woodworker in Taylorsville, Kentucky. I found him at a local peddler's mall and took his business card. If you are local….you can find them on the web at Hahn Country Woodworks . He was able to build a table exactly to our specifications. We are really loving how it turned out! Come and take a peek…..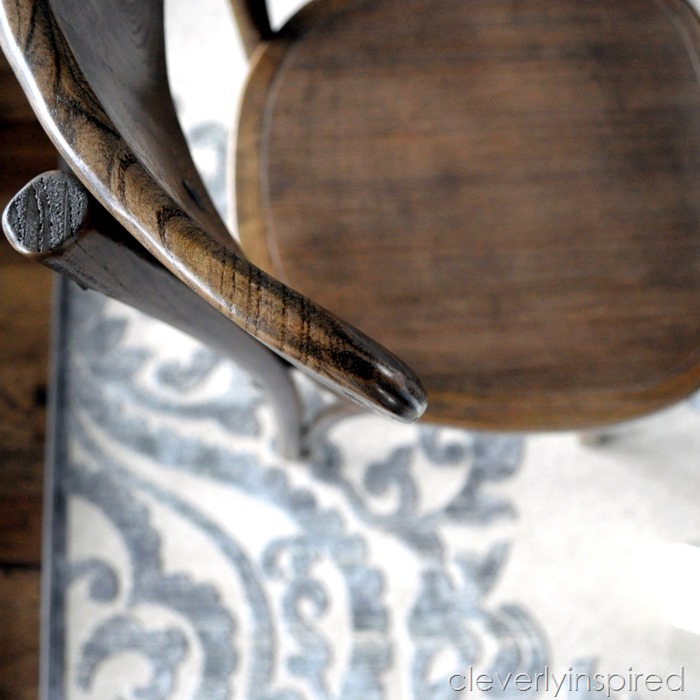 I tried to take pics of several angles incase you may want to commission a woodworker in your local area. It really is simple construction….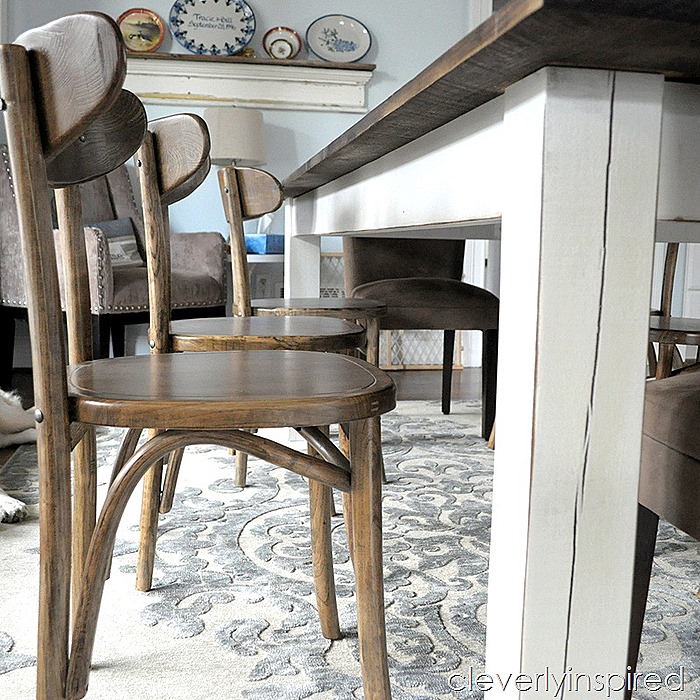 He ended up using two pieces of reclaimed walnut and two pieces of maple reclaimed for the legs. I decided on a very rough whitewash finish for the legs.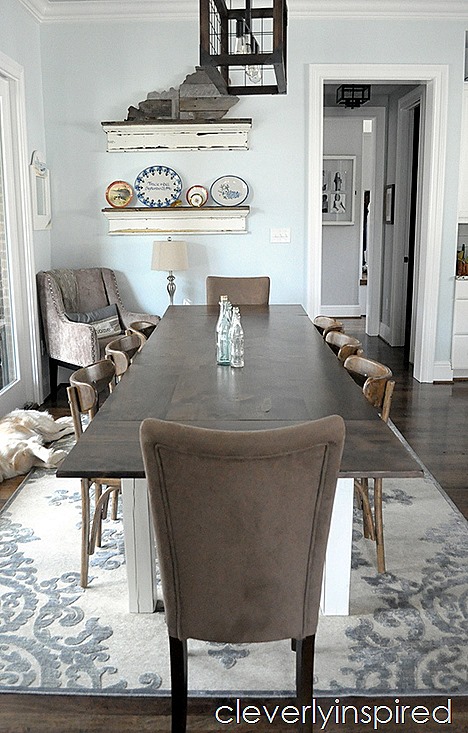 Top is solid pine. It is stained Minwax walnut. The satin polyurethane finish makes it look older than it is—we didn't want it real shiny. I told him that I would love to have some extensions that I could push into the ends so that during the busy holiday periods or if I had a bigger dinner party I could easily accommodate 12 people.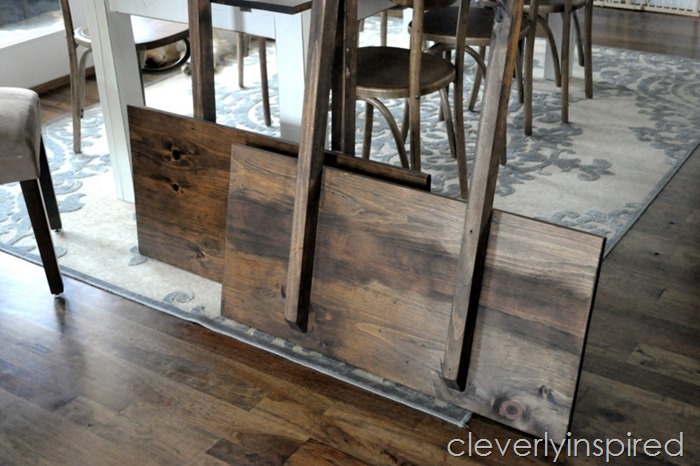 What we ended up doing is creating two 18 inch extensions for both sides that literally just slide into two holes that he fit on the ends. It really is fairly simple construction. (Stella is a fan too….such a big help she is….)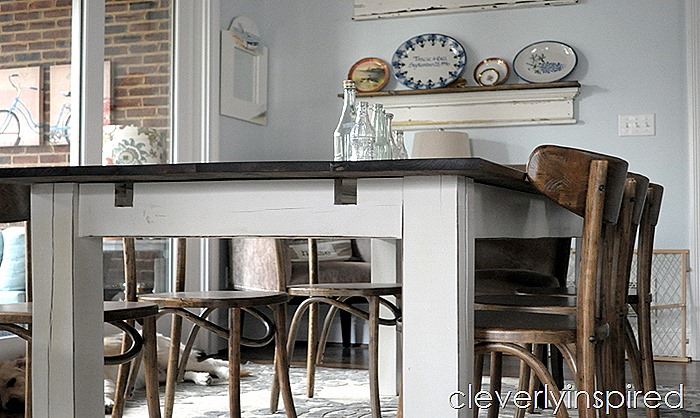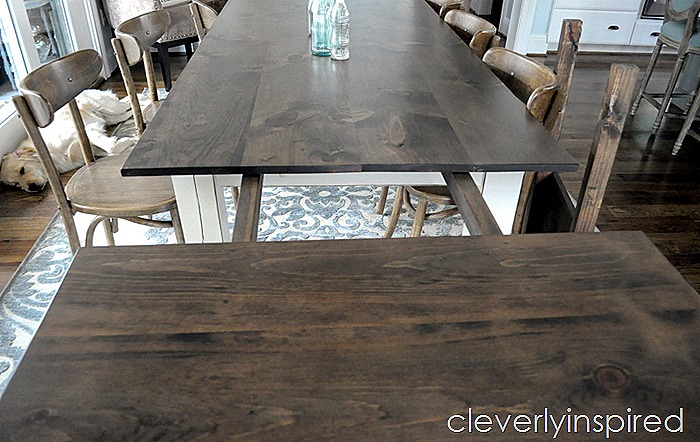 You might think that this is a really expensive option…but we thought the table was really affordable. We ended up selling our Pottery Barn table along with four parson chairs for $630. I bought this table for $650 dollars. And $200 of it was actually the extensions. The everyday size of the table is 90×38. With the extensions the table is 126…10.5 FEET of table for $650!!!!! Solid wood!!! Can you tell that I LOVE this!!!!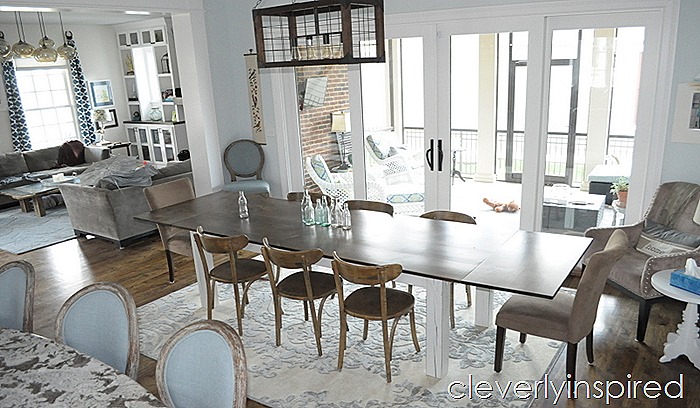 I bought the wooden chairs on Amazon (these are similar… Adeco Elm Wood Woven Rattan Vintage-Style Dining Chair Curved Leg Contrasting Back (Set of 2), Tan
….they are such a nice compliment….and actually quite comfy. My plan is to have slipcovers made for the parson chairs…maybe in this blue ticking fabric….still thinking on that…
If you are interested in having your own table made try looking at a  local thrift shop or flea market and asking for a good carpenter. Most carpenters who do trim work also know of or do furniture themselves. Might be a good place to start.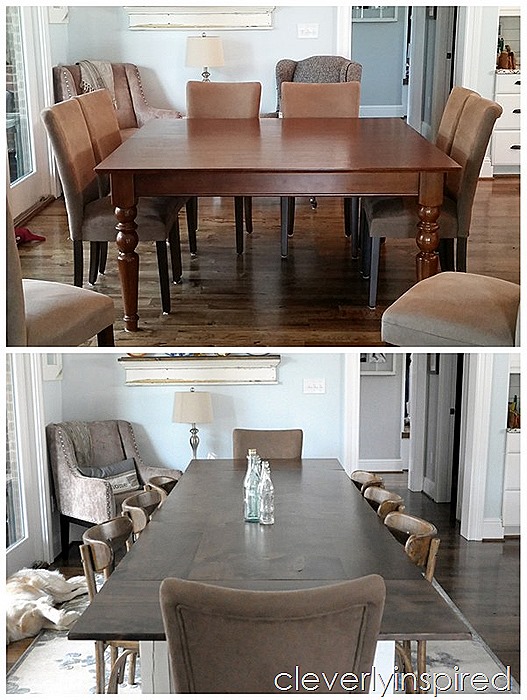 Working on a centerpiece this weekend…can't wait to share it! PS the new rug is from Homegoods;) Wall color is Constellation Ben Moore…here is the paint post:)
xo