We have lived in our new home for about 6 months now. I would say that 90 percent of our decisions with the design of this house have worked out perfectly for our family. As always, there are few things that you might like to change and if I had to do over again I probably would tweak a few things. I'm going to be sharing with you a few of those things in the next couple of weeks….
The kitchen is rather large and a great space to cook…it is our dream kitchen.  One awkward area was the microwave. On paper, we never realized how much it would protrude past the other wall cabinets. It got to be fairly annoying and the countertop was almost not usable underneath.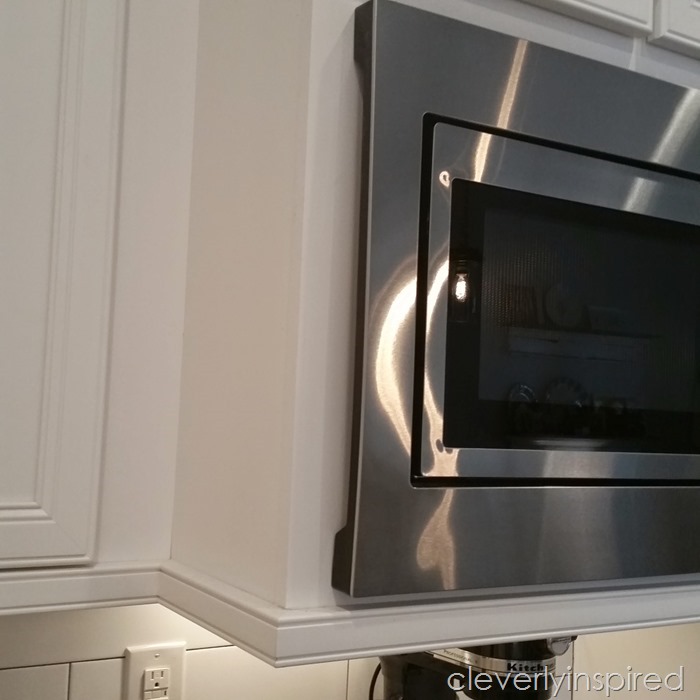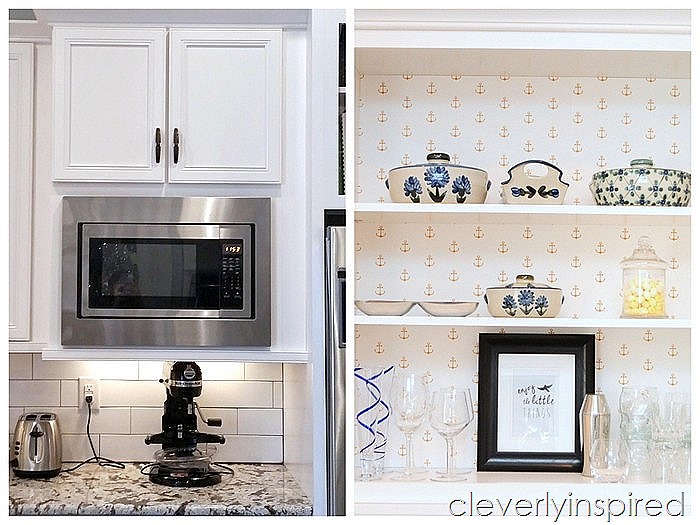 I really wasn't thinking when the design was on paper how much the microwave cabinet itself would stick out past the other cabinets. It is literally right in your face. This happens to be the area where we make a cocktail at night since it is right next to the refrigerator. So we decided to remove this microwave wall cabinet, place the microwave in the pantry and replace the wall cabinet with open shelving. The open shelf wall cabinet was made by the cabinet company. Open shelves that are the same depth as the other cabinetry is a nice break to having just wall cabinets.
Obviously since the shelves are open….it is a great spot to display some pretties:) I decided to line the back of the cabinet with this fabulous gift wrap that I found on spoonflower. What I love about using giftwrap is I can swap it in and out as my mood/season changes…for not much cost. If you aren't familiar with spoonflower…it is an online shop that allows anyone to create fabric, wallpaper, giftwrap…etc…and then others can purchase it too. I bought 2 rolls of this golden anchor wrap at just $15 a pop! I used double sided tape to secure it to the back of the shelves. A ruler and a razor blade make straight cuts. Easy!!
It makes my Louisville Stoneware collection pop! I am not the first person to use giftwrap on open shelves….I am sure of that…but I do love it….
Maybe you have some shelves in your home that could use a little rework…and a little splash of something. I can promise you that you will find something that will work on spoonflower….that site is a time sucker for sure!
xo