Happy Friday!! We are less than one week from Thanksgiving…and then it seems time moves at warp-like speed. I hope you have a little down time this weekend to regroup and relax before the hustle starts. I find when I take even just 10 minutes to gather my thoughts and to-do list…I feel so much more at ease about what is ahead. Start by making these simple twice baked potatoes this weekend…and you can cross it off your list!
The twice baked potato has always seemed a bit redundant to me. Kind of like….. make up your mind do you want a baked potato or do you want mashed potatoes? I really never saw the light until recently my mom was showing me how easy they could be. It takes just a little bit of forethought… but other than that it's a no brainer!
Bake them up while you're doing some other work… get them out of the oven with a pot holder…scoop out the potato goodness…. mash them up put them back in the shell and put them in the fridge until you want to bake them. It really is pretty easy and people think that you worked on them a lot longer than you actually did:) These potatoes have now become a staple rotation for our family meals. What I love about them is I can make them any time put them in the fridge and bake them when we need them. I would say they would keep in the fridge for at least 3 days and even longer in the freezer. They're great side dish you can add in anything you really love to make it suit your family's taste.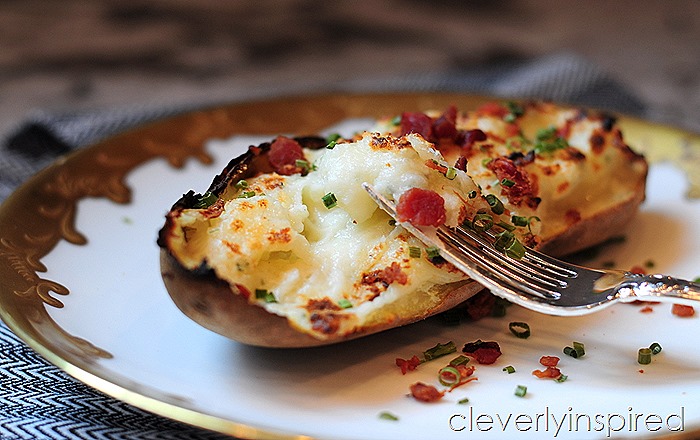 Make Ahead Twice Baked Potato
Ingredients
4

large potatoes

1

C

milk

1/4

C

grated parmesan

2

T

olive oil

3

T

butter

1

C

shredded mozzerella

2

T

chives

salt pepper to taste
Instructions
Heat oven to 425.

Pierce potatoes once on each side and bake for 45 minutes (I test with a fork for doneness)

When done remove and slice in half length wise.

Scoop out potato (I use a cookie scoop...easy) Set aside skins on cookie sheet

Combine remaining ingredients and mix with hand mixer until creamy.

Scoop ingredients into shell.

Refrigerate until ready to serve.

Heat oven to 350, top potatoes will a sprinkle of Parmesan and bake 20 minutes until browned.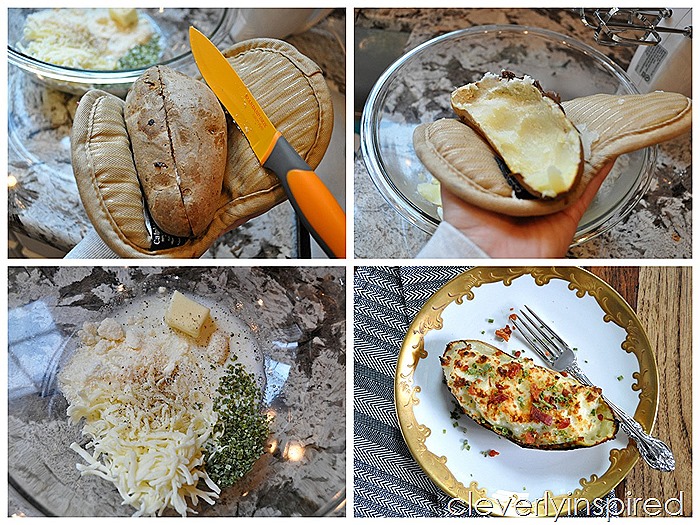 Hey…make some up for Thanksgiving! Done and done! Also, here is a recipe I did last year for make ahead gravy:) Getterdone!!
xo