Well how was it? Did everybody get their wishes granted? Are you still picking up the glitter and streamers of Christmas Day? Still counting all your little blessings? I for sure am! It has been raining here nonstop for about 3 days and I really do wish it would snow at least it would be prettier to look at outside me window! I am determined to get the house a little bit back in order this week. I love that New Year's Eve falls on a Thursday so we get another long weekend.
We had a big-fun-crazy exciting Christmas Day at our house. As you know, we have twins and they will be celebrating their 16th birthday in about 2 weeks. We thought we would do a once-in-a-lifetime surprise on Christmas and give them cars. They were totally not expecting it and it was really quite fun for us! It's the question that we have been asked countless times since our kids were born… What will you do when they turn 16? Do they each get a car? Do they share a car? Do they use mom and dad's car? Hubs has been thinking on this a very long time deciding that they would each get a car if they deserved one….and they have proved to be very deserving kids. They are very good hearted, hardworking and have done a really good job at showing us that they know right from wrong. We felt like it was an epic surprise that was really so much fun to pull off! Some might say that it's completely over the top and I would agree with them. But at the same time it's something that we were able to do and we really wanted to do and we really felt that they would appreciate it….and all of those things have been true. You can pop in on Instagram to see the picture that I shared. There were tears it was a whole bunch of fun!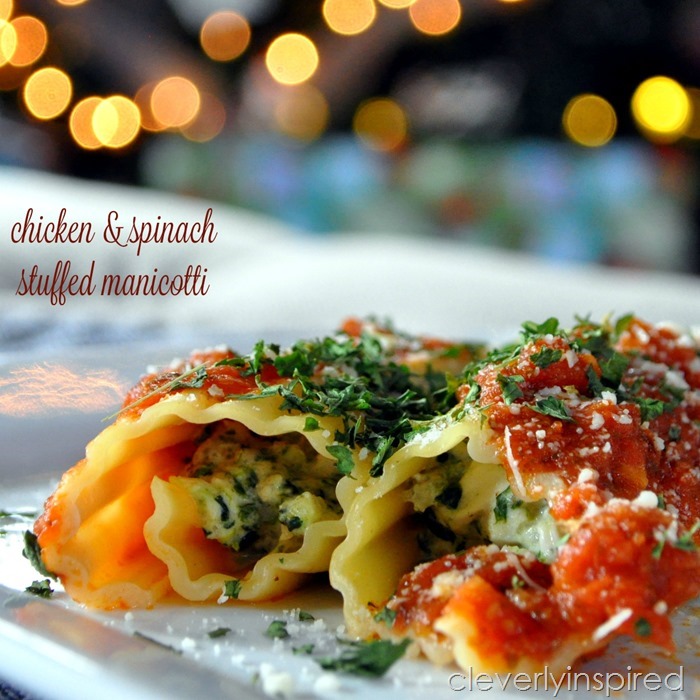 I wanted to pop in and share a recipe that I made for my family on Christmas Eve. What I love about it is that you can make it ahead…always a good thing in my book! I actually made the filling two days before Christmas Eve and then I stuffed the manicotti shells Christmas Eve morning and had it ready to go for after church. You can make as many as you need and freeze the filling for another time. You could always use a large shell instead of manicotti… whatever you prefer. Thing that's great about a stuffed manicotti is it's really filling so it feeds a lot of people with not a whole lot of food. You can top it with a favorite alfredo or white sauce or use just a traditional marinara like I did. In our house we are not a fan of ricotta cheese so I used a blend of cream cheese, mozzarella and provolone. Obviously you can add in whatever cheeses you might like. I do think that the manicotti is easier to stuff once the filling is a little bit chilled. Also, cook the noodles about 6 minutes (al dente) and they will be a bit easier to stuff.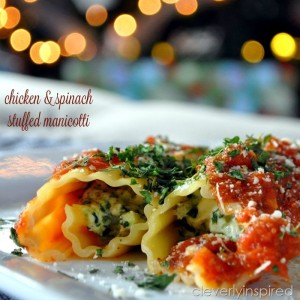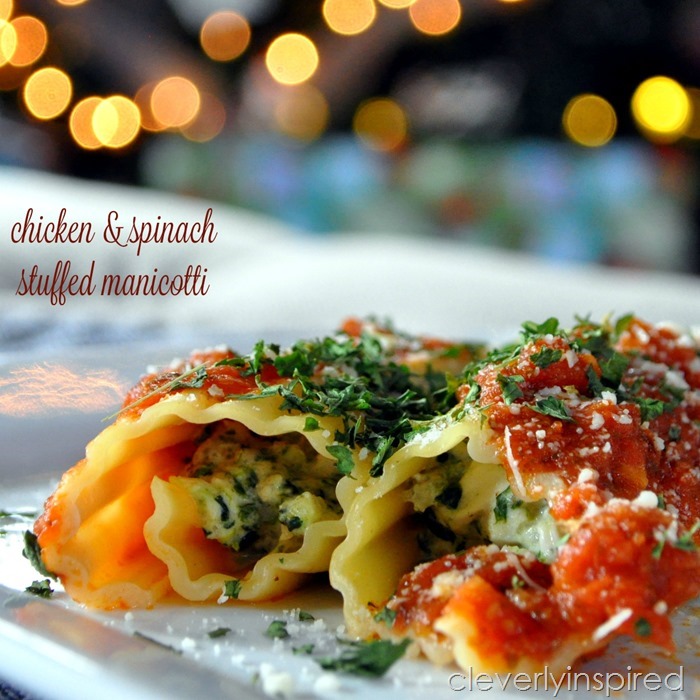 Chicken & Spinach Stuffed Manicotti Recipe
Ingredients
2 8 oz packages manicotti

3

large boneless chicken breast cooked

finely chopped

2 8 oz chive cream cheese

10

oz

frozen spinach thawed and drained

1

C

shredded mozzarella

1/2

C

Italian bread crumbs

1

clove

garlic minced

1

T

pesto

Parmesan and parsley for garnish
Instructions
Combine all ingredients (except manicotti) and mix well. Set aside or in fridge over night.

Cook manicotti 6 minutes in large pot boiling water. Drain and cut down the center

Fill each shell and close seam.

Place seam side down in oiled baking dish. Repeat with remaining shells.

Cover with sauce.

Cover with foil.

Bake 40 minutes 350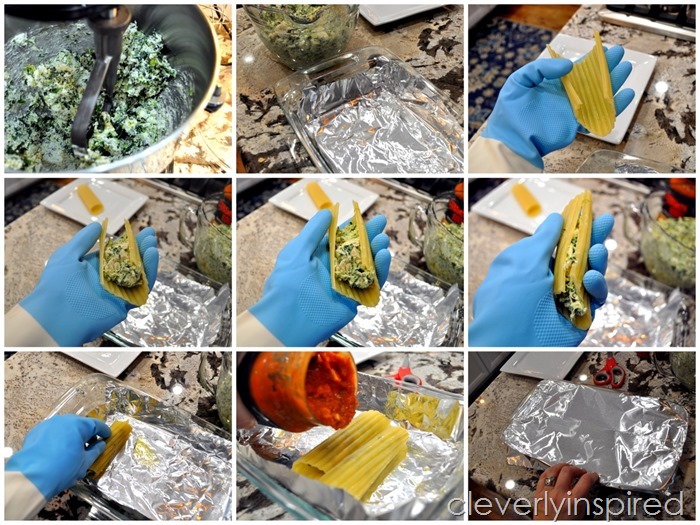 This would be a perfect New Years Day dinner paired with yummy Caesar salad like my mom made a couple appetizers and your crowd will be all filled up in no time! I wish you a very Happy New Year and I look forward to sharing lots of yummy recipes and fun projects with you in 2016 !