This is a Sponsored post written by me on behalf of Listerine for SocialSpark. All opinions are 100% mine.
Popping in to share some stylish ways to dress up your bath while also adding great storage. My pals over at Listerine wanted to share their stylish new chevron bottles that are too pretty to put in a cabinet and I thought it would be a great time to look at some other great ideas to "dress up" storage in the bathroom. Something as little as rolling a towel instead of folding it can make just the right touch in a tiny bathroom. I have gathered a few other ideas that may work great in your space too.
We are still settling into our new space….but I have put some old tricks to use in the master bathroom. I have used this large glass container to corral my bangles into one space…keeps the dust off and I know what to grab easily. The cake plate makes a great place to drop readily used items like lotions and mouthwash:)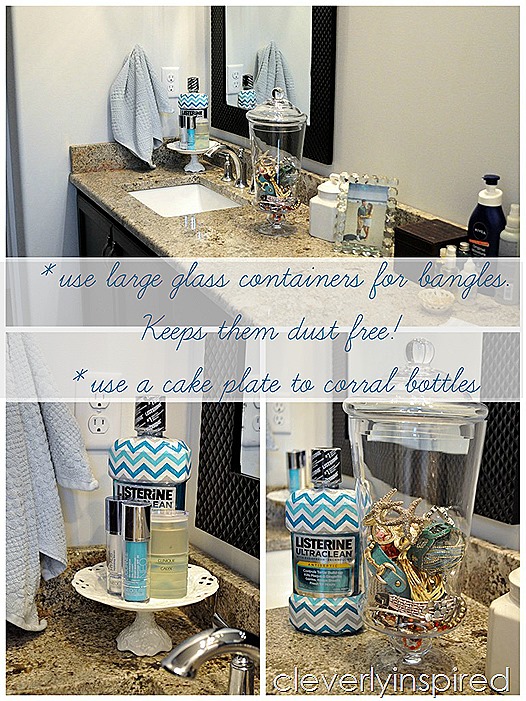 You can find these dressed up Listerine bottles at major retailers. It is kind of fun to make an everyday item a bit dressier:) Plus save some $$ with 
Save Now with Target Cartwheel
  Win win!!
Listerine is the #1 Dentist recommended brand of mouthwash to keep you mouth healthy and clean. My fav is Fresh Mint….I use it sometimes in the middle of the day to maintain fresh breath:)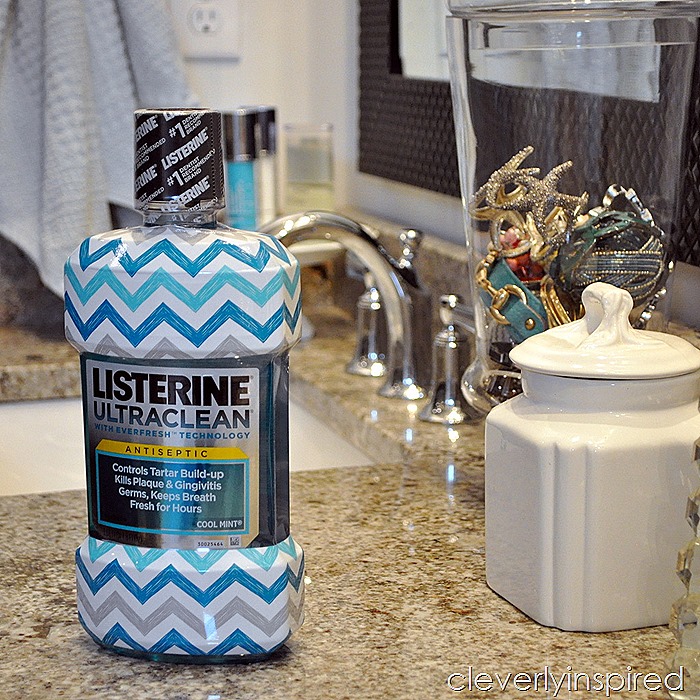 I found some other useful ideas for creating a space that is put together…and also pleasing to look at. I loved the diagonal storage for the rolled up towels….very spa like:)
Here is a great use of wall space…tuck in a narrow cabinet and make it full of purpose.
A beautifully done smaller powder room….
Mixing up the towels and decorative pieces makes it feel more of a relaxed space and not so utilitarian.
This super narrow cabinet placed right on the counter is just perfect for everyday items…so handy!
Be sure to seach your favorite social media #listerinedesign for tons of clever bathroom storage/design ideas:)