Back today with another reader redesign. I am having so much fun with these! If you sent me pictures just be patient…I promise to get to everybody:) Today I am sharing  a mud room for a reader named  Suzanne. She recently painted her laundry room this sage green and the floors are new too. The space is nice and big…just needs a little direction.
Here are some ideas I have for this space….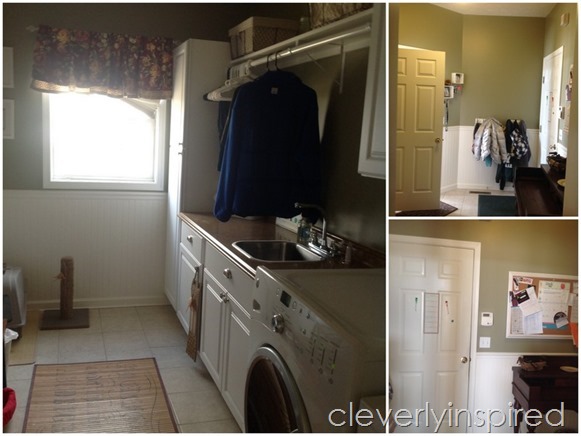 I think that sage green is a great color for the space…but I would love to see it brightened up a bit. Mixing in some cool blue may be just the ticket! I love the idea of a blue striped runner rug…along with some green/blue window panels…or maybe café curtain? The one in the picture below is from Target.com

Adding in some industrial style shelving will add a little edge and make the space feel updated. A splash of blue on a fancy mirror will help everyone look their best as they leave the house.

Unique hooks for bags and purses are always handy. I love the idea of a floral upholstered chair…you could find one at a tag sale and fix it up new.

A large painted chalkboard is a great place to add in to do list and grocery needs. Frame it out in a pretty blue for a pop of color.

A tall potted plant by the window…along with some interesting and colorful art will help make doing laundry that much easier;)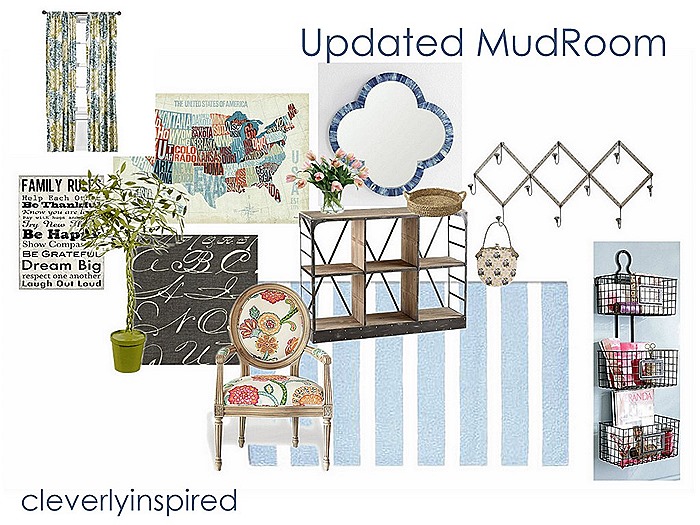 To see my complete buying list….click over to my Olioboard:)
Happy weekend friends!
Sidenote:  I have a blogging friend who has really been through it these past few months. Her mom just past away and her sister's husband is dying from an inoperable brain tumor….they are a young family with 3 young children. We are rallying to raise some money to send them to Disney before he passes….if you have a dime to spare…I would sure appreciate it. I know Aimee personally and I know this would mean the world to her to be able to put this trip together for her sister's family. Thanks friends:)
Here is the paypal address… gronottefund@gmail.com
xoxo (feel free to pass it along to your generous friends:)