It seems that design work has kept me as busy as blog work lately….and I love it! It is rewarding to help people see their homes in a new light…and turn it into a space that they truly love. I have been helping the Adam's family for about a year now. They live in Seattle and love the coast…and the colors that it inspires. They asked me to help lighten up the living room….and I have fun putting the plan together. Take a look at some of the suggestions I came up with….maybe they will help you breathe some new life into your space too.
Here is the pictures that they sent me…..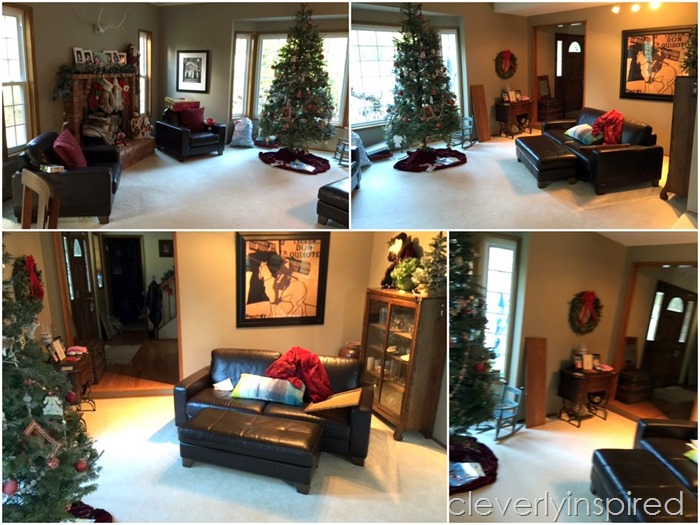 And here are some of my suggestions….

1. The first thing I would suggest is too maybe lighten up the wall where the fireplace is. I would love to see the brick whitewashed and above the fireplace possibly doing a plank whitewash pine all the way to the ceiling (Traci from Beneath my Heart has a great tutorial.) This will add some architectural interest for not a lot of money. I have attached a picture and a blogger project if you want to take a look at how she did that. I whitewashed my brick in our old house and it was very easy and probably didn't cost me even $10 to do. That will make a big impact on that wall.

2. As for the furniture I feel like it should be grouped closer to the fireplace. I would suggest placing the two club chairs on one side of the fireplace with the ottoman in the center and then the sofa opposite the club chairs. This will create kind of a cozy grouping and blend for conversation nicely. The bay window would be a great spot to place maybe a few bean bag chairs or just a cozy spot for your kids to grab a book and read. I would keep it minimal and just add some bamboo shades to the windows along with the two windows on the fireplace wall to bring some cohesion.

3. I think that the sewing machine table maybe is a little too small for the wall that it is on. You might consider incorporating that as an end table on the other side of the sofa placing a lamp on it. You could always paint it to lighten it up a bit.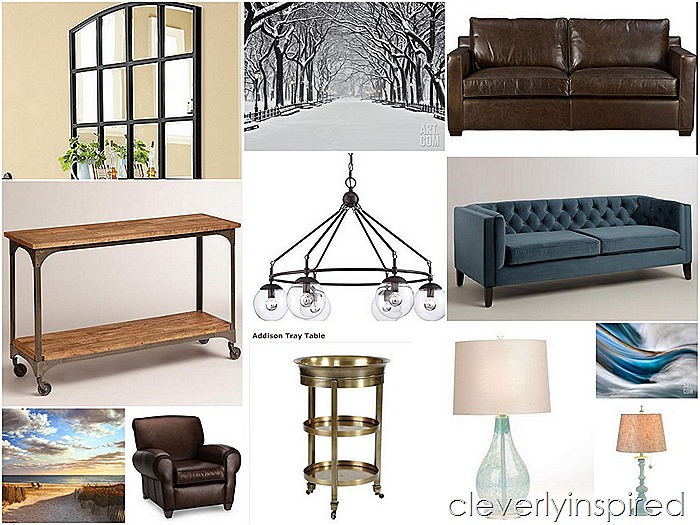 4. I would suggest under the track lighting on that wall possibly doing a bar of some sort. A long console table with a large mirror above it would be a nice feature for that wall and also make use of that space. It would be nice if you entertain to create a conversation area near that bar. That tall bookcase that is close to that corner might work better where the sewing machine table is.

5. I also think it would be a great idea to possibly add an area rug. I'm a big fan of grounding an area with a rug even if you have carpeting. I have placed a few on the design board for consideration. I think the colors that you need to focus on are creams and light blues with a little brown in it. These pillows would be great and lighten up the space a bit. I think you could find similar pillows and throws at TJ Maxx or home goods or target.

6. That goes with the artwork to. Maybe doing a watercolor piece above fireplace with some lanterns or glass jars. Possibly some black and white photography would look great too.

7. I put in the velvet sofa as may be another option for seating but I'm not real sure what else you might be able to fit in the space.

8. Accents of brushed metals like the accent table along with some darker woods kind of warm up the space but keep it modern. I like the idea of panels on the fireplace windows. Hanging the ivory burlap really close to the ceiling and doing a material tie back. Another way to soften the room. You don't have to worry about doing the panels on the bay window. Since all the windows would have the bamboo shades that would be the unifying window treatment.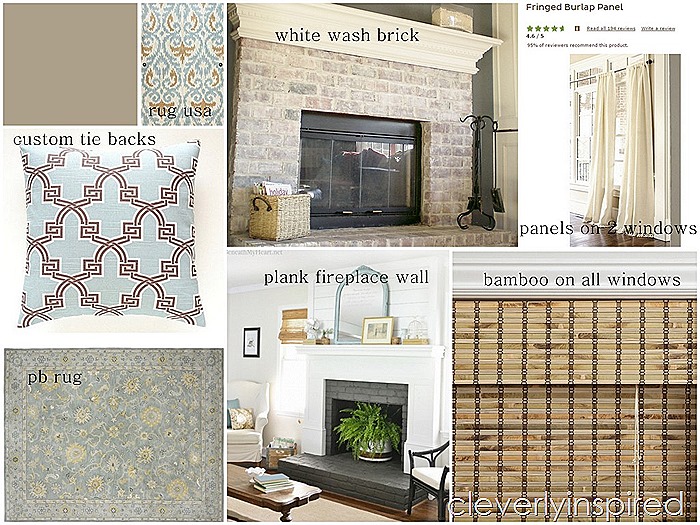 Do you have a room that needs a little direction? I would love to help. See the Design Services tab at the top of the page:)