My dad takes pictures….and he has hundreds of thousands to prove it. Every holiday…every occasion…he has his camera out and ready to go. This DIY photo booth is a spin off of the tradition of taking family pictures at the holidays. So I thought… the entertaining season upon us…and family and friends coming in and out of our house….this would be a really fun activity to set up for the entire month. A DIY photo booth is fun for all ages….super easy to set up in a small unused corner of the house…and of course I made mine on the cheap…and you can too!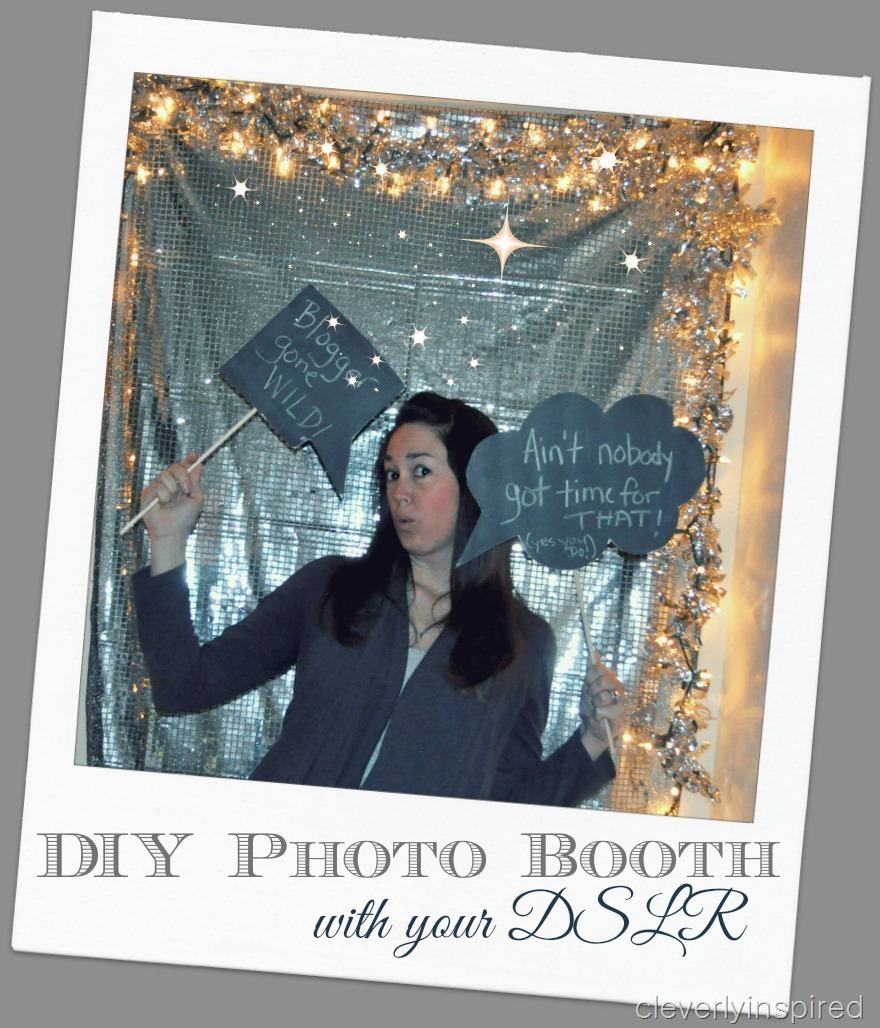 I gathered all sorts of hats, scarves, glasses, ties…props at my local Dollar tree. Look in the toy sections for feather boas and fun "dress up" type stuff. Easy!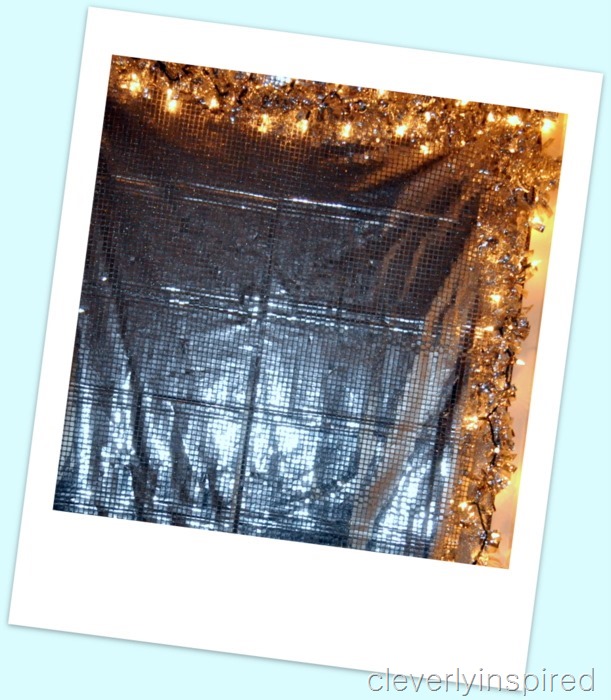 Here are the supplies you will need:
* 1.5 yards fabric (mine was discounted Halloween costume fabric) could also use gift wrap or sheets, My friend Carmel used a blanket... etc….

* 1 string of lights

* 2 strings of tinsel garland

* props of your choice (hats, scarves, glasses, ties, beards…etc.:)

* tripod

* DSLR camera (be sure it is charged)

* remote shutter (or just have someone there to hit the shutter)

* external flash (not necessary…but helpful)

* black foam board

* chalk

* razor knife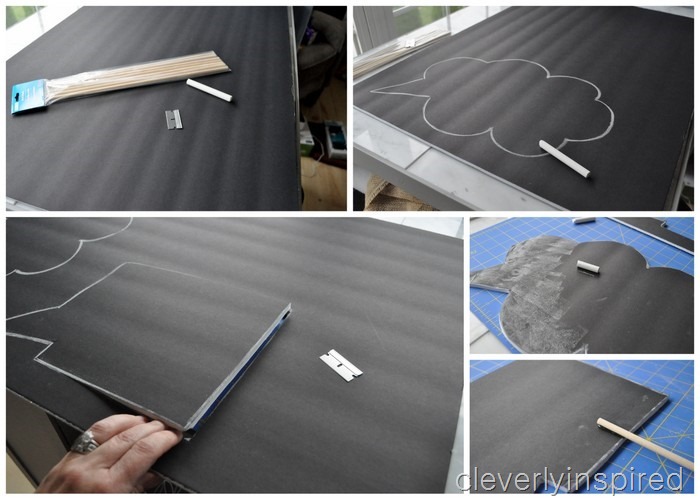 I made some really fun chalkboard "speech bubbles" that friends can write on with chalk. My friend Heather at Whipperberry showed me how she used black foam board for her food backdrops. I had no idea it will act like a chalkboard too….love this idea!!
I drew out a couple speech bubbles and cut out with a sharp razor. Hot glue  a dowel rod on the back…rub chalk over entire surface and wipe…tada….now write what you want to say!
Oh dear…..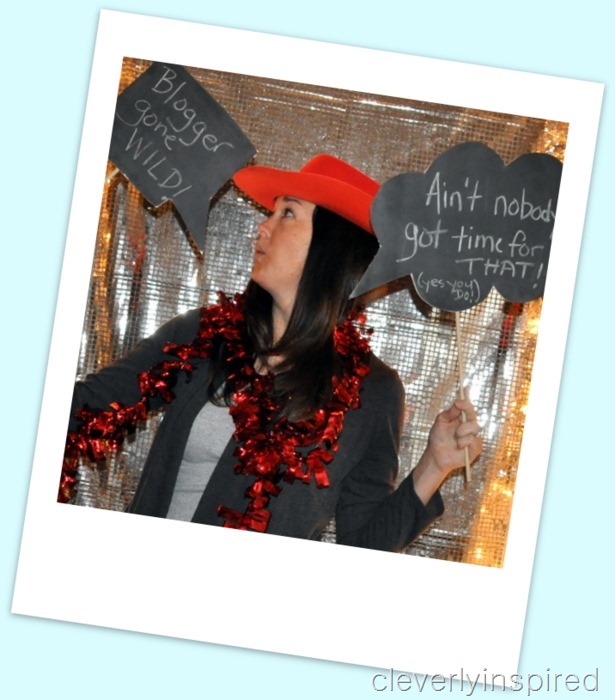 For my backdrop….I used push pins to tack up my fabric…wrapped some lights and tinsel…and BAM…my backdrop is all set!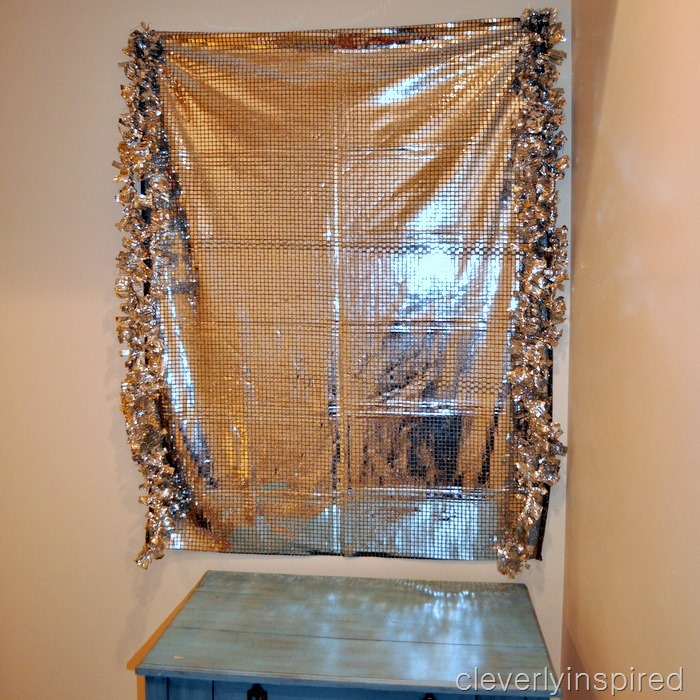 (I moved this little blue desk out of the way too…)
To set up your camera:
* set your tripod about 6-8 feet from your subject

* have some stand in the spot to test the lighting

* mine was set for 1/30s, F 3.5, hot shoe flash on, iso 1200

* play around with the manual settings until you have a nice lit up face and subject

* you may have to crop later…just let peeps have fun with it:)
Using a fabric that doesn't have such "reflected" parts on it may be easier….but I liked the "party" feel of this one;)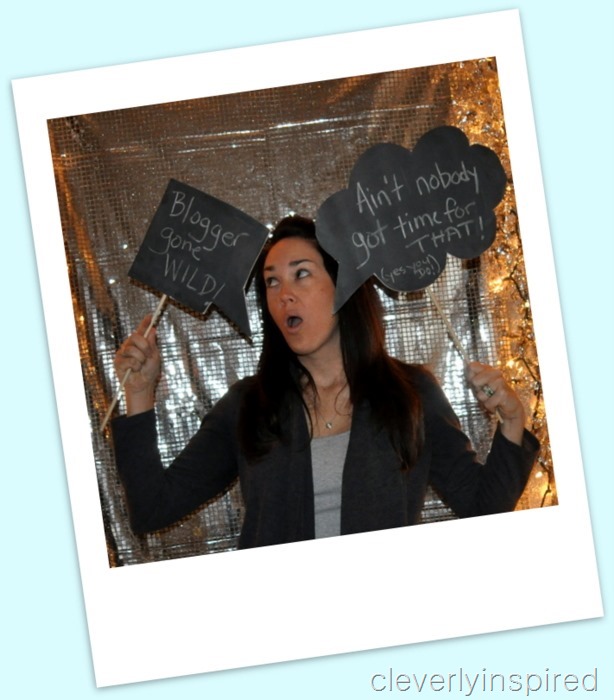 Go and have fun with it…and your guest will too!
Here is a link for the cheap hot shoe flash Vivitar SF4000 Bounce Zoom Slave Flash Enhance Photos, Colors & Saturation For The Nikon D5000, D3000 Digital SLR Cameras' target=_blank>that I purchased….
And I bought a remote control shutter from ebay here (works perfect!!)
I will be taking the rest of the week off to celebrate all our blessings. I will be thinking of you all too…and pray that you have a warm and cozy Thanksgiving with your family and friends. I am blessed to share this blog with you every week…and I cannot thank you enough for tuning in. Big hugs from Kentucky:)
If you are new here and just stopping by for the first time…feel free to poke around a bit:) The tab at the top of the page "Project Gallery" is a great place to start.
xo