I thought it would be fun to start a  little series called "Tech Tuesday" where I share (and you share) some of our favorite things that are "techy". Just a short little post about something fun that you may like to go learn more about.
Today I want to tell you about Bump. It is available on iTunes and Google play. Basically it allows you to share information (pictures, contacts, documents, music) just by bumping your phone with another phone that has Bump installed on it also. Can I say Bump one more time…geez….this is getting confusing. Here let me show you…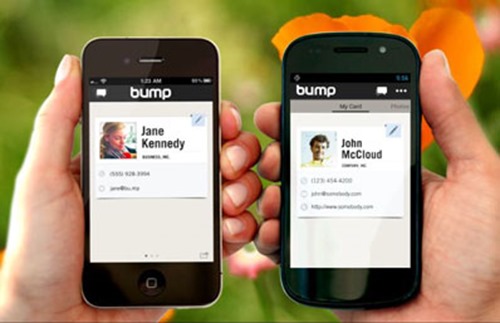 How do I bump?
It's simple! Just open Bump, hold your phone, and gently bump hands with the other person. You should feel your phone vibrating when you bump, and then you'll see the other person's name and photo appear on your phone. If you don't feel the vibration when you bump, you likely aren't bumping hard enough. If you are knocking your friend's phone out of her hand, you are bumping too hard…
–Bump Website Source
We have found this most useful in our house with photos. You can select several at a time to bump…which is quick and handy. The other thing that is so cool about it…it works between any phone..iPhone, Samsung, htc…whatever. It is very high-tech….and now…you are the trend setter :)
What is your favorite app?