I know you all really enjoyed the last round up of useful smart phone apps….so I thought I would share a few more. These should be available on both Android and ITunes market. Do you have any apps that you LOVE….do share in the comments section so we can all check them out…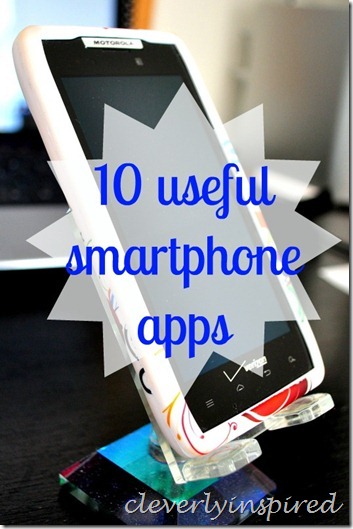 1. HP EPrint: This app basically finds any wireless printer. I use this all the time with the kids schoolwork. I can click on any form or document…or picture and send it to the printer. It is very user friendly and quick.
2. ColorSplash: I believe this is only available on the Ipad and Iphone. It is a fun photo app that makes any picture black and white and lets you "color" back in the image. Makes for some neat pictures.
3. Photogrid: this app allows you to create small collages from the pictures on your phone. You can save them in a square shape and load them on instagram or anywhere you choose. Very user friendly.
4. Panorama: This app takes a panorama picture almost seamlessly….and it's free;)
5. Cartoon Camera: Another cool picture app that creates some interesting pictures from your ordinary phone pics. I love the pencil sketch.
6. Zedge: Want a fun new ringtone….for free?? They hold a huge catalog of ringtones and notification sounds. My favorite is "ocean waves" it is my text sound….ahhhhhh:)
7. Square: I told you about another app called square in the last round up….but this one is way cool too. Square pay works like this….you set up an account with and attach it to any credit/debit card you wish. You load a picture of yourself. When you go to say…Starbucks…and you go to pay…the store knows that your phone is in the building. So you say to the cashier..Pay with square please…and your name. They charge the card on your square acct. (they know it's you because your picture comes up on the screen on the register). How cool right?? Square gives you a list of participating stores. Wanna be extra cool and hip in front of your kids….totally try this ;)
8. Maps (by google) : I totally forgot to include this in the first round up…but I use maps all the time when we travel. Basically google will tell you where anything is in relation to where you are standing (restaurants, cafes, gas stations, hotels…) very very handy.
9. ColorNote: Need a quick place to jot a note? I keep grocery list, blog idea…Christmas ideas…you can start as many list as you need and it's always in your pocket.
10. Google Wallet: Ok, this is one I haven't used…yet…but I think it is the coolest thing ever. It is available on the HTC, Samsung Galaxy and I believe a Nexus phone. You load in your cards you usually pay with. It is password protected. When you go to pay at any store…your just hold your phone up to the store scanner. It charges the default card. No receipts, no wallet to worry about….I think it is uber cool….and useful.
What's your favorite useful free app?
;
If you missed the first round up…here it is