It's Friday! Yippee! I hope you have a fabulous weekend. If you are entertaining or just hanging out with family…you may want to try this little snack…it looks like you worked on it alot harder than you actually did ;)
I don't like sweet cheese. So whenever someone offers my "baked brie" I kindly say no thanks. I always thought that was the only way it could be served….until lately. This brie is savory and creamy…love this recipe. What is even better is that it can be made a ahead so all you have to do is pop it in the oven. This recipe would be a great addition to a Thanksgiving afternoon…perfect snack for entertaining.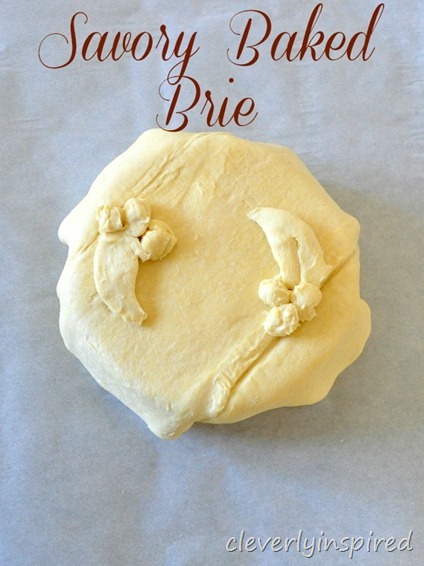 Cut one onion up and caramelize (here is another post about that…incase you haven't caramelized before). Very easy to do…and you can do that in advance and keep them covered in the fridge.
Thaw the puff pastry sheet on a piece of parchment paper. After about 20 minutes it will be able to be unfolded and laid flat. Cut the brie in half sideways. Place the bottom piece (rind down) on the puff pastry. Spoon heaping spoonful's of onion on the brie. Top with the other piece of brie( rind up) Gently fold puff pastry up from the corners.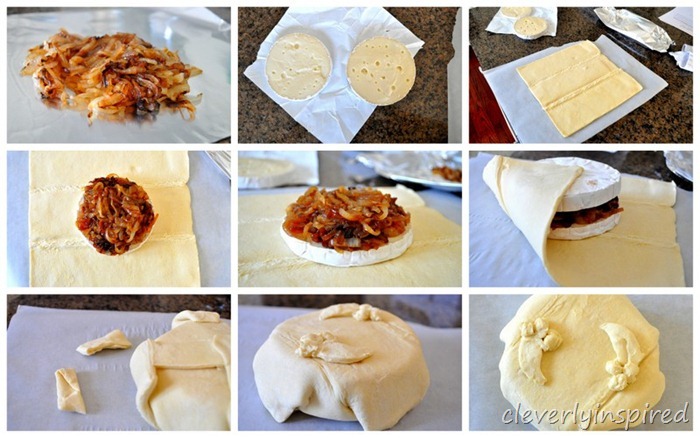 Cut a bit of excess from the corners. Flip the brie over. Make excess into a leaf shape and place on top. Should be baked with seams on the bottom. Bake on parchment 350 for 20 minutes. Optional: brush with egg white to have a golden crust.
Ingredients:
1 sheet puff pastry
8 oz. brie
1 onion, sliced and caramelized
Serve with crackers.