Ever since I saw their column in DIY magazine..I have loved Sherry and John. They are candid, honest, creative, and very real. What I mean by that is they are a typical young family…going through projects in their home….but the way they tell the "story" of their trials and tribulations is captivating. You really do feel like you are part of their world and they give you the courage to go out and try something for yourself.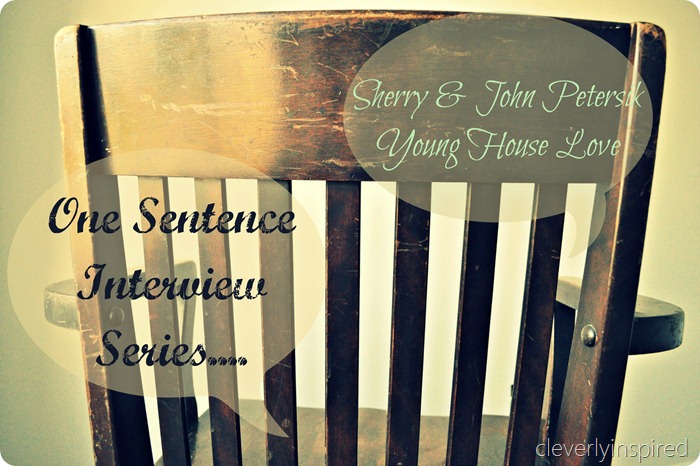 Their style is fresh, approachable and easy….yet very put together. The make a ginormous sectional make sense, a painted ceramic rhino stand on it's own as true art…and not look one bit out of place. The Petersik's believe the things around you should have meaning…live amongst the items you love. I think one of my favorite things in their house is the gallery wall….I would sit and sip coffee by that wall…and just soak it all in.
And just so you know…I met them at Haven last week…they are as real as it gets. How they "speak" on their blog is exactly who they are in real life. Witty, kind hearted, sweet …and completely adorable (Clara and Burger too…:)
They have a book coming out this fall…and I guarantee you it will be filled with eye candy galore! So go visit The Petersik's over at Young House Love…tell Clara and Burger I say hey!!

Here is how Sherry answered the One Sentence Interview….
1. If you could bring back one trend from the past…what would you bring back?
Waterbeds! Just because they make me laugh.
2. If you were a dog…what kind would you be?
Burger – he has the life.
3. Most of the time I am craving…
Soup from Panera. I use their You Pick Two special to get two different soups.
4. If money were no object….I would buy _______
Today…. a pool for the backyard. It's hot here!
5. If I wake up in the middle of the night…the first thing I think about is usually ___________…..
Our book. I have nightmares about it, like missing a deadline or seeing it at Barnes & Noble printed all wrong – it's always in the back of my mind freaking me out.
6. When I go in a friends house…I usually end up in the ______________…
Kitchen. I'm usually the "taster" while they toss dinner together.
7. My favorite way to eat ice cream is __________________…
In a small sugar cone with rainbow sprinkles.
8. One design regret I have is ___________________
Not embracing color sooner – it's way more fun than monochromatic neutrals.
9. What is your favorite thing about blogging?
The amazing friends we've made all over the globe who inspire us, make us laugh, and encourage us when things don't always go as planned.
10. Where do you see yourself in 10 years?
No idea! We always say that five years ago we never would have guessed we be "professional bloggers" so you never know!
11. If you could add a room to your house that would serve a specific purpose…what would you add?
I have had this dream of having a room with two hot tubs and one giant TV. I like my tub hotter than John so we could sit in our tubs (each at our own preferred temperature) and watch our favorite cheesy TV shows. I think it's an awesome idea, but John's not quite sold…
12. Coffee?Tea?Milk? What is your comfort drink?
Chai tea + biscotti = true love.
Thanks Sherry!!