Mandi is completely and totally one-of-a-kind. Period. She designs spaces that are so unique…and takes chances with colors that you would never would think would work…and they work…over the top coolness..all the time. Mandi's blog Vintage Revivals is a reflection of her passion for fabulous design…on a budget. She has made a lamp from thrift store tea pots….what some people would pay $300…she will create an even better version for a fraction of the price. I think what I love most about Mandi…is she isn't afraid to screw up. And if she does….she is honest about it and moves on. Isn't that the definition of learning??? Pick up and never be afraid to keep at it…and keep learning. Thanks Mandi for all your inspirations…because of you I cannot turn down a thrift store lamp…and bring it home to "revive" :)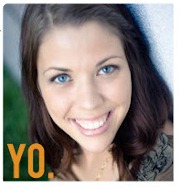 Here is what Mandi has to say….
1. If you could bring back one trend from the past…what would you bring back?
          SOUTHWEST!!  And I am DOING it!!
2. If I were a dog…what kind would I be?
         One that doesn't shed or stink?
3. Something you never leave out when designing a room….
        Color!1
4. If money were no object….I would buy _______ today….
       My own hardware store.
5. If I wake up in the middle of the night…the first thing I think about is usually ___________…..
       Projects that I am dreaming of
6. When I go in a friends house…I usually end up in the ______________…
       Kitchen
7. My favorite way to eat ice cream is __________________…
      As often as possible
8. One design regret I have is ___________________
      Not trying to discover my style sooner.
9. What is your favorite thing about blogging? 
      Meeting people, building relationships with brands and all of the fun opportunities that it has given me!
10. Coffee?Tea?Milk? What is your comfort drink?
       Milk
Go see Mandi at Vintage Revivals