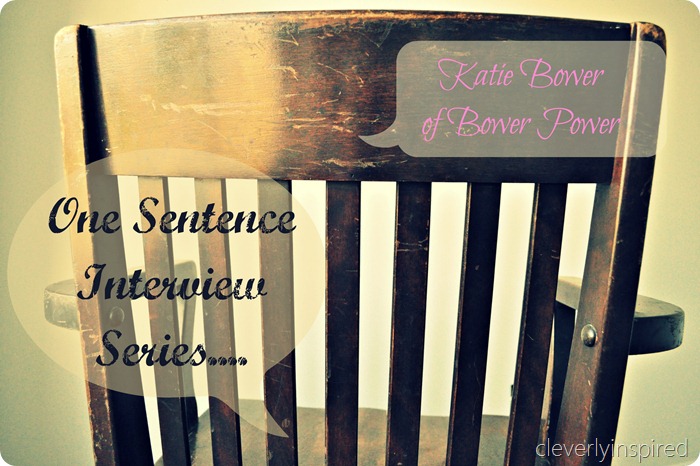 I am thrilled to have Katie Bower visit here today with her answers for the one sentence interview series. I am so happy you all are enjoying these as much as I am! If you missed the first two…I have interviewed Kate Pruitt from Design Sponge…and Kate Riley from Centsational Girl…and here today I have Katie Bower (so what I am sayin is if you are wanting to be sure you raise a creative girl…name her Kate ;) Ha! It is so neat to get a little quick behind-the-blog personality check with these lovely ladies.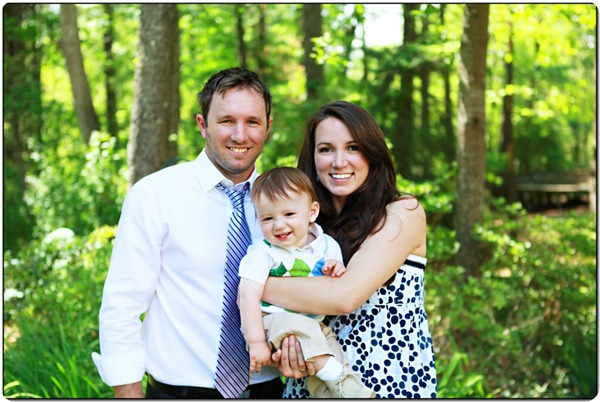 I adore Katie Bower. She is one of those bloggers who completely lay it all out there. She is the most real writer. Katie is personal, creative, kind and hilarious. I usually finish reading her post…and then proceed to blow my nose and wipe my eyes. She either has me in stitches or tears. Her blog is WILDLY popular…last year she won Apartment Therapy's Top DIY blogger award. Big stuff ;) Thanks again Katie for being so kind and lovely…all the time.
Katie's answers…..
If you could bring back one trend from the past…what would you bring back?
Impromptu and uninvited visits from friends and neighbors.  I love the lost idea of 'going calling' – when people just drop in….probably because I don't mind people seeing my messes and I always have cookies on hand :)
2. If I were a dog…what kind would I be?
A boxer.  Or a chocolate Labrador.  Ok ok –  a Boxador.
3. Something you never leave out when designing a room….
A mix of old and new…throw pillows and plenty of thrift store finds.
4. If money were no object….
I would buy a pool today….this Georgia heat is killing me!
5. If I wake up in the middle of the night…the first thing I think about is
Usually really random.  Last night it was why fish don't get electrocuted when lightening strikes the ocean.  And the night before that was I really need to learn some more impressive dance moves…just in case there is ever an impromptu dance-off in my future.
6. When I go in a friends house…I usually end up
In the kids playroom.  Its way less intimidating to talk to other adults when you have Dora the Explorer next to you.
7. My favorite way to eat ice cream is
Slightly soft with slivered almonds and swimming in dark chocolate sauce.  YUM!
8. One design regret I have is
Being cheap.  It's a flaw to not spend the money when it is something you love that will last you forever.
9. What is your favorite thing about blogging?
My great readers – they are a constant encouragement and make me laugh till I need a bathroom break.
10. Coffee?Tea?Milk? What is your comfort drink?
Vanilla chamomile herbal tea.
Again…I adore you Katie! Thanks so much for visiting me!! Here is Katie's blog…The Bower Power