Cutey …and Patootie….that is what I will call them. Better known as Layla and Kevin Palmer from the super-blog The Lettered Cottage. They are like peanut-butter and jelly….toast and jam….jolly ranchers and roller rinks…(ok, is that just me…from 7th grade…I digress…) Layla and Kevin have been blogging for several years. Their post are infused with style, comfort and ease….I adore the home that they have put together. But the best part is that they are such lovely people. Truly…some of the kindest, sweetest and funniest bloggers I have met. I chatted briefly with them at the Haven conference. They were speaking about styling photographs and using your DSLR to the best of it's ability. They have styled pictures for several of my favorites…The Nest, Better Homes and Flea Market Style…and also write for HGTV.com…I'm telling you..talent!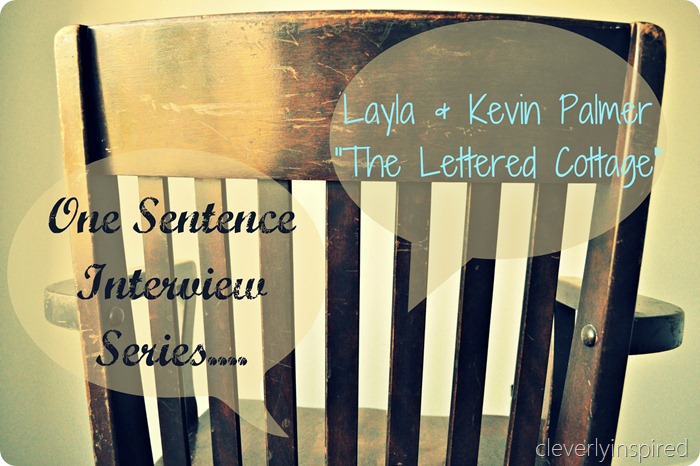 Patootie and Cutie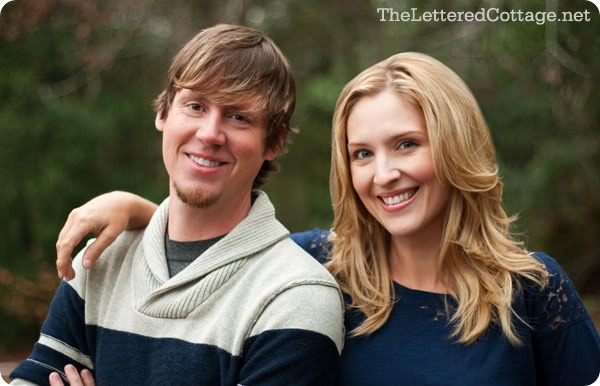 Thanks for participating y'all!!
Here is how they answered…
Using just one sentence to respond……
1. If you could bring back one trend from the past…what would you bring back?
L: I'd bring back 80's "hair band" rock- long hair, tight pants, and all!
K:I'd bring back 80's rock, too!
2. If you were a dog…what kind would you be?
L: I'd be a Pomeranian because they always look like they're smiling.
K:I'd be a boxer.
3. Most of the time I am craving….
L: to blog.
K: to play guitar.
4. If money were no object….I would buy _______ today….
L: a cottage near a body of water.
K: a house by a lake.
5. If I wake up in the middle of the night…the first thing I think about is usually ___________…..
L:  how long it's going to take me to fall back to sleep.
K:  something to do with falling back asleep.
6. When I go in a friends house…I usually end up in the ______________…
L: rooms that they'd like to redo- ha!
K: room that they keep their guitar in.
7. My favorite way to eat ice cream is __________________…
L:   in a bowl because I can really get my mix on!
K:   on a cone.
8. One design regret I have is ___________________
L: not waiting until we could afford to do what we REALLY wanted to do, the first time around.
K: removing what turned out to be a load-bearing wall.
9. What is your favorite thing about blogging?
L: My favorite thing about blogging is the opportunity to be creative.
K:  reading/writing posts that affect people in a positive way.
10. Coffee?Tea?Milk? What is your comfort drink?
L: My comfort drink is chocolate milk.
K: My comfort drink is Diet Dr.Pepper.
Go see Layla and Kevin over at The Lettered Cottage….tell them I say hi!! And by the way…if you are wanting to learn (in a super easy to follow format) how to use your DSLR on manual mode…and get AMAZING pictures…be sure to stop by ShootFlyShoot. Kevin and his buddy Josh have put together some really fabulous information in an user friendly format! The only way to get better pictures is to stop being afraid…use manual and be happy ;)