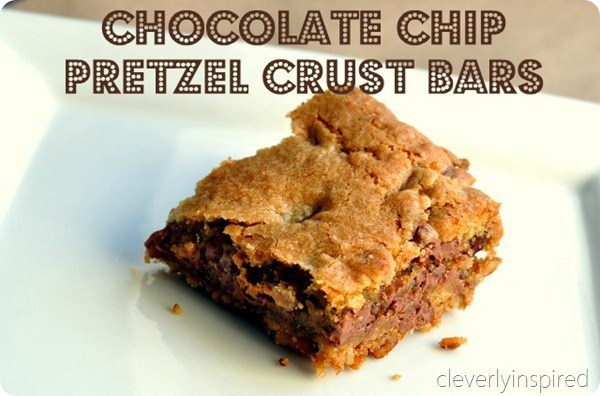 Oh the sweet…and then the salty…and then the sweet again….I love these pretzel bars. The will satisfy your sweet tooth..and your salty tooth;) I made these for our teacher appreciation gifts a couple weeks ago. I pan will yield about 30 small squares. These are super rich…so cut them small ;)
Line the pan with parchment paper…letting the sides come up. This will allow you to easily take the bar out when it is cooled.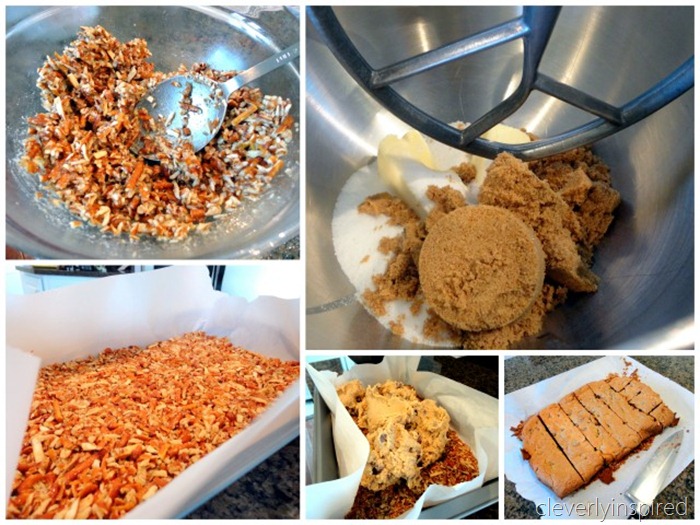 Ingredients
FOR THE COOKIE DOUGH:
¾ cups Unsalted Butter, At Room Temperature
¾ cups Granulated Sugar
¾ cups Dark Brown Sugar
2 whole Large Eggs
1-½ teaspoon Real Vanilla Extract
2-¼ cups All-purpose Flour
1 teaspoon Baking Soda
¾ teaspoons Kosher Salt
1 bag (11 Oz. Size) Milk Chocolate Chips (I Like Ghirardelli)
FOR THE CRUST:
3-½ cups Pretzel Sticks, Crushed Into Tiny Pieces (measurement is the crushed pretzel)
¾ cups Unsalted Butter, melted
Preparation Instructions
Preheat your oven to 350ºF. Line a 9x13x2 baking pan with parchment paper (for easy removal).
Beat butter and sugars at medium speed until creamy. Add eggs and the vanilla, beating until just blended.
Combine flour, baking soda, and salt in a small bowl. Whisk until airy and gradually add the flour mixture to the sugar/egg mixture, mixing well after each addition. Scrape down the sides and add in the chocolate chips. Mix one last time for a second then set aside.
For the crust, combine the crushed pretzel pieces with the melted butter, stir to combine. Spread pretzel mixture over the bottom of your prepared pan and bake for 8 minutes.
Drop large spoonful's of the cookie dough and scatter it over the pretzel crust. Carefully and evenly spread the batter over the warm pretzels. With your (clean) fingers, press the dough into the pretzels. Place the pan in your preheated oven and bake for 20-24 minutes, rotating the pan halfway through the cooking time. Remove when the bars are golden and a tester comes out clean.
When bars have cooled, remove (using the parchment paper) and cut into 15 bars. Enjoy!
Sharing at House of Hepworth, The 36th Ave, Tatertots and Jello, TipJunkie
[shopeat_button]