Happy Saturday!! The winner of the Martha book is Lee number 6! Contact me at cleverlyinspired at gmail.com :)
I'm not going to lie. I kind of smiled and thought…that is really clever…when I finished this project. I was in need of a way to see all my longer earrings…without having to take out every earring to find the match…yada yada….So this is what I thought of…
Here is how it normally looks…."where is that dang-on other earring…" (ok, maybe not dang-on…maybe another word…insert here)
So I got 2 cup hooks ($1.46) and some little chain (I had this on hand in my garage, but you can find this chain in the chain aisle—I know…bit redundent sorry)…
 I screwed in the cup hooks after measuring how far to place them…
 I love how they are all right there to see….I love that I will wear them more often now because I can actually find them….just love…
Go ahead….make yourself one…you will impress yourself :) And it will feel great!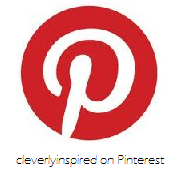 Sharing at
Mad Skills, Creative Corner, So you think your crafty
Tracie Stoll is a wife, mom and has a passion for creating new things. On her blog Cleverlyinspired.com she is constantly sharing ways to inspire her readers to be clever in their own home. Since 2010 Tracie has been sharing DIY projects, crafting, remodeling and decorating along with some easy tasty recipes…all on a mindful budget. She is a graduate of the University of Dayton where she studied visual art and communications. Tracie has been featured on popular sites such as Country Living, CNN living, Good Housekeeping, Better Homes and Gardens, Huffington Post, Apartment Therapy, Seventeen and Design Sponge. She is also a member of the True Value Blog Squad & Martha's Circle of trusted bloggers.