I am reposting this post because I am cleaning up today from my neighborhood Christmas party. This cleaner is the best thing since sliced bread. I have shared it with friends and they agree!!!! Super cheap too!! Gotta go clean now ;)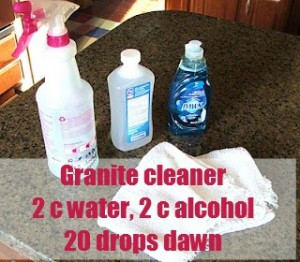 Ok….I will keep this short and to the point—it is about cleaning. I know, I know…..but it something we all have to do.
I got really tired of paying all that money for those Clorox wipe cleaners.We were using them because they are great on granite and most surfaces. So you know the drill—you stick with it and you keep buying them because they are so easy. But they are expensive….plus a bit wasteful.
I was determined to find a better cleaner that was just as useful (great on any surface except painted wood surfaces or stained wood), safe, cheap and easy =)
I searched and found a recipe for a household cleaner—and it was mostly water. So I tired it. Here is the formula….
Get a large spray bottle (at Target or Walmart—in the bucket and mop isle)
2 cups water
2 cups rubbing alcohol
20-30 drops of dawn dish soap ( have found this cuts grease the best =)
Then, go up in you linen closet—grab one of those old towels that you probably got for a wedding gift or something–it has seen better days,–you know the one with all the holes and ends coming off— am I right?!?!….you know that one I am talking about.. Everyone has one. You cut that up into 10 dish cloths. That is perfect size for cleaning everything! Cuts down on your paper towels!! Bonus!
The only thing this cleaner shouldn't be used on is painted wood surface. It may over time damage the paint.
Be inspired to be clever =)

Print Page Subscribe to cleverlyinspired by EmailBe Inspired to be Clever ;)