Hi all! First, a few orders of business…..I recently had an update to the look of the old blog:) After 9 years, I was needing a fresh face;) I added a landing page, from there you can go to "the blog" or "the shop"….a slider image greets you and then you decide where you would like to go. I have been concentrating some of my time lately on my watercolors….so I wanted to try and give that it's own space. If you have trouble finding something…please reach out to me and let me know:)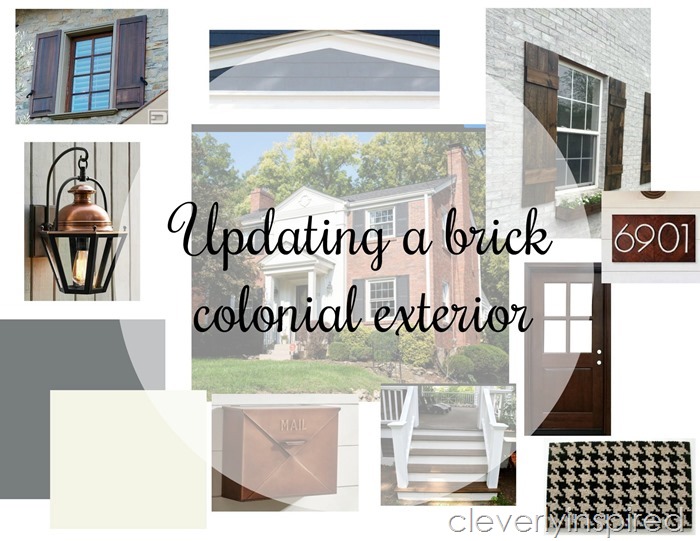 I have a client that I have worked with several times who recently purchased a older brick colonial. She asked for some advice on how she could make the exterior more her style….Here is my plan for her update….
She loves painted brick, but she is unsure that will be in the budget right away. I have suggested painting the center white panel, Steel Wool by Ben Moore. This will tie in the existing shutters a bit better. When they do have the money to paint the brick, I suggest the entire house to be painted Simply White by Ben Moore. I think a stained wood shutter would be lovely on that brick. Dark Walnut or Jacobean would be my first choice….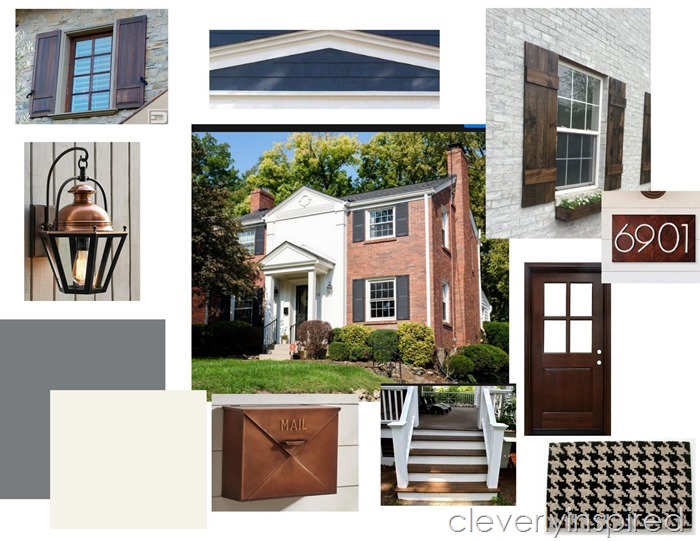 I like the idea of copper elements on the lighting and mailbox. Adds a lot of character, for not a lot of money:) To make the entrance to the house seem a bit more grand, I would like to add a beefier railing and baluster in a painted wood. A door with a window, and stained to match the shutters would be a great idea to add a timeless look to the porch. Of course, hounds tooth mat is always a winner:)  I also suggested cutting back some of the shrubs and the large tree in the front yard to really allow the light to come through and add to the curb appeal as well.
Here are the links if you would like to take a look at some of these products for your home:)
Have a great day!!!
Tracie Stoll is a wife, mom and has a passion for creating new things. On her blog Cleverlyinspired.com she is constantly sharing ways to inspire her readers to be clever in their own home. Since 2010 Tracie has been sharing DIY projects, crafting, remodeling and decorating along with some easy tasty recipes…all on a mindful budget. She is a graduate of the University of Dayton where she studied visual art and communications. Tracie has been featured on popular sites such as Country Living, CNN living, Good Housekeeping, Better Homes and Gardens, Huffington Post, Apartment Therapy, Seventeen and Design Sponge. She is also a member of the True Value Blog Squad & Martha's Circle of trusted bloggers.