tap, tap…is this thing on….Feels like it has been forevverrrrrr. So sorry yall:) I know that blogging has changed…and many of you keep up to date on other social media. I wanted to pop in and share some pics of a few things I have been working on. The foyer and the reading room are really looking good.Let me show you….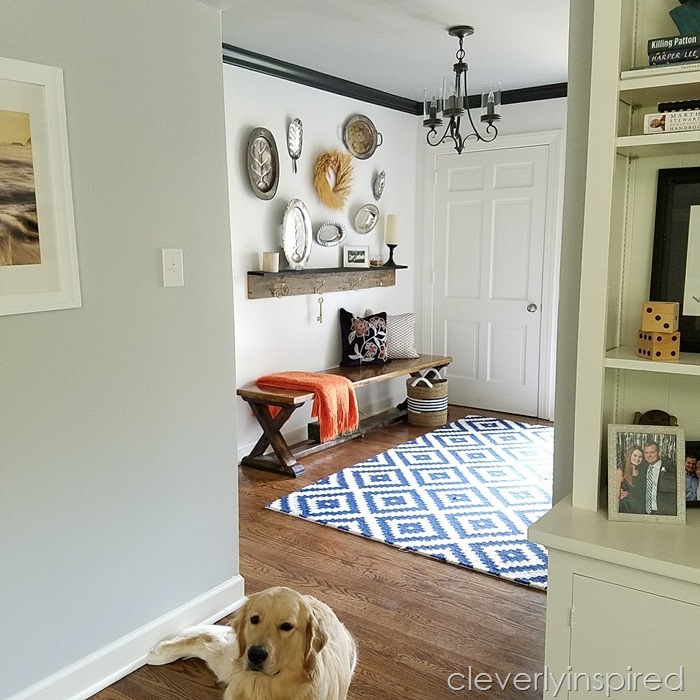 Let me start in the foyer….I updated a bit for fall. The rug is from RugsUsa and I bought that back early summer. Love it paired with the oranges and navy. My dad made the bench for me….it is stunning and I love how it fits perfect in this space. I bought a couple of new pillows at Homegoods…..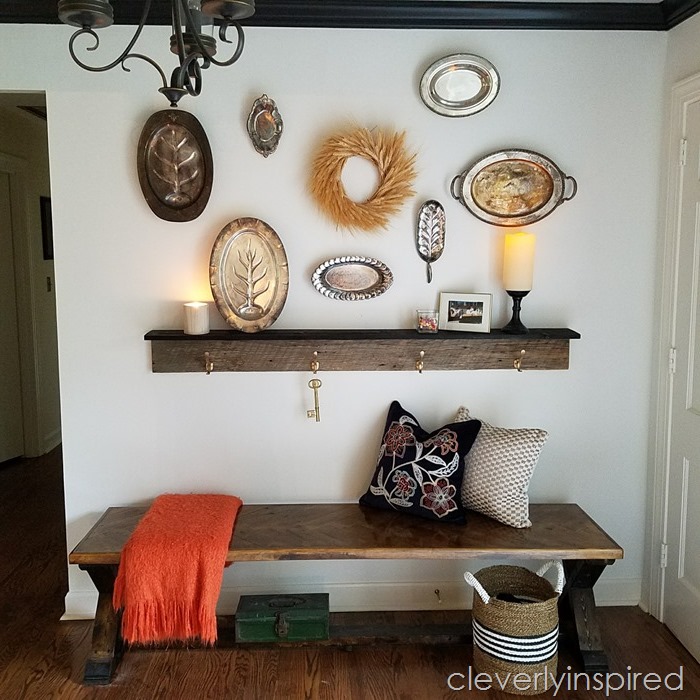 Found a box full of vintage silver platters at a tag sale. I hung them up with command hooks:) The shelf is a left over piece of wood from our old tv cabinet from the old house. I secured some gold hooks on the front:)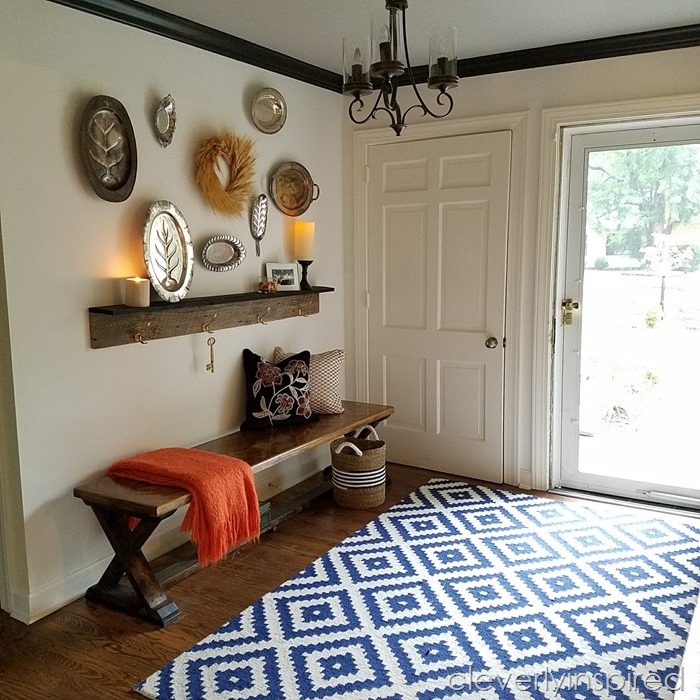 If you walk in the house and enter the foyer….directly to your left is our living room. We have coined the phrase "reading room". It is a perfect spot to catch up and chill out…as our dogs have come to realize:)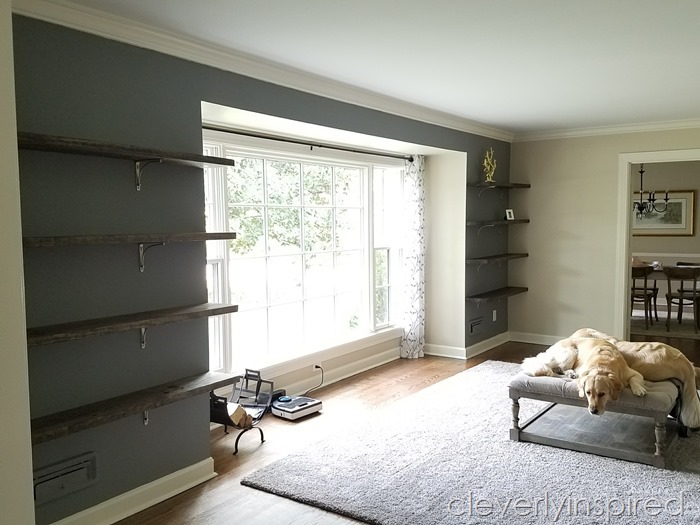 I am excited to continue updating #cleverreadingroom. I have been so stumped on the corners of this room for some time now. This house was built in 1965 and this room was originally a formal living room. It is now opened up to the rest of the house and we want to make it a bit more casual for our liking. This window is one of my favorite features in this house and my thought was it is a great spot to sit and read or listen to music.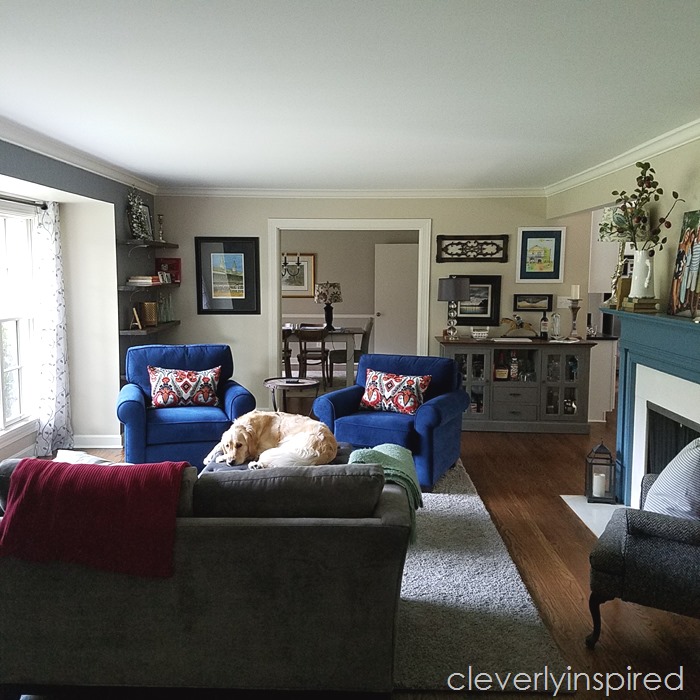 My problem was that these corners are kind of deep but not really suitable for furniture…they were a bit awkward. That is when I came up with the idea to paint the wall that is opposite the fireplace SteelWool by Benjamin Moore. It is actually same color that I used in my foyer in the last house. We then came up with the idea to do some chunky wood shelves to flank this large picture window nicely and balance the room a bit better. We used 2 inch thick framing lumber and brackets found at Home Depot (I sprayed the brackets champagne gold, and the wood was stained Dark Walnut.)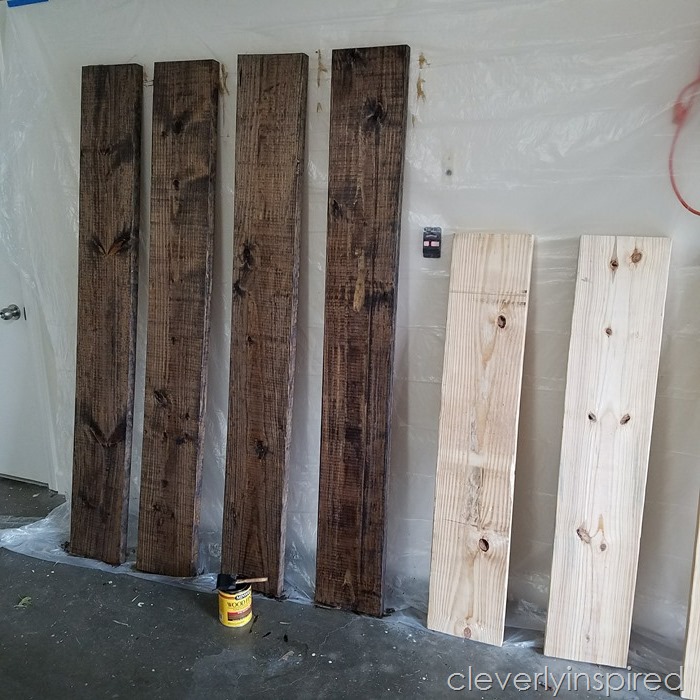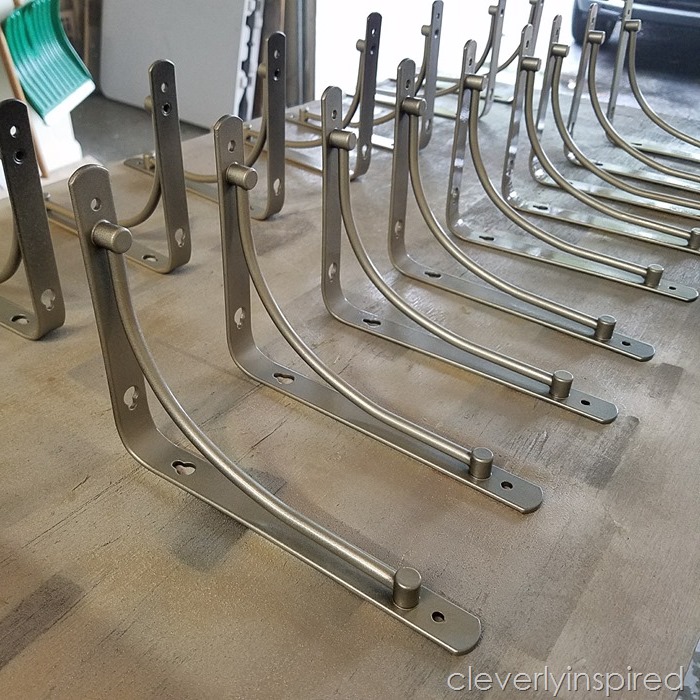 Our idea is to highlight that architectural feature picture window while at the same time making good use of those corners. I like the idea of a deep charcoal color with some champagne brackets and thick wood shelves. Obviously this is a whole lot of wall space so I was trying to figure out the least expensive option. These shelves ended up costing in total just $140!!! We adore this space….it is coming together so nicely!!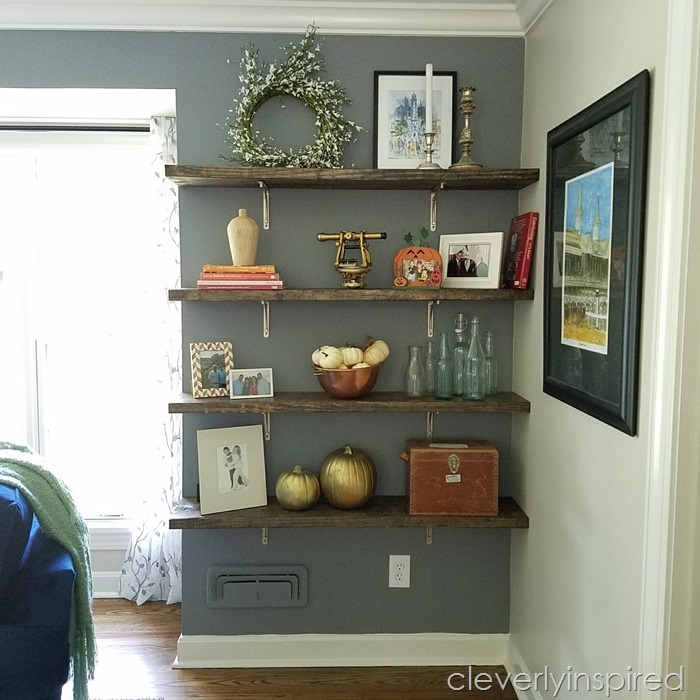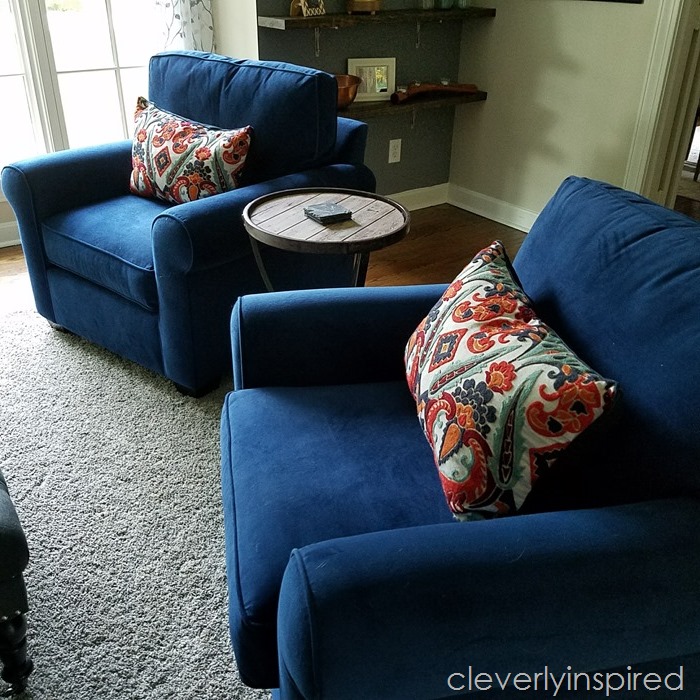 Bought these navy velvet chairs at Potterybarn….so comfy!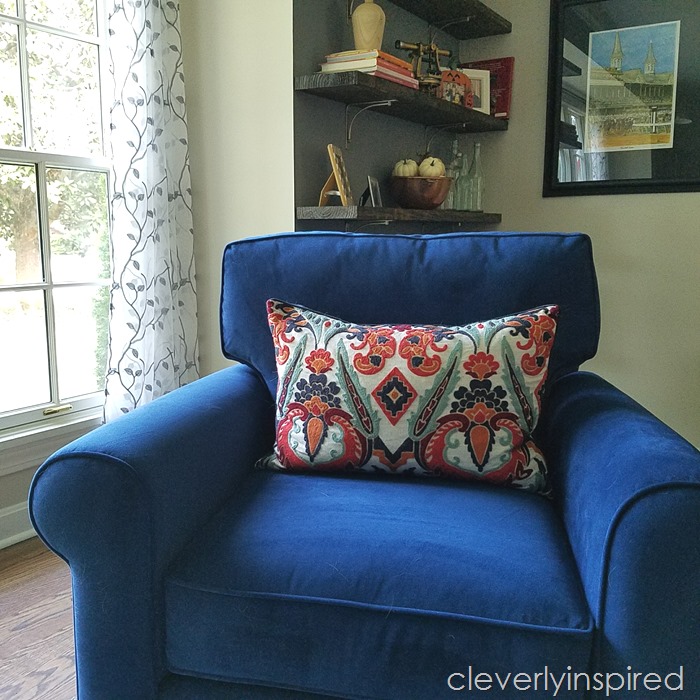 I haven't bought much for these shelves….just moved some stuff from other parts of the house. I like that I can change them up for the season.
Trying to decide on the fireplace. I painted it Phillipsburg blue a while ago…but not I feel like it competes too much with the chairs. I don't want white and I was hoping to do something other than gray. What I would love is to strip it down to bare wood…but that sounds about as fun as going to the dentist….Thoughts??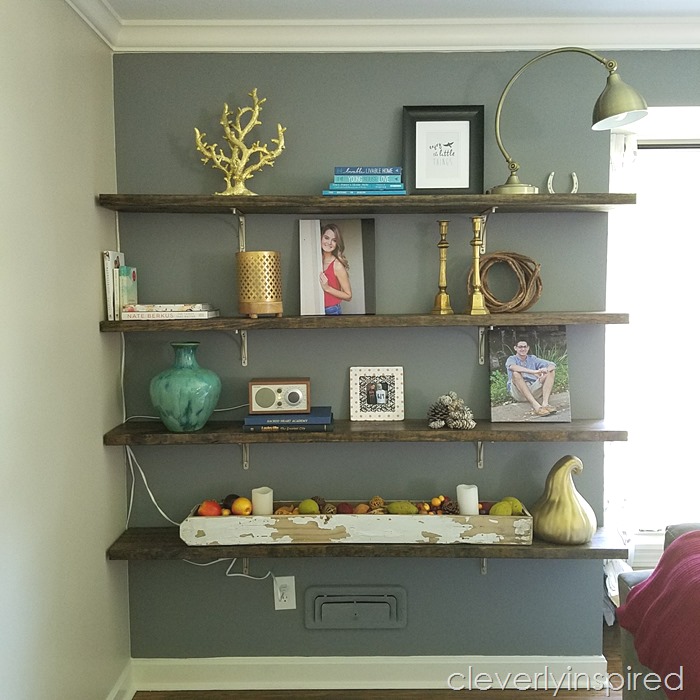 Also, wanted to let you know, I am watercoloring! I have several new things in my etsy shop so check it out! I can paint a custom house/school/church for you…perfect Christmas gift!!!!