We all have particular memories from our childhood when it comes to grilled cheese sandwiches. Mine would have to be when my dad was traveling during the week and my mom was just trying to get food on the table. She would cook up and gooey buttery grilled cheese sandwich with some soup….I am sure you have very similar memories.  I also remember on weekends when my dad was in charge of lunch, he would get the griddle out and cook up everybody some grilled cheese sandwiches. It is the perfect comfort food featuring Land O Lakes Light Butter with Canola Oil
This is the adult version of your childhood grilled cheese sandwich. It is butter infused with fresh herbs and garlic….tender ham and provolone and American cheese and tomatoes. I am calling it the kicked up grilled cheese. Obviously you can add in any of your favorite flavors you'd like…. The bread really makes it pop. I got some fresh, thin sliced sourdough bread. This sandwich is a meal unto itself and really pairs great with some fresh greens or fruit. A great summertime meal :)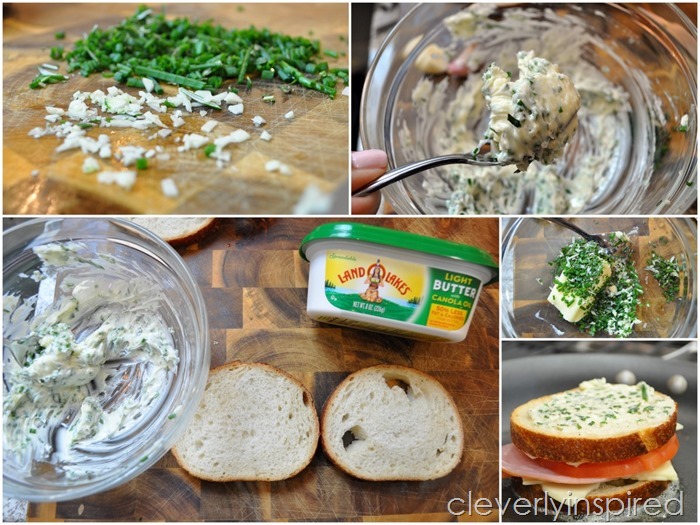 To make the herb infused butter you just need a tub of Land O Lakes Light Butter with Canola Oil ….fresh chives, rosemary and 1/2 clove of garlic. Chop up the herbs and garlic super fine and mix with butter. Sprinkle in some salt….ready to make your ultimate grilled cheese ;) Everything you need is right in the dairy aisle. Did you know that June is national Dairy Month….who knew right?? Look for specials all month long in your Dairy section…like this Land O Lakes Light Butter with Canola Oil ) I love it that it is ready to spread…always!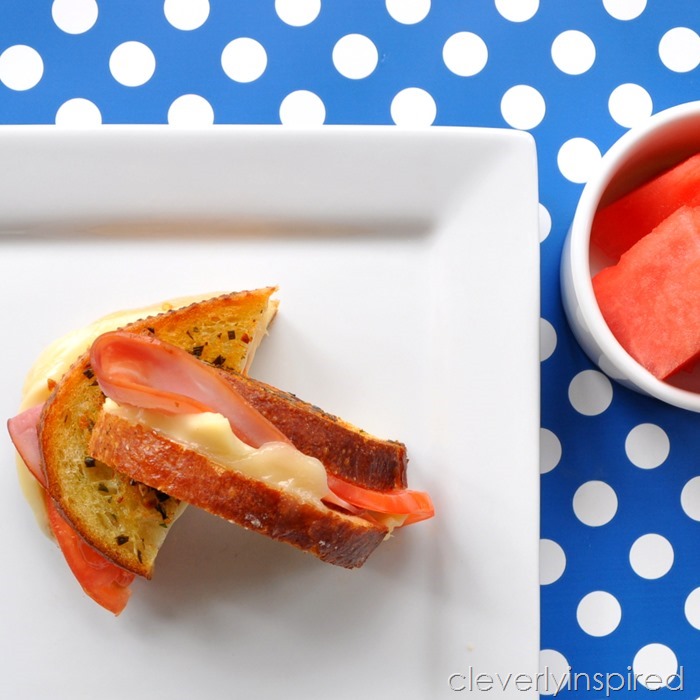 Land O Lakes Light Butter with Canola Oil makes the perfect vehicle for all the fresh herbs to get soaked into the bread. Be sure to use a medium heat, since you don't really want to burn the herbs right away you just kind of want them to brown nicely.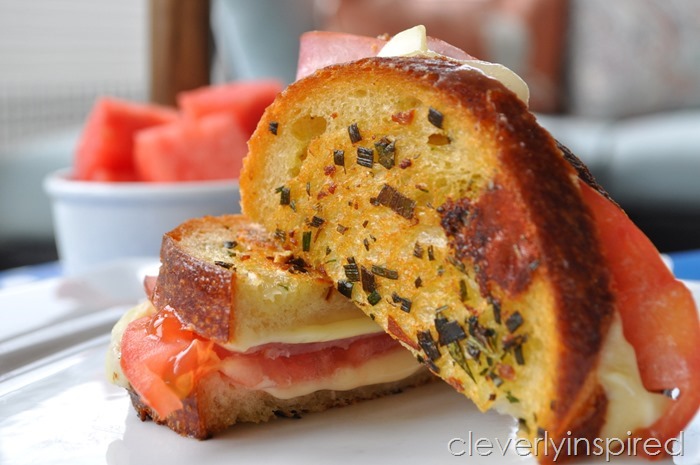 The Dairy aisle is full of ready- made products that are just waiting to make your life easier. Summer time is busy and dinner time always sneaks up! Shop the store on Sunday and tell the kiddos to make a sandwich…some cut of fruit and dinner is done :) For more recipes and meal ideas visit EasyHomeMeals.com
I am a brand ambassador for the NFRA (National Frozen and Refrigerated Foods Association) & a member of the Cool Food Panel. I have been compensated for my time spent writing this post. All opinions, photos, and thoughts are 100% mine own.