Took Stella to the dog park on Monday. Apparently there is a whole group that meets at our neighborhood dog park at 4:00 everyday. Who knew? Did we miss the invite? Or maybe they just know Stella is a little cray cray.. #wordgetsaround. Stella had thought she won some big prize….romping and wrestling with all these dogs….her complete joy. While I was chit chatting with some of the other dog moms/dads, Stella and her new bff "Maybe" plowed.. literally plowed…. into the side of my knee. I hear a loud "pop" and try to remain standing but I probably looked like a wilted tulip. I tried standing but felt like the grass was moving under me….I better sit…. The man I was talking to…"are you alright? I think I heard a pop.." Oy. I gave it a few minutes and my knee appears to be ok…I can walk at least. But man o man did it hurt that night. I now have a black knee band on my right knee…should I break out some flip flops with socks now? Gurrrr….
Anywho….I am kind of draggin today….but I thought I would pop in to share this yummy easy weeknight meal. We had these last week and I am sure we will have them again soon…enjoy!
I have a love hate/relationship with fajitas. I love them because they remind me of vacations in Mexico with a cold margarita, some fresh salsa, crunchy chips , tableside guacamole….it's all good stuff. But when creating it at home it can be a challenge….so many things going at one time. Shredding the cheese… cutting the onion …cutting the pepper…. marinating the chicken…. sautéing it up…There aren't enough hands available when you make fajitas at home. So I was out to simplify this whole process mainly so that I could sip on a margarita a little bit easier:) and also shove a little bit more guacamole in my face.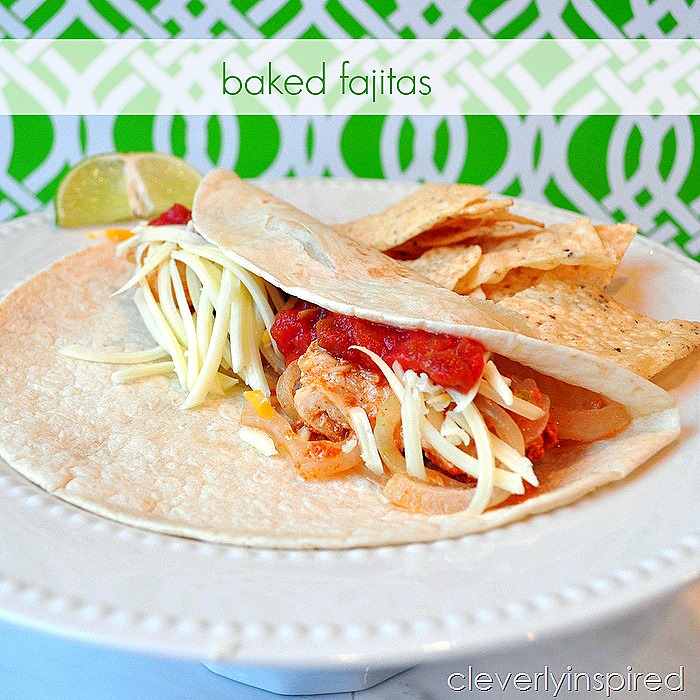 These easy baked fajitas can be put together earlier in the day. Shred your cheese and make ready your toppings like sour cream, guacamole and salsa. When it's time to eat, all you have to do is pop it in the oven for about 25 minutes and you're ready to eat. I also like to warm up the flour tacos in the oven for about 5 or 10 minutes just so they're nice and pliable. I just used a packet of taco seasoning for my marinade (but it is easy to make your own too.) I mixed it in a heavy duty plastic bag with about a quarter cup of water… add in my chicken and let that marinate for a little while.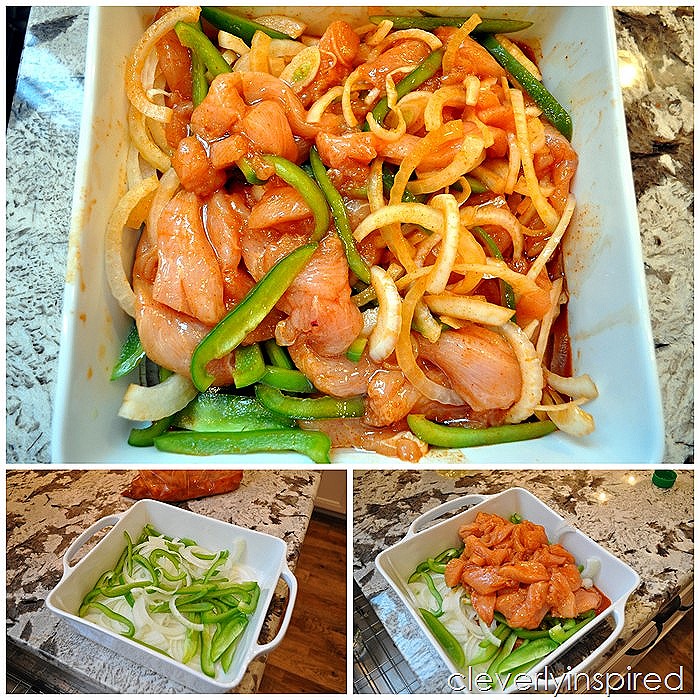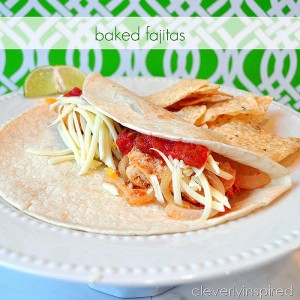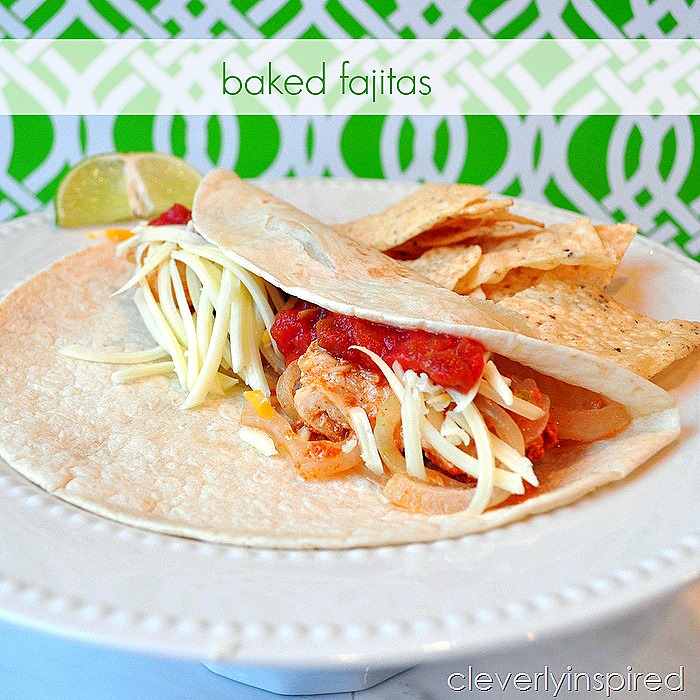 Baked Fajita Recipe
Ingredients
1

packet taco seasoning or fajita mix

1

large ziploc

3

chicken breast cut into strips

1

onion sliced

1

green pepper sliced

2

T

vegetable oil

1

lime

flour tortillas

sour cream

salsa, guacamole, shredded cheese
Instructions
Marinate chicken pieces in a large ziploc with 1/4 C water and seasoning. Set in fridge for a few hours (or all day)

Heat oven 400

Grease an 8 by 8 baking dish

Toss in onion and pepper

Top with marinated chicken. Mix all ingredients with your hands.

Drizzle with oil.

Bake about 25 minutes

Make your own fajitas! Top with fresh lime juice!
xo
Tracie
Sharing at Tatertots&jello