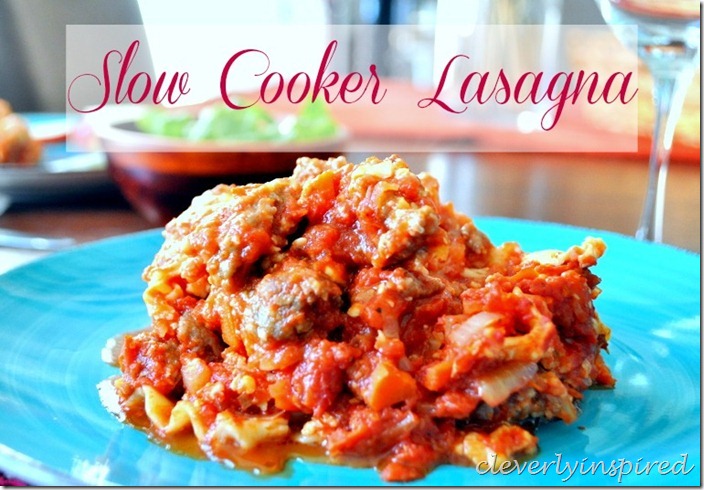 I realize I have given you a few options when it comes to lasagna….but this one has got to be the easiest one yet. No need to boil noodles (yay…) you could make the filling and keep it in the fridge for a couple days (make ahead…bonus!) And it is really really tasty. Great week night meal…all you need is a salad and you are good to go. And….I used a slow cooker liner (sold by the foil and cling wrap…) NO clean up! Just take the liner out and wipe down. Love that! Feel free to substitute your favorite veggies in lieu of carrots (peppers would be great in here…)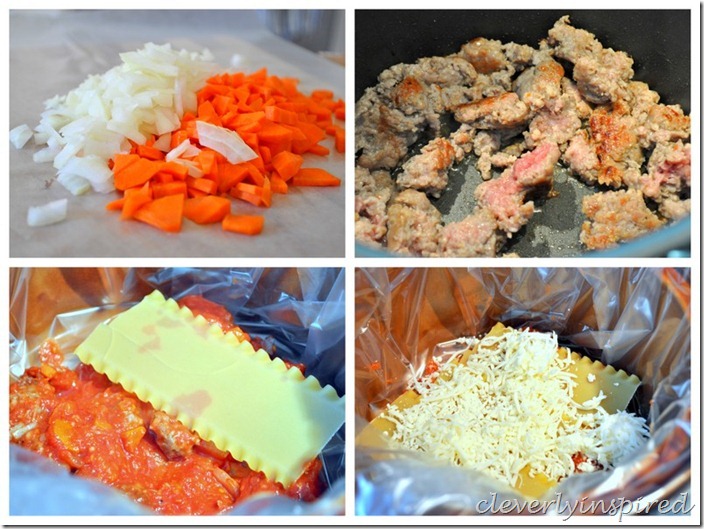 Chop up veggies and brown meat. Toss veggies in pan with meat…along with garlic and sauce. Layer slow cooker—sauce, dry noodles, cheese, sauce, dry noodles, cheese…you get the point ;)
Cook on low.
Here's what you will need:
1 pound ground beef sirloin (can add in sausage if you would like)
1 medium onion, finely chopped
2 medium carrots, finely chopped
2 garlic cloves, minced
Coarse salt and ground pepper
1 can (6 ounces) tomato paste
1 can (28 ounces) crushed tomatoes in puree
9 lasagna noodles
2 cups shredded part-skim mozzarella (8 ounces)
Directions
In a 5-quart Dutch oven or heavy pot, cook sausage and beef over medium-high, breaking up meat with a spoon, until no longer pink, 4 to 6 minutes. Add onion, carrots, and garlic; season with salt and pepper. Cook until onion has softened, 3 to 5 minutes. Stir in tomato paste, then tomatoes; bring to a boil, and remove from heat.
Spoon 2 cups meat mixture into bottom of a 5- to 6-quart slow cooker. Layer 3 noodles (breaking them as needed to fit), 2 cups meat mixture, and 1/2 cup cheese; repeat with two more layers (refrigerate 1/2 cup cheese for topping).
Cover slow cooker, and cook on low, 4 to 6 hours. Sprinkle lasagna with 1/2 cup cheese. Cover until cheese has melted, about 10 minutes.
(adapted from Martha Stewart)
Sharing at TipJunkie
[shopeat_button]