Hey yall! We made it to Friday….although I haven't showered the better part of the week and my diet has consisted of muffins, coffee and vodka….all is good:) My kiddos went back to school today…three cheers for routine being restored! The charity playhouse is almost ready for it's finishing touches…and I am so excited to share with you some of the special features. Next Wednesday and Thursday is go time…and I will be at the fairgrounds setting up for the big reveal. I cannot wait for these kiddos to see their playhouse. Sneak peeks over on instagram:) Go see! Have a great weekend…in the meantime…this dessert will have you dreaming of spring…..:)
I am very excited to be a member of the 2015 Cool Food Panel on behalf of the National Frozen & Refrigerated Foods Association (NFRA) and Easy Home Meals. It is comprised of 6 bloggers that all blog about food and develop delicious recipes. The main objective is to share fun recipes that think a little bit outside the box when using time saving & healthy products from the frozen food and dairy aisles in your local grocery store. We are always looking for easier ways to get dinner on the table quicker and the items found in the freezer section can help you find your love for cooking again! My partnership with NFRA goes right along with the mission of my blog which is to inspire you to think "cleverly." All year-long, I will be sharing clever uses of everyday frozen /refrigerated products. I would also encourage you to follow along on Pinterest where all my Cool Food Panel comrades will be pinning and creating yumminess right along with me!
This month, I am sharing a really easy dessert that would be so cute to serve at a bridal or baby shower or any springtime party. There are minimal ingredients and it can be made a few hours ahead of time. It is sure to be impressive on any plate at any of your upcoming parties.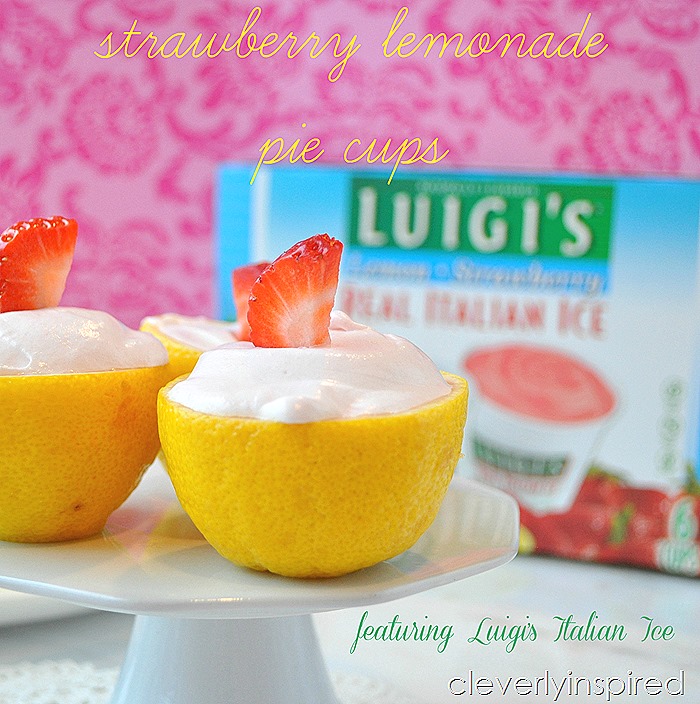 For this recipe you will just need a few items: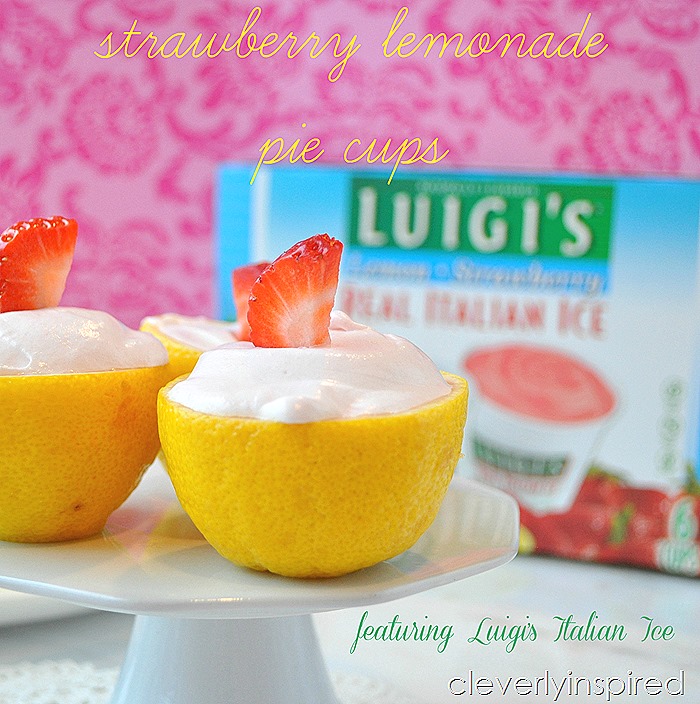 Strawberry Lemonade Pie Cups
Ingredients
2

frozen Luigi's Strawberry Italian Ice Cups

thawed in microwave for 30 seconds

½

cup

sweetened condensed milk

4

oz.

frozen Cool Whip

5

lemons

Strawberries for garnish

These sweet

strawberry lemonade cups look so cute inside of a hollowed out lemon.
Instructions
Steps:

Cut lemons in half and cut small "tail" off bottom so the lemon will sit on a plate.

Use a paring knife and carefully cut around and scoop out pulp.

Place in freezer until ready to fill.

In a bowl, combine Luigi's Italian Ice and whisk with condensed milk.

Fold in Cool Whip.

Place in refrigerator until ready to serve (or one hour prior)

Fill lemon cups with filling and garnish with berries.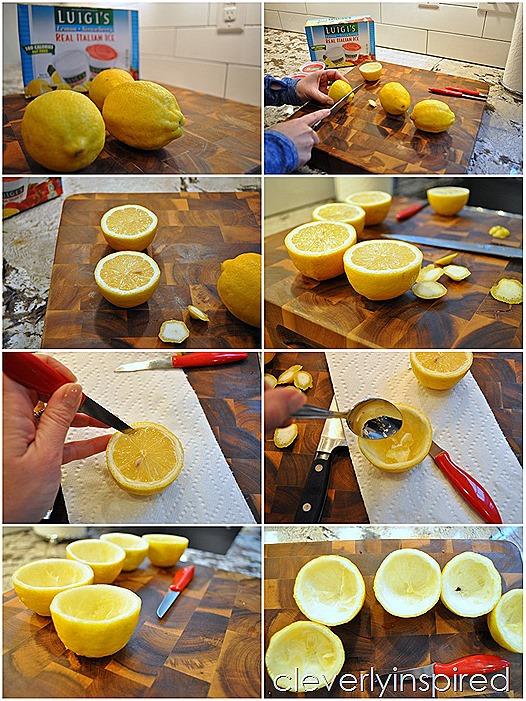 If you're pressed for time, you could always use small dessert cups and top them with some fresh berries…it'll be just as pretty. J I thought to be a little more impressive, I would scoop out some lemons and serve it up in an adorable lemon cup. You could scoop out your lemons and place them in the freezer overnight and then just fill them with the filling before you serve.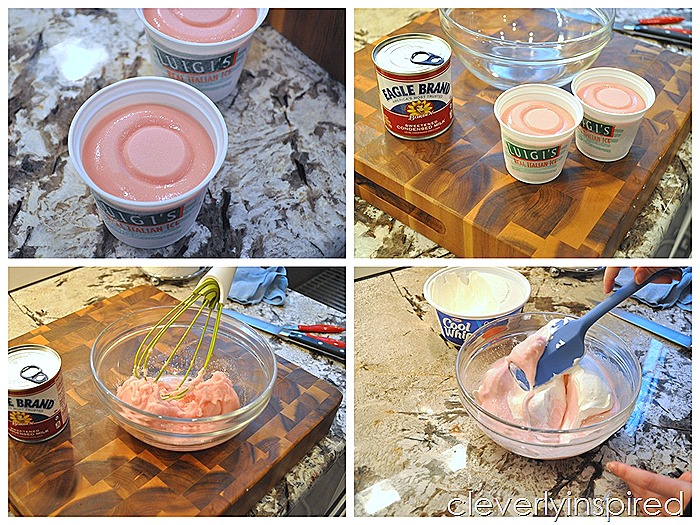 I would just caution if you're going to make this ahead of time to make your filling and put it in the refrigerator and wait to fill up the lemon cups maybe an hour before you serve. You don't want the filling sitting in the lemon cups for too long because it gets a little bit less attractive.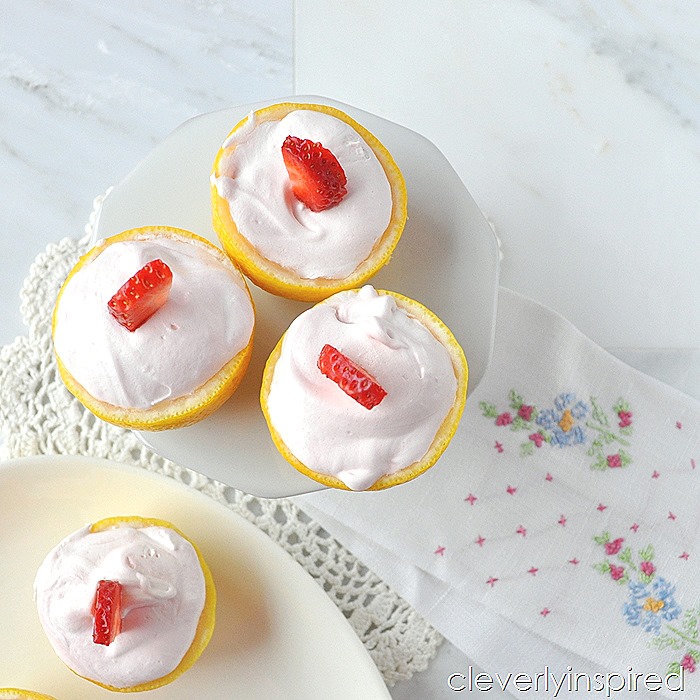 Don't they look like a little bit of spring:)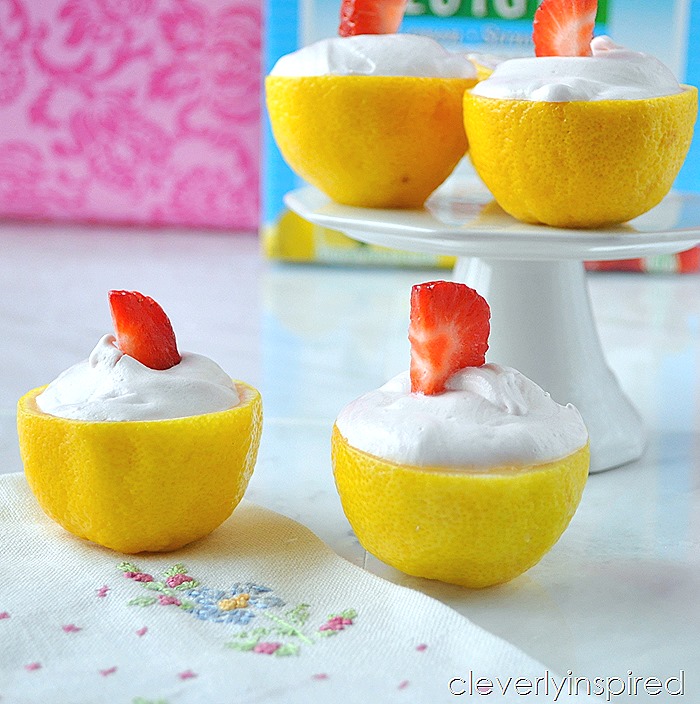 Think warm thoughts friends…and keep warm:)
xo
I am a brand ambassador for companies that create products and services that target my readership.  I work with Social Spark and Clever Girls, along with individual companies. I will always be mindful of your time and needs…and keep with the mission of CleverlyInspired; which is to inspire you to be clever in your own home. I appreciate your understanding. I have been compensated for my time, however all opinions and thoughts , photos & errors are 100% mine;)