This recipe caught my eye (and tummy;) last weekend while reading my Food network magazine. The tang of Key Lime is a welcome flavor after a heavy meal. Something bite size, creamy, tangy, and sweet…all in a little perfect white chocolate dipped ball:) I thought I would share the recipe with you since they were a hit in my house;) If you are going to a cookie exchange this year, these would be easy to double. Plan a bit ahead just for the chill time….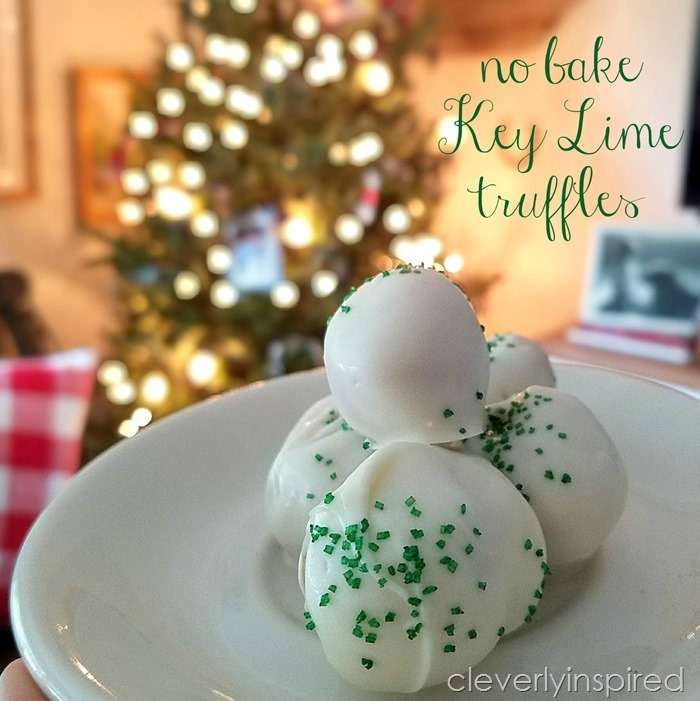 I have never toasted flour before for a recipe…and I am unsure why this works or what it does to the flour….but I think that is takes away that raw flour taste….so don't skip this step:)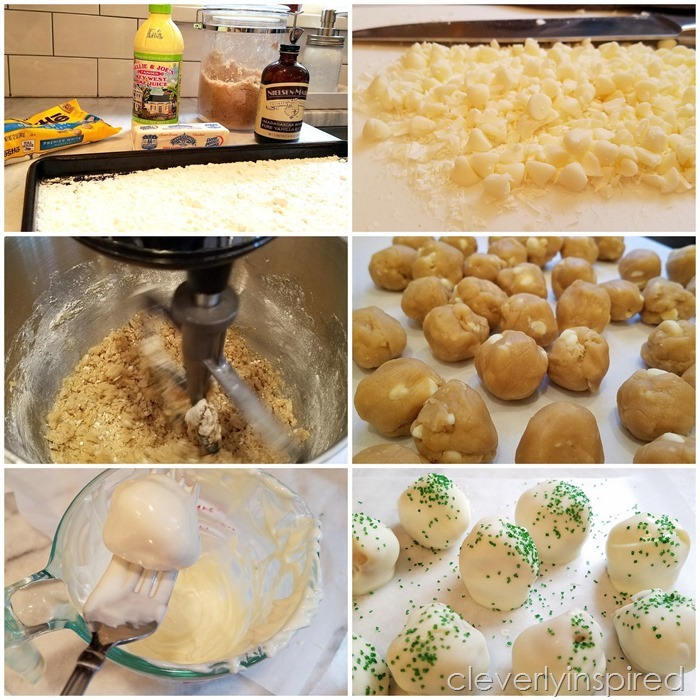 No bake Key Lime Truffles (no bake Cookie)
Author:
Tracie at CleverlyInspired
Ingredients
1½ cups all-purpose flour
1 stick unsalted butter
¾ cup packed light brown sugar
Pinch of salt
3 tablespoons Key lime juice (I used bottled)
2 teaspoons pure vanilla extract
½ cup mini white chocolate chips (or regular white chocolate
chips, chopped)
2 tablespoons green sprinkles
1 11-ounce bag white chocolate chips
1 tablespoon vegetable shortening or vegetable oil
Green nonpareils, for topping
Instructions
Oven to 350. Spread the flour on a baking sheet and bake,stirring halfway through, until lightly toasted, 10 minutes. Let cool on the baking
sheet; whisk to break up any clumps.
Beat the butter, brown sugar and salt in a large bowl with a mixer on medium-high
speed until fluffy, 3 to 5 minutes. Reduce the mixer speed to low; beat in the
toasted flour, then the lime juice and vanilla.
Stir in the mini white chocolate chips and sprinkles until just combined.
Refrigerate until the dough is firm but not hard, about 30 minutes.
Line a baking sheet with parchment paper. Roll tablespoonfuls of dough into balls and arrange on the prepared pan. Refrigerate until firm, at least 30 minutes or overnight.
Combine the white chocolate chips and shortening in a large microwave-safe bowl. Microwave in 30-second intervals,stirring, until melted, 1 to 2 minutes.
Gently drop a dough ball into the melted white chocolate and spoon more chocolate on
top to completely coat. Lift out with a fork, letting any excess chocolate drip back into the bowl; return to the baking sheet.
Sprinkle with nonpareils. Repeat with the remaining dough balls.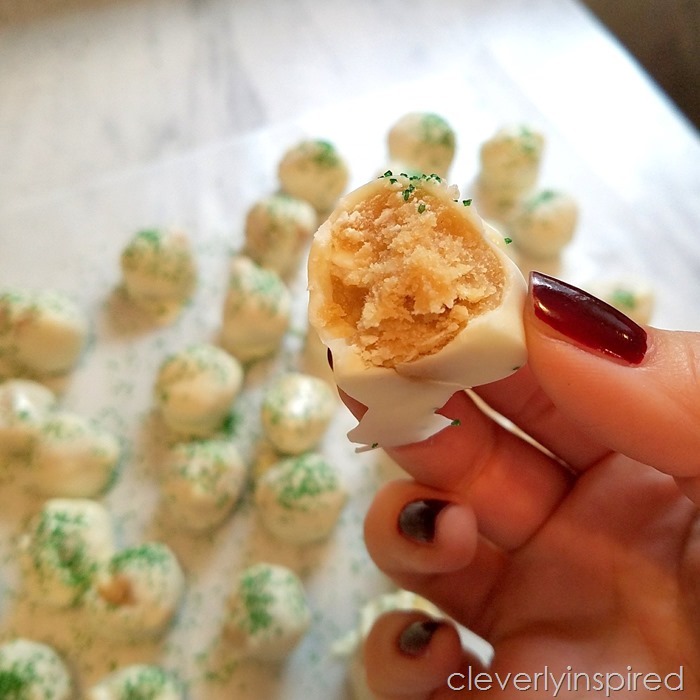 They are the perfect balance of tangy and sweet….just like a little piece of key lime pie:) These would be a great treat to take to a cookie exchange….something different from the norm…and festive with the green sprinkles:)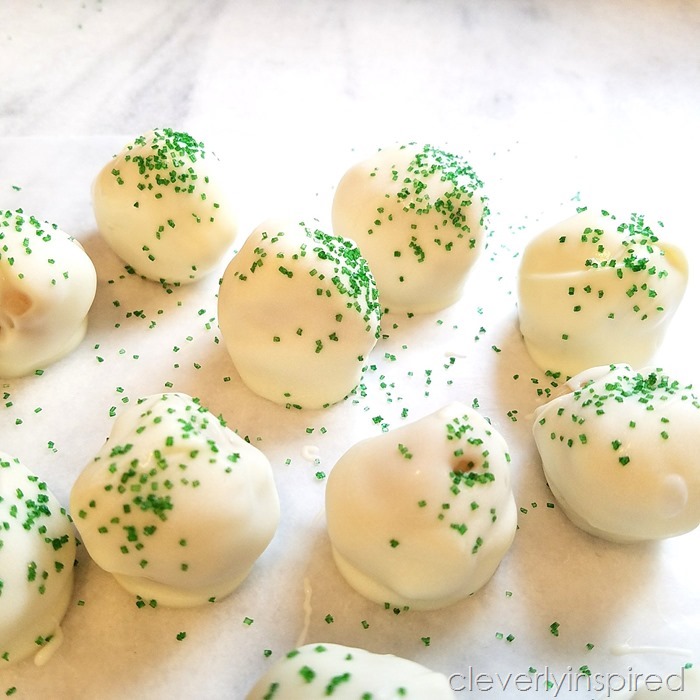 Pin this for later! Have a great day friends;)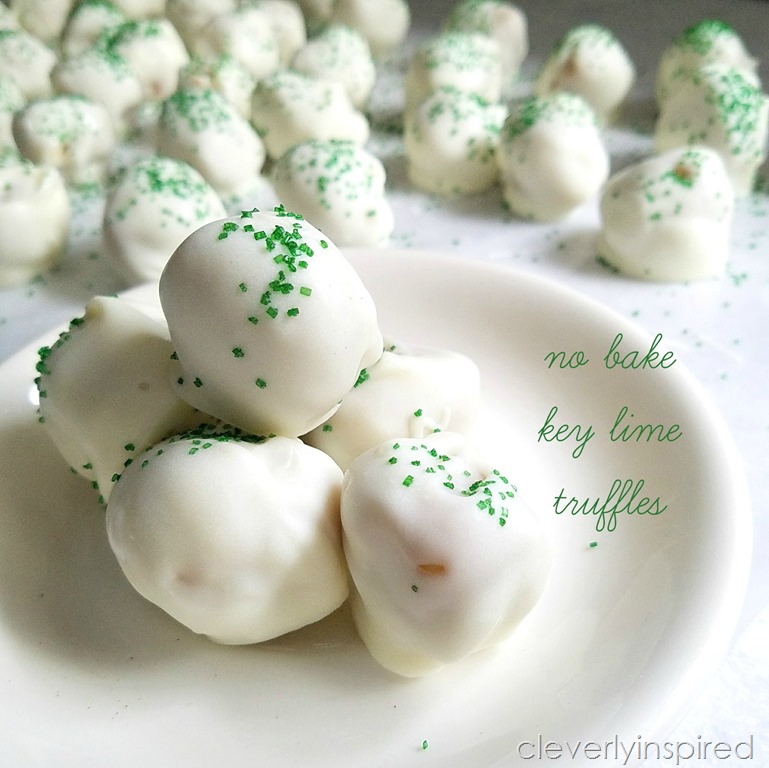 Tracie Stoll is a wife, mom and has a passion for creating new things. On her blog Cleverlyinspired.com she is constantly sharing ways to inspire her readers to be clever in their own home. Since 2010 Tracie has been sharing DIY projects, crafting, remodeling and decorating along with some easy tasty recipes…all on a mindful budget. She is a graduate of the University of Dayton where she studied visual art and communications. Tracie has been featured on popular sites such as Country Living, CNN living, Good Housekeeping, Better Homes and Gardens, Huffington Post, Apartment Therapy, Seventeen and Design Sponge. She is also a member of the True Value Blog Squad & Martha's Circle of trusted bloggers.