Hi all! Welcome to the GETTER-DONE week!! My kiddos are thick into their first experience with high school exams. Fun right?! But the nice thing about it is they are basically done school….they just have to show up to take the exams. It is like I have 2 college students…but they can't drive:) We are all excited to have a couple weeks off….with lots of chillaxing ahead…I wanted to share with you this uber easy meal…I hope you have a productive day:)
I think many times when we grow up with a certain meal for a special occasion we think that it is not appropriate for a weeknight meal. This beef tenderloin is great to serve on a special occasion but it is almost better serve during the week because it literally is so easy and quick.

We like ours medium rare so if you like your beef a little bit well done then just add 5 minutes or so. Our beef tenderloin was about a 1 3/4lbs. I cooked it at 425 for 30 minutes or until it registered 120 on my thermometer.  (Taylor 1470 Digital Cooking Thermometer/Timer )I highly recommend getting one of these electronic thermometers because you can put it in the beef before you put it in the oven and set an alarm to go off when it hits your desired temperature (thanks Dad for that tip:)
I placed the beef on a rack…on top of a foil lined cookie sheet. Make sure you take the beef out of the fridge about 30 minutes to let it rest and bring it to room temp. Sprinkle with salt, pepper and some butter….easy:)

I place the thermometer directly in the center of the meat and I took it out at 120 ( I let it rest for about 10 minutes which brought it up to 125 degrees. It was a perfect medium rare throughout. I got my tenderloin at a local butcher shop. Ask them to tie it so that it is uniform in shape and it will cook a lot more evenly that way. When you're cooking a piece that is this small you want to be sure that you're able to use the entire piece.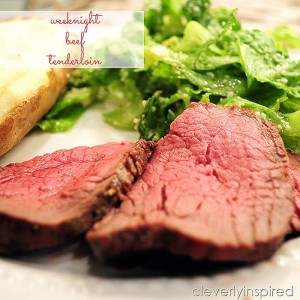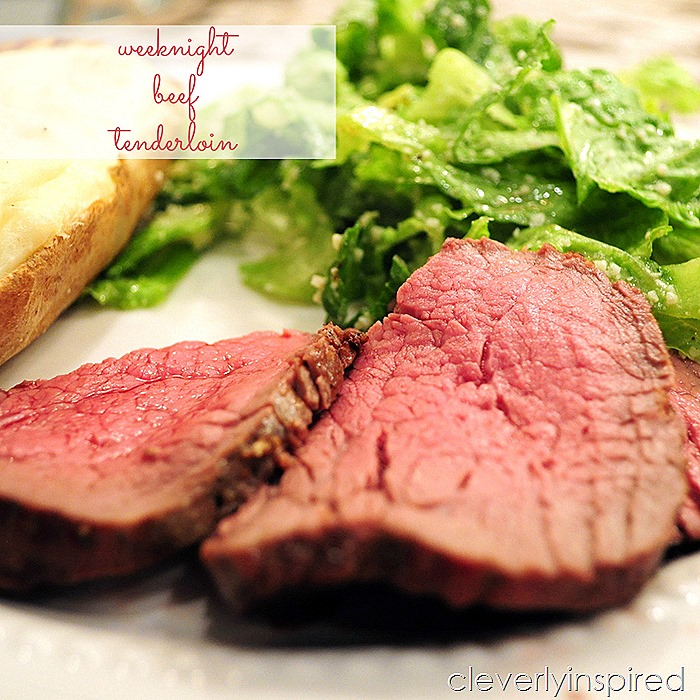 Weeknight Beef Tenderloin
Ingredients
1

2lb . beef tenderloin, trimmed

3

tablespoons

butter

softened

5 to 7

tsp.

kosher salt

3/4

teaspoon

cracked black pepper
Instructions
Preparation

Preheat oven to 425°. Place beef on a wire rack in a jelly-roll pan. Rub butter over beef, and sprinkle with salt and pepper.

Bake at 425° for 25 to 35 minutes or until a meat thermometer inserted into thickest portion registers 120° (rare).or 130 (med.) Cover loosely with aluminum foil; let stand 15 minutes before slicing.

It fed four hungry adults so if you have a bigger family you're going to need probably closer to 3 or 4 pounds. You may need to adjust your timing a little bit but at 425 for 30 minutes it should be close to being done for medium rare beef. I had made some twice baked potatoes ahead of time and we just had it with a salad. It came together really quick and I think it will work great for a weeknight meal in your home too.
After it rest….slice it up and serve…yummmmm o!