This is a sponsored post written by me on behalf of Glad & M&M'S® for IZEA. All opinions are 100% mine.
For the past 4 years I have shared with you a few cookies that I love to bake this time of year. My friends and I gather every year to exchange cookies. My kids loved it because we all get to taste our favorite cookies and I don't have to bake them all! It is really the best of both worlds. And it wouldn't be the holidays without a new cookie to share.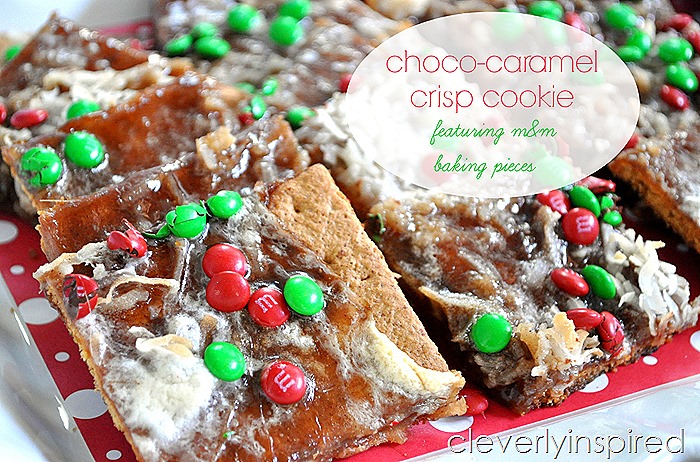 The reason I love this cookie is its very quick and if you're limited to baking time this cookie crisp pulls together really quickly. It kind of reminds me of a Samoa without so much chocolate. I found these M&M baking chips that are available at Target right next to the fabulous packaging by Glad which makes it really easy to package these cookies up for your favorite neighbor and friends.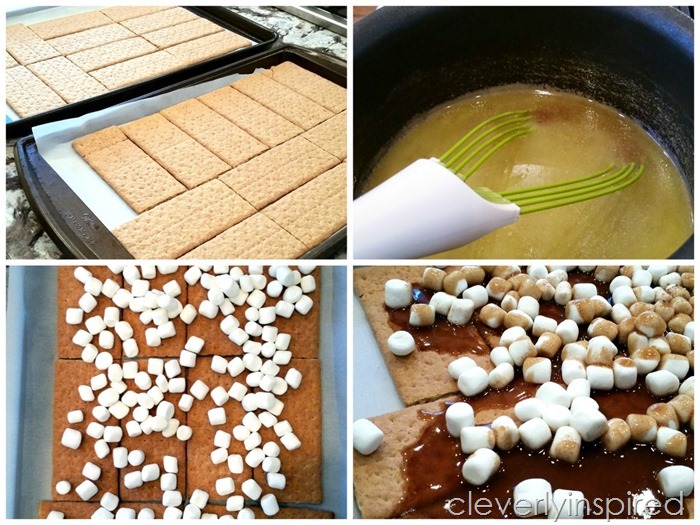 Tie on a bow with Christmas ornament and your gift giving is complete. I'd like to include a little printable that has the recipe on it in case the recipient would like to recreate this cookie. You can print this one out below and you'll be all set .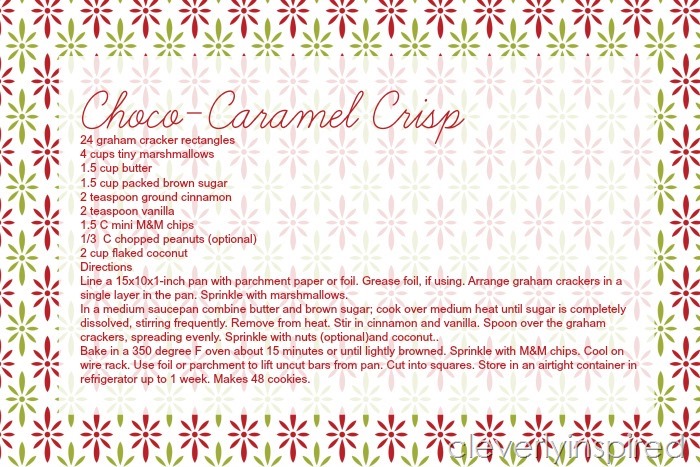 Target has a great display of glad products along with the M&M's to make your shopping easy. The display looks so festive I couldn't pass it up! Raise your hands if you ever have gotten out of target for under $50? If so you are my hero!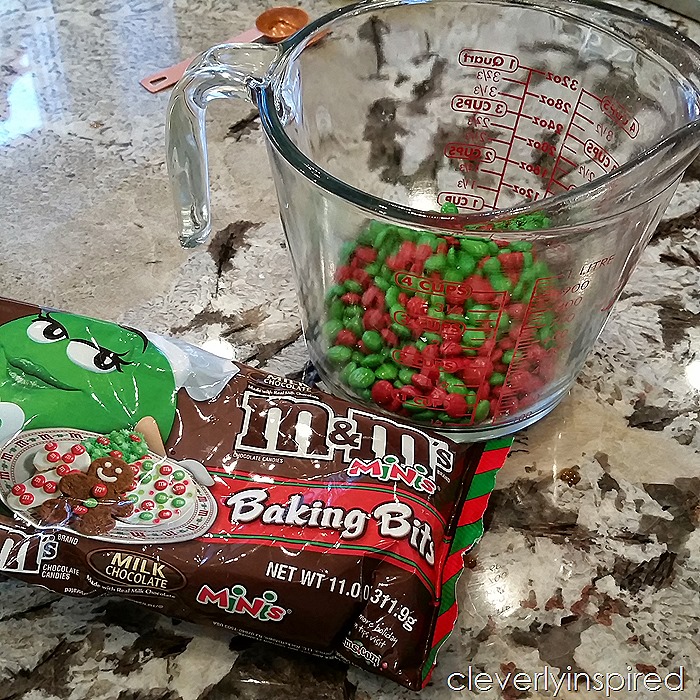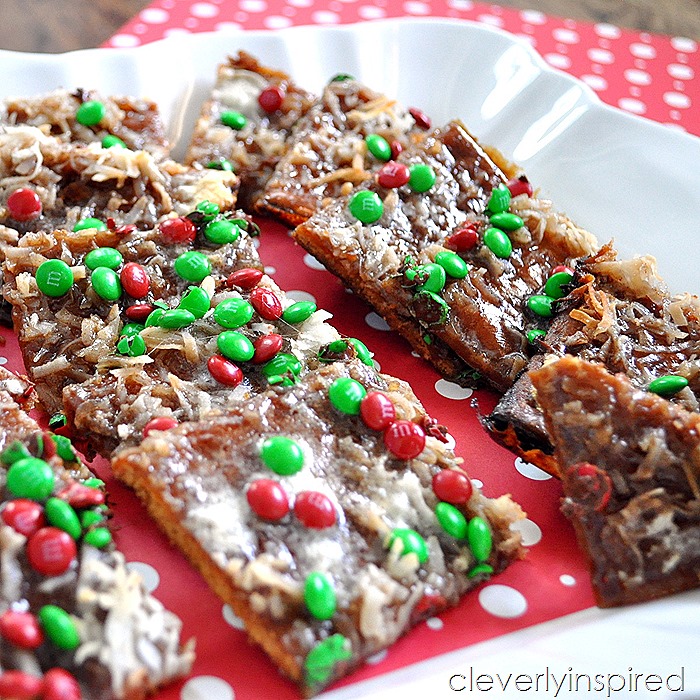 Choco-Caramel Crisp (Tracie Stoll)
12 graham cracker rectangles
2 cups tiny marshmallows
3/4 cup butter, cut up
3/4 cup packed brown sugar
1 teaspoon ground cinnamon
1 teaspoon vanilla
½ C mini M&M baking chips
1/3 C chopped peanuts
1 cup flaked coconut
Directions
Line a 15x10x1-inch pan with parchment paper or foil. Grease foil, if using. Arrange graham crackers in a single layer in the pan. Sprinkle with marshmallows.
In a medium saucepan combine butter and brown sugar; cook over medium heat until sugar is completely dissolved, stirring frequently. Remove from heat. Stir in cinnamon and vanilla. Spoon over the graham crackers, spreading evenly. Sprinkle with nuts, chips and coconut..
Bake in a 350 degree F oven about 15 minutes or until lightly browned. Cool on wire rack. Use foil or parchment to lift uncut bars from pan. Cut into 3-inch squares; cut each square in half diagonally.
Store in an airtight container in refrigerator up to 1 week. Makes 30 cookies.
If you are looking for more inspiration to use up those last few m&m' baking pieces…here is another fabulous recipe for your family holiday movie night….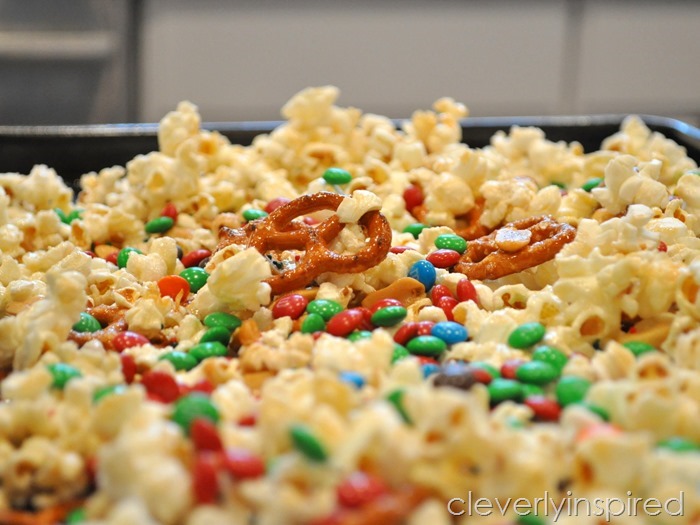 Uber easy recipe…and makes a nice gift topper too in these Glad holiday containers:)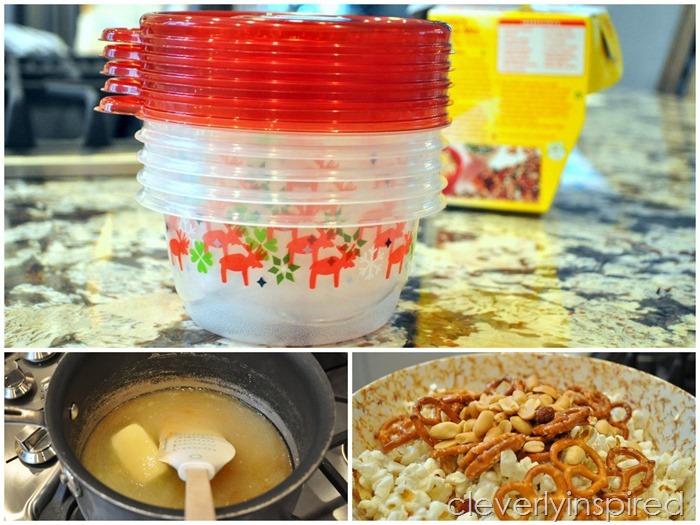 What you will need for the Santa's Snack Mix:
8-10 cups popped popcorn
2-3 cups Holiday shaped pretzels
1 cup red and green Holiday sprinkles
1 package DOVE® Chocolate Candies
2 cups peanuts
3/4 cup Corn Syrup
1 tsp. Vanilla extract
1 1/2 cups Sugar
1/2 cup butter
1 package M&M's® Holiday Baking Minis and/or M&M's® Holiday Mint Candies
Preheat the oven to 325. Add the peanuts, popcorn, and pretzels in a large mixing bowl and set aside.
In a small saucepan, melt butter, vanilla, sugar, and corn syrup over low heat until melted and smooth, stirring constantly.
Pour over the ingredients in the bowl. Toss until all covered.
Spread the popcorn mix on a baking tray or cake pan (may want to use two pans). Bake for 15 minutes. Remove from oven and sprinkle with 1/2 cup Holiday sprinkles, stir. Sprinkle with M&M'S ® candies, stir again.
Place DOVE® chocolates in a small microwave safe bowl. Heat for 30 seconds and stir.
Repeat until melted and smooth. Drizzle over the popcorn. Sprinkle with remaining sprinkles. Let cool approximately 10-20 minutes (may put in refrigerator so chocolate hardens more quickly. Once cool, break into chunks.
Store or give as a gift in your favorite Holiday Glad packaging!