I have been sharing a bunch on social media showing some of our outdoor spaces. It is slowly but surely coming together. We are really enjoying our new neighborhood… walking for coffee or to grab a beer at night. Both Bill and I never realized how much we would enjoy just being outside and walking the neighborhood. Norton Commons is so pedestrian friendly and it has been fun to go explore.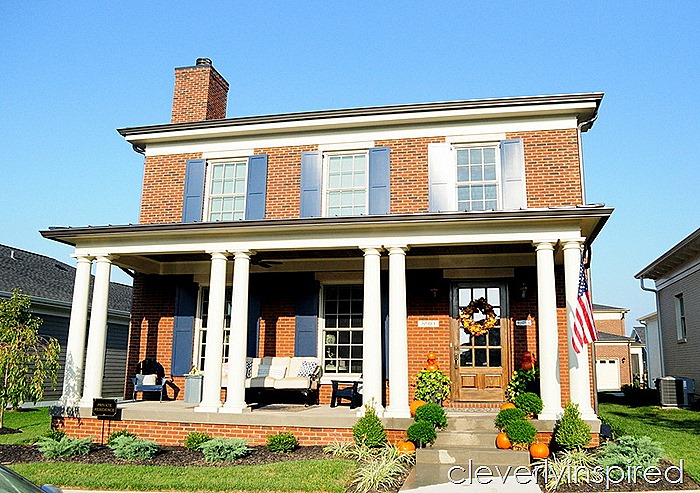 We recently had our shutters installed on the front of the house and they look amazing! We chose a shutter that was complimentary of the Federal style of our house. Our neighborhood rules dictate that they must be actual working shutters… so I guess if a hurricane comes along we will close them up hahaha:) The color we chose was the same color of the powder room inside. It is called Naval by Sherman Williams paint. It really is the perfect blue. We wanted something that would complement the stain door and ceilings of the porches along with the cream colored trim. The front porch just needed a sofa to land on and a couple of Adirondack chairs. The chairs came from overstock.com and they were already painted this blue color.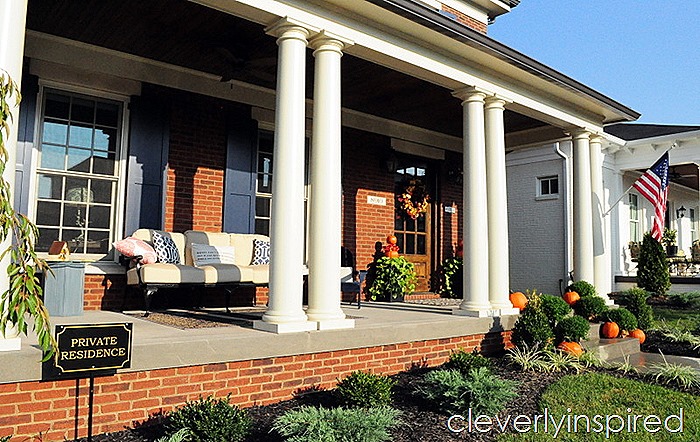 The sofa came from a local store called summer classics. It is so comfy and definitely an investment piece that we will have for a very long time. It fits the porch perfectly. The front porch is definitely one of our favorite spots. We probably sit out there 4 nights out of seven.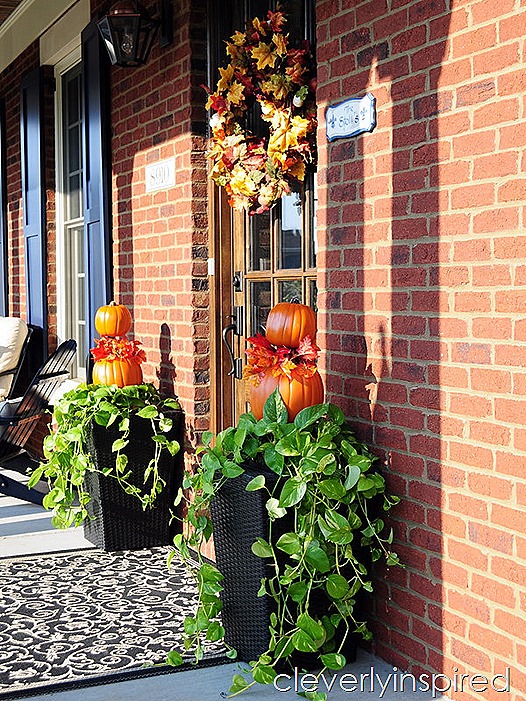 (more on this fall porch on Friday:)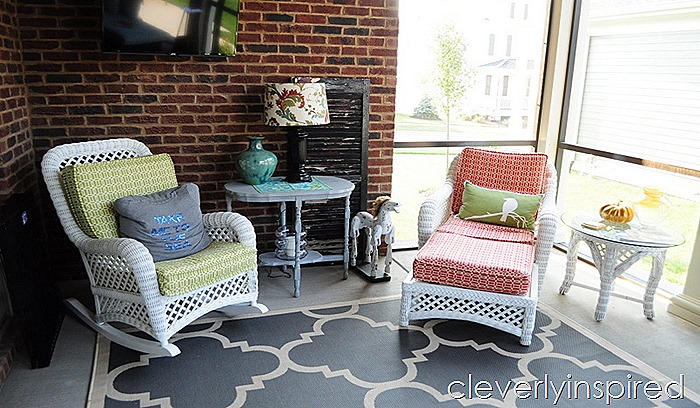 On the side of the house we have a screened in porch that is directly off of the dining area. These huge glass doors open all the way so you can enjoy the outdoor space on the whole first floor. With the start of these cooler temperatures we have been really enjoying having the doors all the way open and sitting out there before dinner time. The furniture in the screened in porch came from a few places.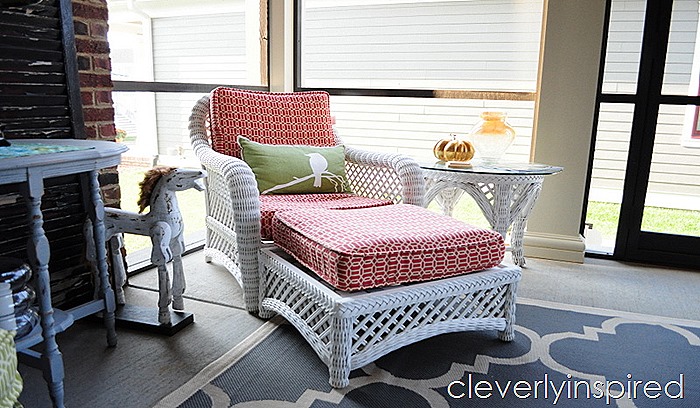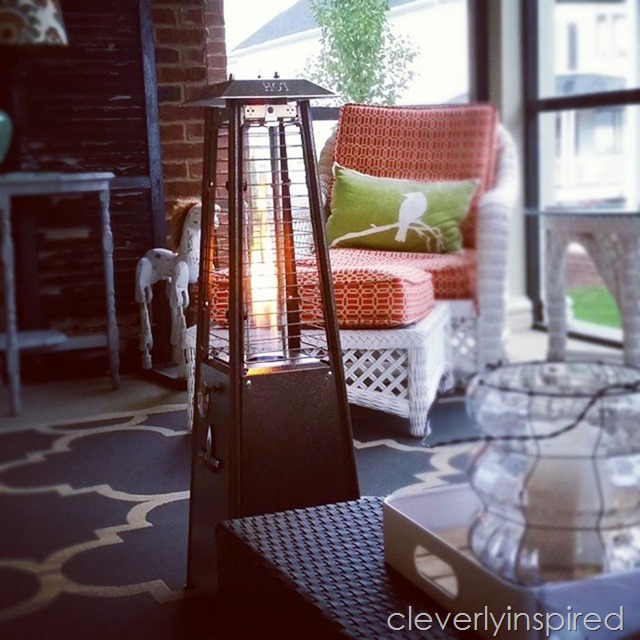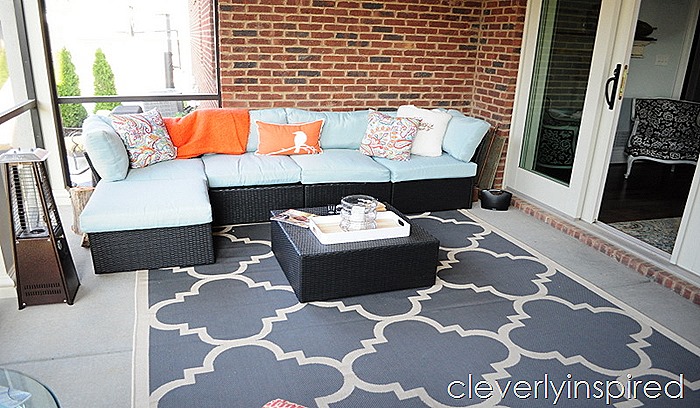 They were sort of mismatched pieces that all seem to work together. The sectional sofa was a housewarming gift from my sweet mother in law. We found it at a local store called Watsons. End of the season score for this baby! It came with the table. The large 8 by 10 outdoor rug kind of grounds the whole space.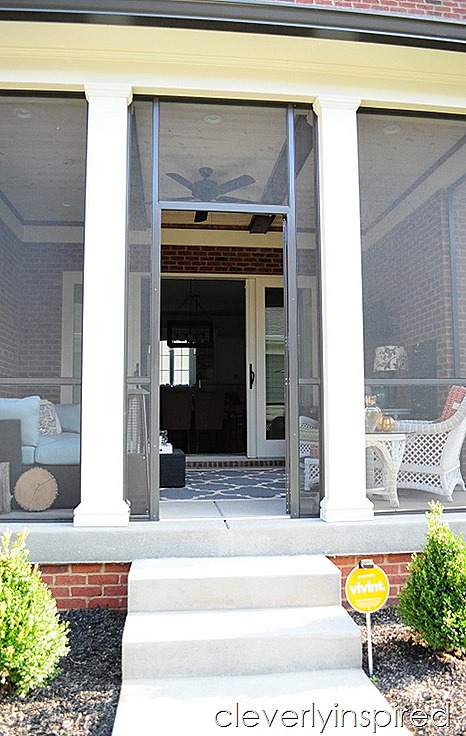 I found that on rugs USA.com . The rocker and the other chair with ottoman were my Grammie's. We had the white wicker pieces on the porch at the lake house. It just needed to have a good cleaning. I found these cushions on eBay last year. All the room needed was a couple of throw pillows from home goods to tie all of the colors together. A favorite piece is this mini porch heater I found on Amazon….perfect even ambience; )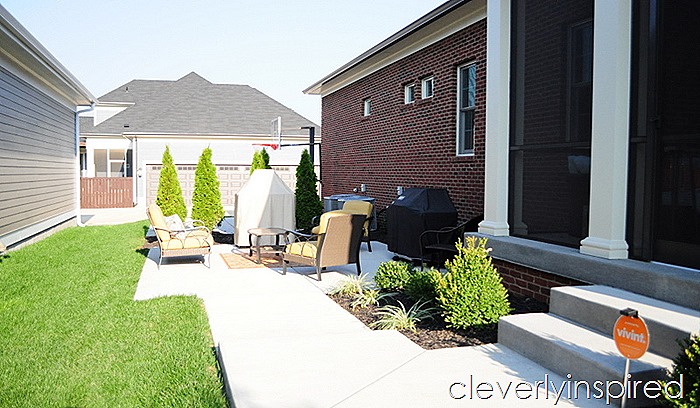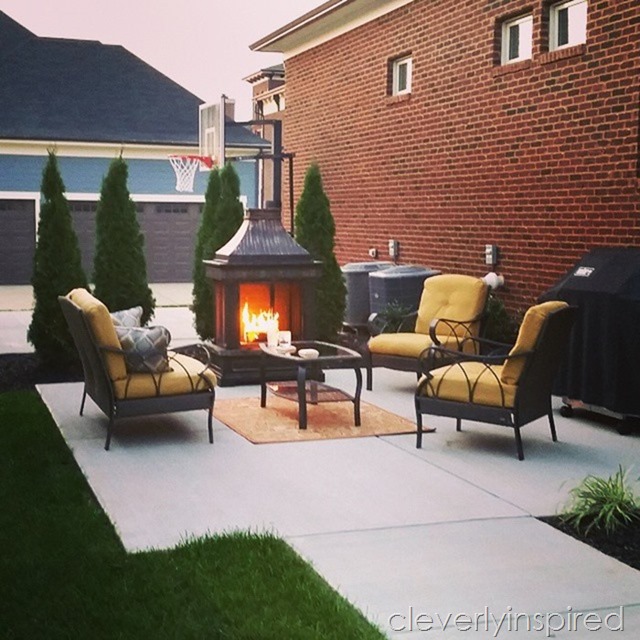 The last outdoor area came together a few weekends ago….our original thought was to have a brick fireplace built…which will still may do eventually. …but this one we found a Lowe's fits so perfect…and very budget friendly too:) While Bill put that together. ..I ran into a favorite local shop called Charlotte's Web.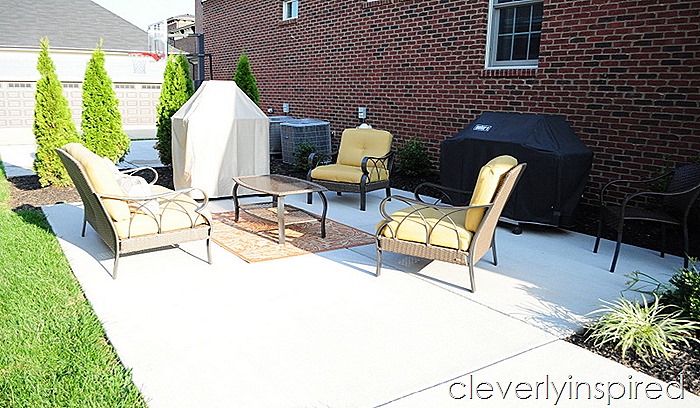 Another end of season score on this brand new Lazy Boy set:) Whoot!!
Oh my goodness…burning wood is such fun:) Going to be sharing a few tips to decorating your front porch for fall…on a dime…on Friday! See you then!
xo