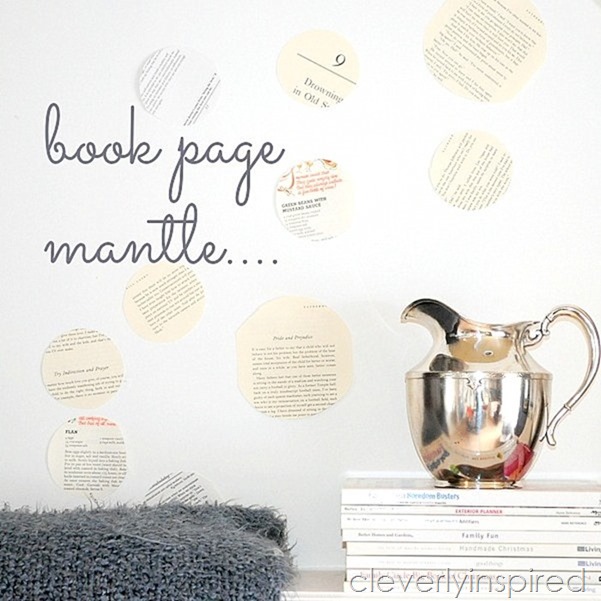 Hey all!! I feel like I haven't shared a fun project in awhile…sorry about that! I have been busy with other boring house chores…none of which are cool enough to share:( But..today I wanted to show you an easy winter mantle idea…perfect to pull off in a weekend (especially if you are stuck inside!!)
If you are a book purist….you may need to look away. Books were harmed in the making of this blog post…older books…from the thrift store…but still…books. To be specific…an old copy of Bill Cosby's Fatherhood, a book titled ABC of Gourmet Cookery, and Drinking American Wines….(yes, I read that last one thoroughly prior to slicing it up…) For real though, these books were a total price of $3…and I knew exactly what I was going to do with them….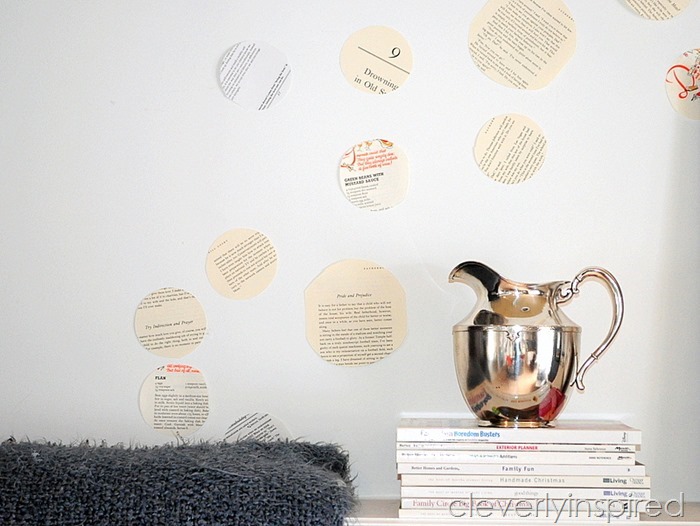 As usual, I started by clearing it off and tried to get my vision going….I wanted little "speech bubbles" so I began cutting the book pages out…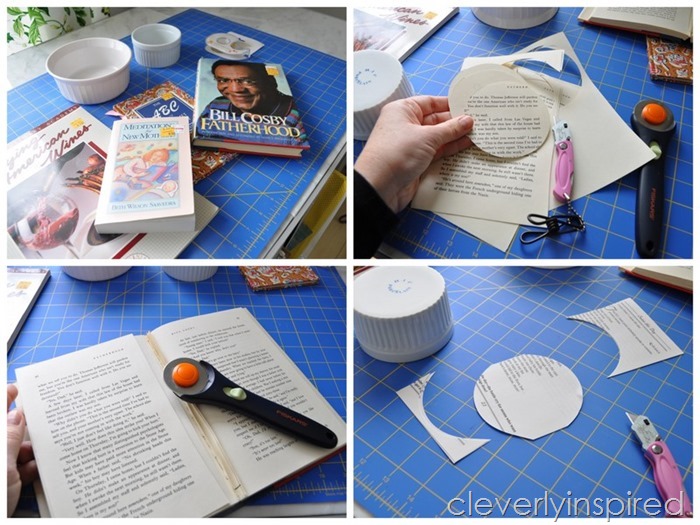 This job is made real easy if you have a rotary cutter and a sharp razor knife. I cut pages out of the books, and on a protective mat…I used a ramekin and dish for my stencil. I like the differing shades of white and cream…that will make it more interesting against my wall.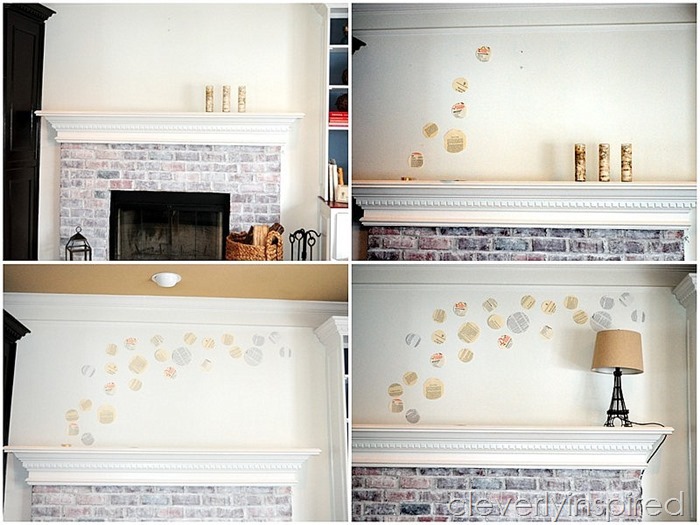 After I had my circles cut, I used double sided tape and began at the bottom and swooped them up to the top (real technical terms here huh…swooping…it happens…) My thought was to place a stack of books on the mantle…and the page bubbles would be coming from the books. I probably missed my calling to be a set designer at Barnes and Noble…still time I suppose. Never stop dreaming right!?! :)
Then I shopped the house…I added a framed painting from my foyer…a lamp that was on another table in the room…a stack of white books, my Grammies silver pitcher….and a soft blue blanket folded up on the end. My honey came home and said "what are we calling this mantle"…:….I said…"the quiet mantle…" (he loves that I give my mantles a name. On some level it is kind of weird I suppose…but then again, so am I;)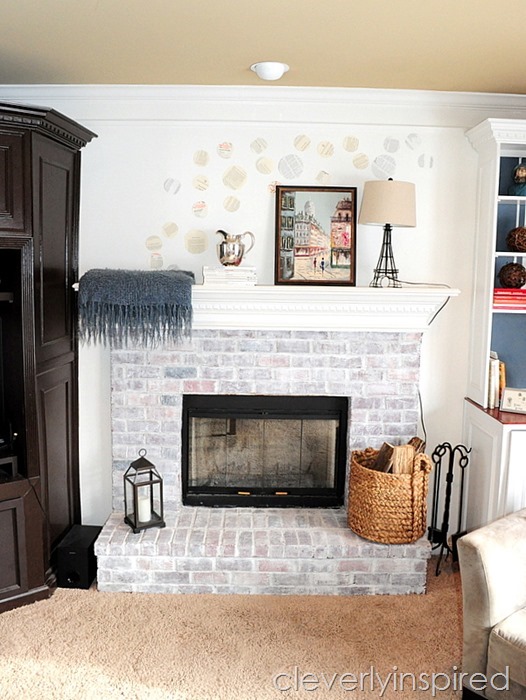 I like how all the textures and colors came together…the lamp gives a warm glow at night. It just all looks so cozy to me…just like this never-ending-winter….cozy.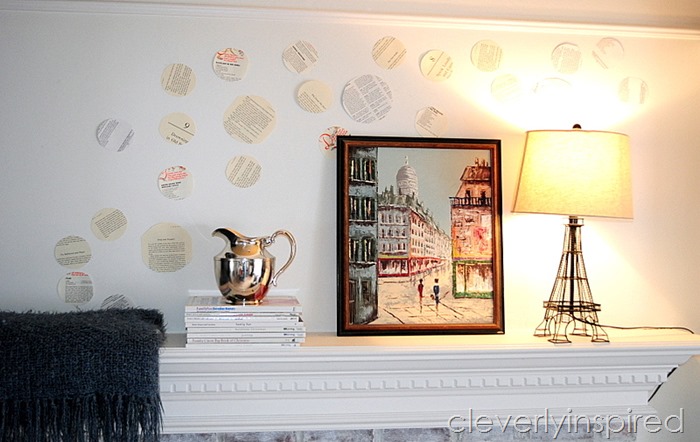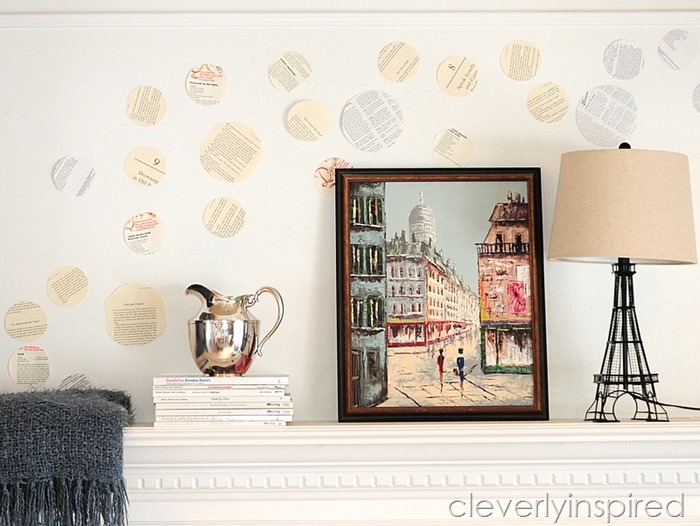 So go thrifting and cut up some books….your family may think you are crazy at first….but when they see what you create…you will be a genius:)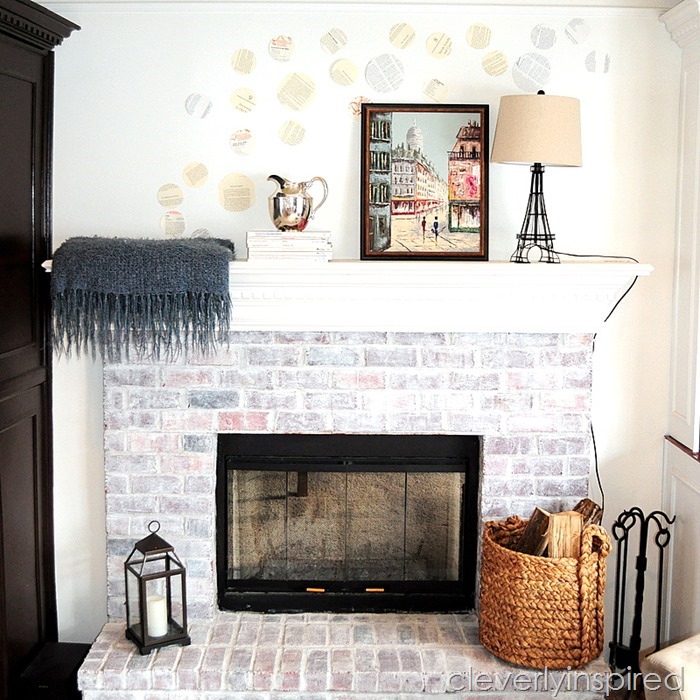 Have a great weekend friends:)
xo
Where I share ideas:
BeDifferentActNormal, The36thAve, Whipperberry, TipJunkie, Tatertots&Jello, TodaysCreativeBlog, SerenityNow, PositivelySplendid,  ByStephanieLynn, TheDIYClub, CRAFT.  HomeStoriesAtoZ, InspireMePlease,  Remodelaholic