It seems that many of you like to read at night….so I am thinking of switching up my posting times….we shall see….Hope you had a great weekend:)
When I was on my way to NYC for the Lowe's event a few weeks back….I wasn't really feeling very "holiday" yet…but when we stepped foot into the space that Lowe's and the team of bloggers had decorated for the holidays…I brushed the Grinch right off me and I was singin carols right away!
Pass the eggnog….grab your peppermint latte and let me show you a few fabulous DIY ideas to get you in the holiday spirit….fa la la la la la la la la la……Hey….just in time to get your DIY on this week…am I right?!?!
(FYI: And I want to stress….I do not believe in lighting up any Christmas lights until I have fully enjoyed my turkey dinner….#respecthebird) moving on….
(all photos here are curiosity of Lowe's Home Improvement…I was busy taking phone pics:) So if you want to see some of mine… search cleverlyinspired on Instagram and search #holidayreadyhome)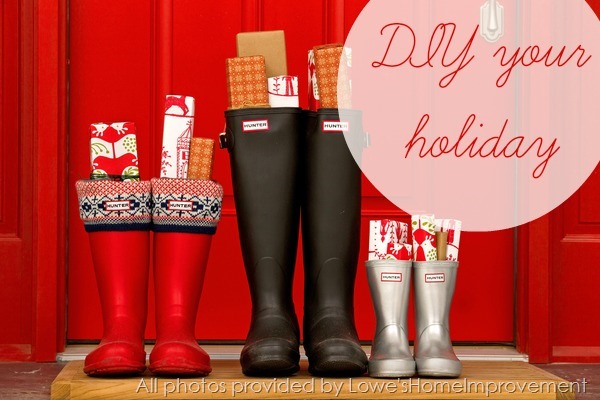 There were 6 superstar designers that each decorated a "room". I thoroughly enjoyed meeting all of them….let's just say….I kept shaking hands just praying some creative juice was transferred…fo real….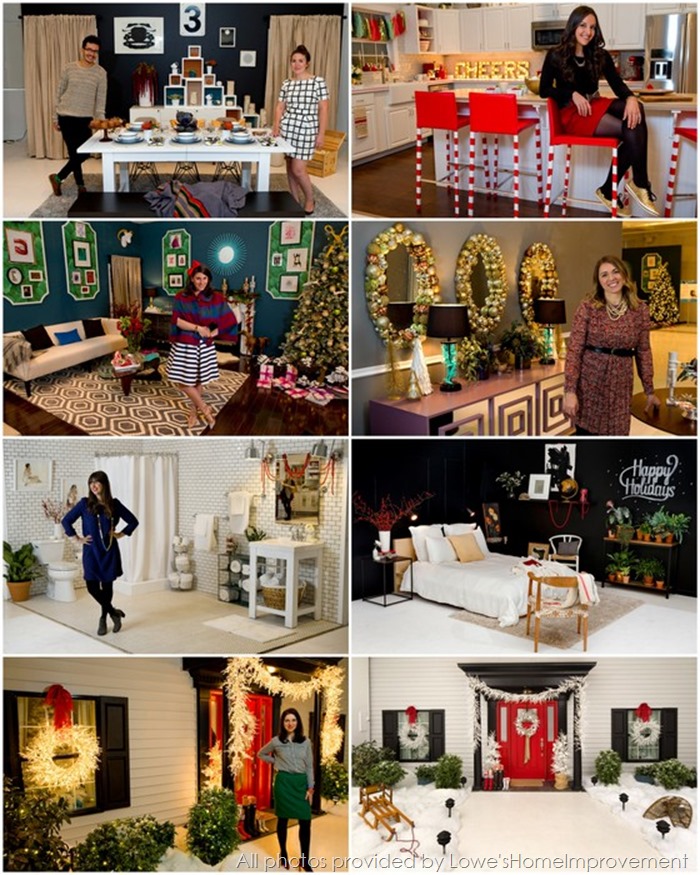 From top to bottom: Dining room by Brittni Mehlhoff & Gabriel Cabera from Curbly.com, Kitchen by Brit Morin from Brit. & Co., Living Room by Erica Domesek from P.S.IMadethis.com, Foyer by Jenny Komenda from LittleGreenNotebook.com, Bathroom and Bedroom by Jordan Ferney from OhHappyDay.com, Outdoor Entryway by Gabrielle Blair from DesignMom.com
It was inspiration over load. So many ideas to take in…in just 3 short hours. Here are some of my favorite ideas to incorporate for this holiday season….
* Love the look of  Gabrielle's (DesignMom.com) white light garland. She used 4 total strands of the white light garland that Lowe's sells. Doubling up the garland makes it pop even in the daytime when the lights aren't on. Great idea!
* Hunter boots filled with presents at the door. Perfection! Look for some boots on ebay or at thrift shops.
* Planters from Lowes get a fresh look with just a little wrapping of burlap. Chic and cheap;)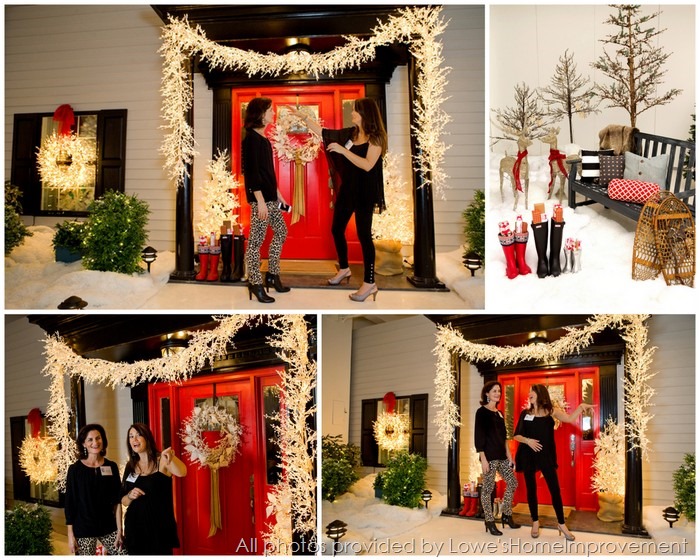 This is my friend Laura from Bright, Bold, Beautiful ….so yes, apparently I talk with my hands. Laura had no choice but to leave her hands at her side….You need to stop by her blog. She is a doll….we were instant friends.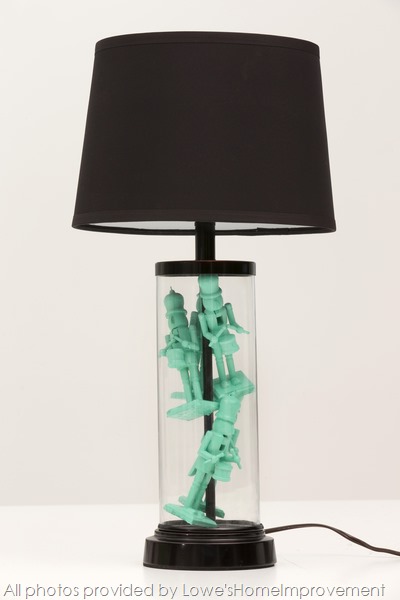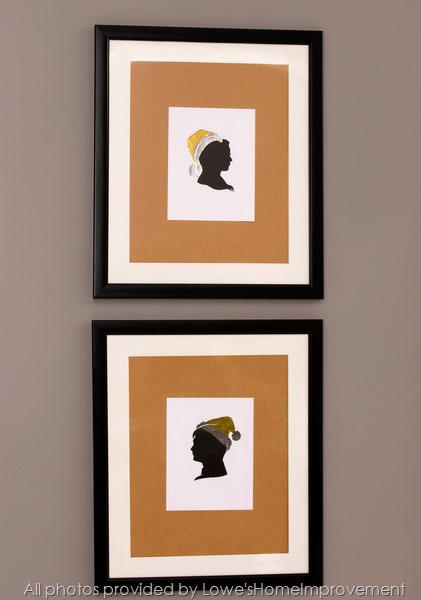 * Lamp with toy soldiers all painted the same color….well, it is just awesome. Love this idea!!
* Pictures that are ordinary become extraordinary when you place little gold hats on the subjects. What a special way to greet your guest.
* Ornaments of all sizes on 3 mirrors in the foyer. I love the sparkle of the ornament and mirror…it is like a Christmas party everyday when you walk home to that! Great job Jenny……
Sometimes….you get a wild hair….and there is a wrapping contest…and people ask you to be on their team…and you say "awwww sure….I'm a decent wrapper…'" and so then you find out that it is a timed event….and you are super happy that you wore a "sleeveless" top because it won't show how profusely you are sweating because timed events make you sweat profusely….but you end up actually winning the event (well…at least the timed part…) and you make that annoying duck face at the professional Lowe's photographer man. Yeah…sometimes that happens….I aim high to make my parents proud and my children blush….job done.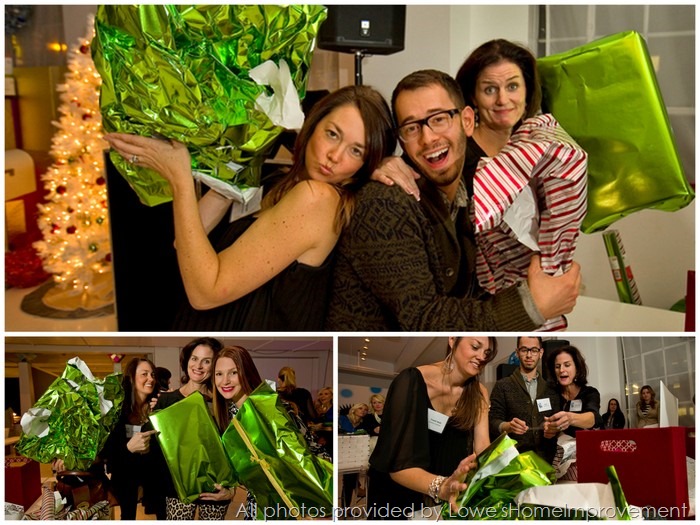 * I would have to say that the space that best mirrored my own taste would be the kitchen that was decorated by Brit Morin from Brit & Co. I spoke to Brit the longest…and her team…who were some of the kindest and sweetest people. I love them all! This paper mache letter marquee….genius I tell you….just genius. (there is a whole tutorial for it on her blog)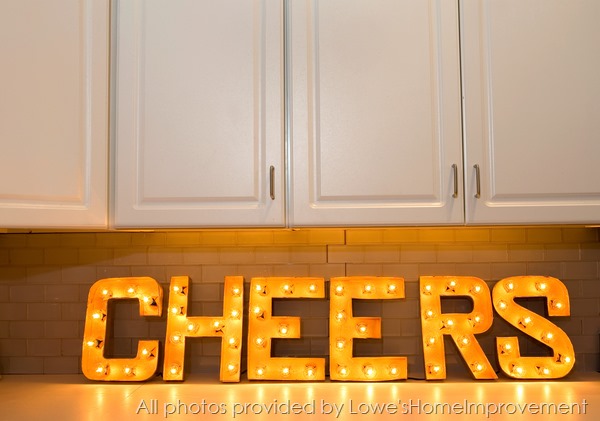 * I could do a whole blog post on my love for the use of white duct tape on a red leather stool. Just wow….So smart…so thrifty…so unique….
*Pompoms above the kitchen sink make doing dishes a lot more fun. Truth.
*You can't really see it perfectly in this picture but Brit used wasabi tape on the edges of the countertop. I may steal that idea.
*Her outfit matches the whole kitchen. Yes, she is that cool:) We both have the twin gene in our family…so we are kind of like sisters.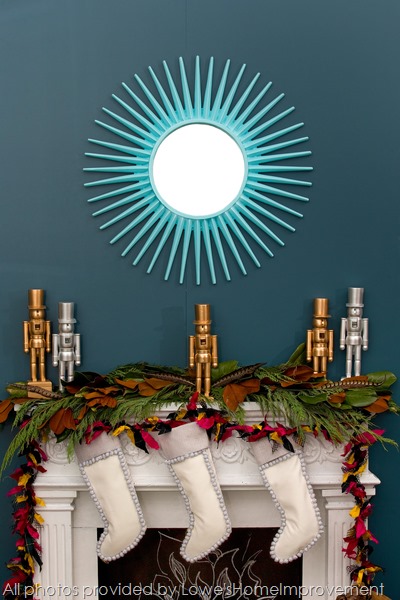 * The family room space was so vibrant and fun. A serious party was about to happen in that space. I love the chalkboard fireplace, the splash of blue on the sunburst mirror…and the spray painted wooden soldiers. It was put together brilliantly by Erica of PS I Made that….The wallpapered framed art…inexpensive and smart. Love!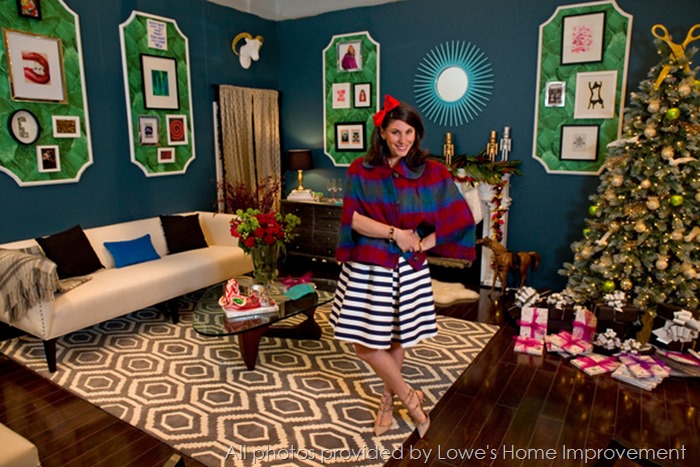 *Two girls…whom I had never met before….were instant friends to me. We only were together for 4 hours…but I really did feel like I had known them a lot longer than that. Be sure to check out these creative gals…Laura and Dusty….(Dusty….I'll meet you at the bar….yeah…like whenever;)
*Flash frozen cheesecake is really cold…and really yummy….
*Ideas for the bathroom and bedroom were created by Jordan from OhHappyDay……I love the simple touches of cranberry garland and sprigs of berries. The chalkboard wall and fresh green plants…how simple and elegant…great idea.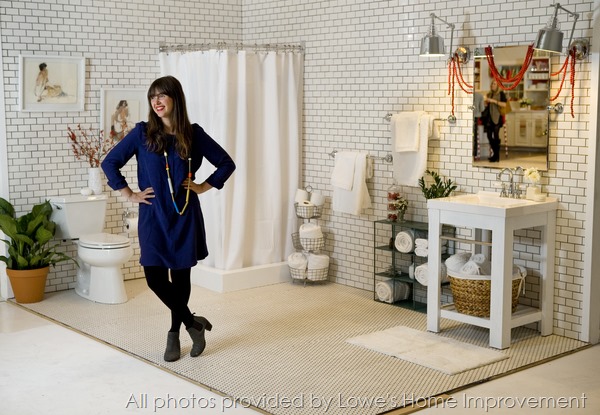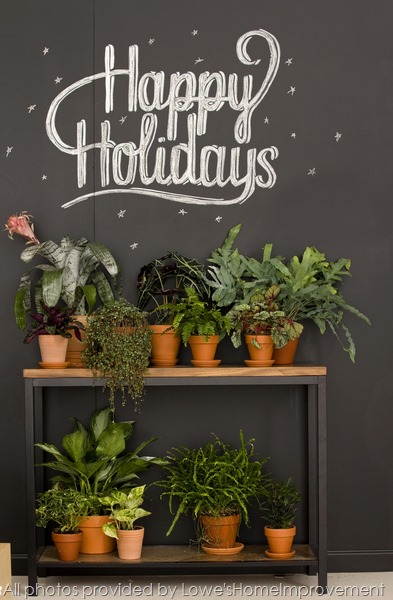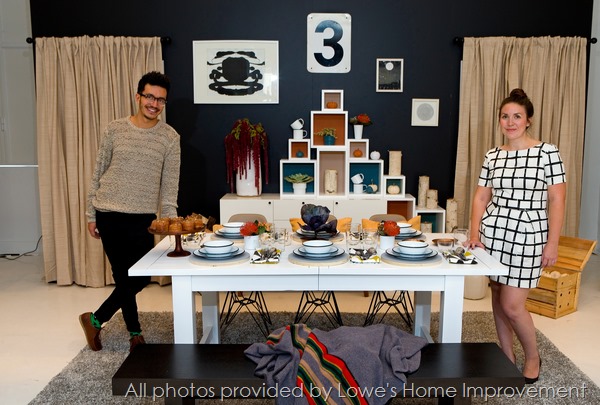 * The dining space was created by Brittni and Gabriel from Curbly…….I loved how they gathered the shadow boxes and painted the backs varied colors. Stacking them makes such a unique statement and also great storage. It was a classic black and white scheme with perfect pops of color.
Like I said….so many ideas! I loved how each designer took something inexpensive from Lowe's and put their own spin on it. It was such an inspiring event. Here is a link to the buying guide…if you would like to poke around a bit more…:)
Gets you in the holiday spirit huh?!? :)
And if you are chillin and pinnin tonight….be sure to search #holidayideaexchange tons of inspiration will be lighting up pinterest!
Sharing at
BeDifferentActNormal, The36thAve, Whipperberry, TipJunkie, Tatertots&Jello, TodaysCreativeBlog, SerenityNow, PositivelySplendid,  ByStephanieLynn, TheDIYClub, CRAFT. MadinCrafts. HomeStoriesAtoZ, InspireMePlease, 30Days, Remodelaholic
Lowe's Home Improvement compensated me for flying to NYC and staying the evening…however all ideas and thoughts are my own.