I tend to over analyze things. Especially when it comes to money being spent on our house. We have been talking about a front porch for about a year…we have met with a builder to discuss the plans…we have checked with our neighborhood association about any restrictions…we are pretty much set to go forward. There has been this little voice in my head though….do something more practical. A porch is nice….but not a necessity.
Ever since we turned the bedroom into an office for my hubs…we have been without a proper guest room. This isn't a huge deal…we don't have a ton of long-stay overnight guests. However, we do have friends come in often for one or two overnight visits…and it leaves me the task with setting up a "guest space" in and office. Not ideal. It has worked fine….but we have the space in the basement to set up a nice cozy room…that will also add value to the house.
We have decided to use our resources to create an egress window (which is basically a window below grade that can allow for easy emergency access to the basement), along with a guest bedroom. There is a corner in our basement that rarely gets use…so it will be a great use of this space.
The transformation will not be to difficult. A wall will be put up with a pocket door. The room size will be a cozy 9 by 12. The window will have to be installed on the other wall in the basement. For a below grade basement bedroom to be considered a "bedroom" you must have an exit. If you have a walk out on your basement…then you are already set. Our basement is not a walkout….so we will be having an egress window installed. The window will be 6 by 3 and let in loads of natural light too.
It is not to say the fabulous front porch will never happen….it is just being put off for a little while. All in good time….
Here are some pictures of some other cozy bedrooms….can't wait to share this process with you:)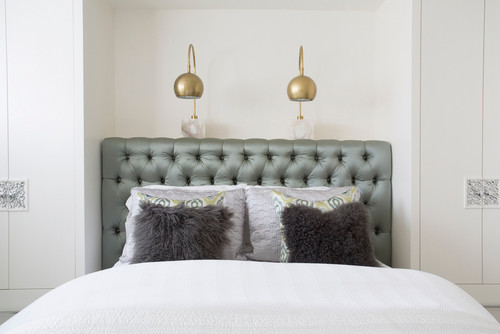 Do you have any bedrooms in the basement? How has it worked out for you?
I  will be sharing some inspiration boards for this space later in the week:)