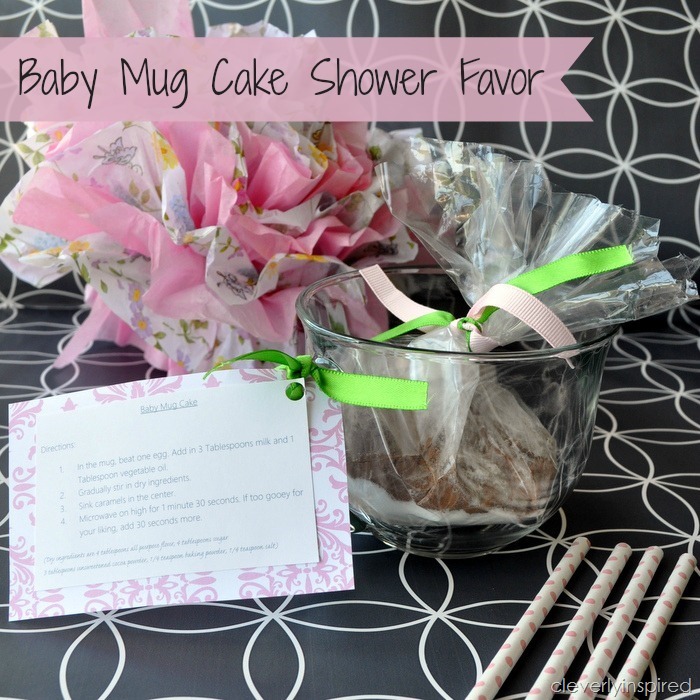 A new baby. The only reason you need to throw a little celebration.  And you know I cannot let my party guest leave without a little something in their hands. This little mug cake was really easy to throw together. Perfect for a hostess gift or for your next party favor.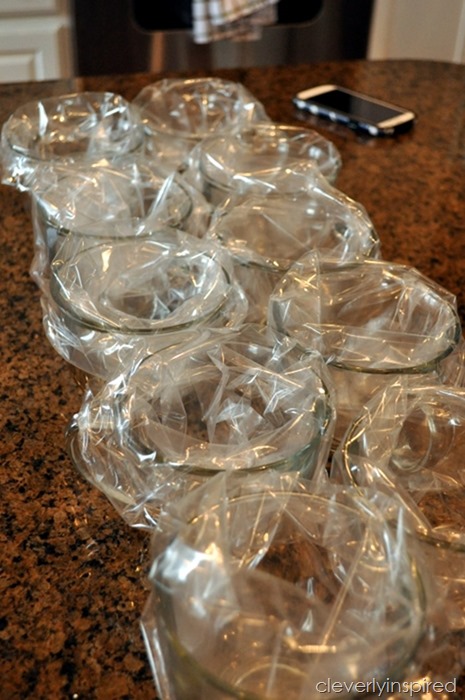 I purchased these glass mugs at the dollar store. Make sure whatever mug you chose is microwave safe. A cute ramekin would also be great. Line the mugs with a plastic bag. In assembly line fashion…fill the bags with the dry ingredients for the baby mug cake. (recipe is below)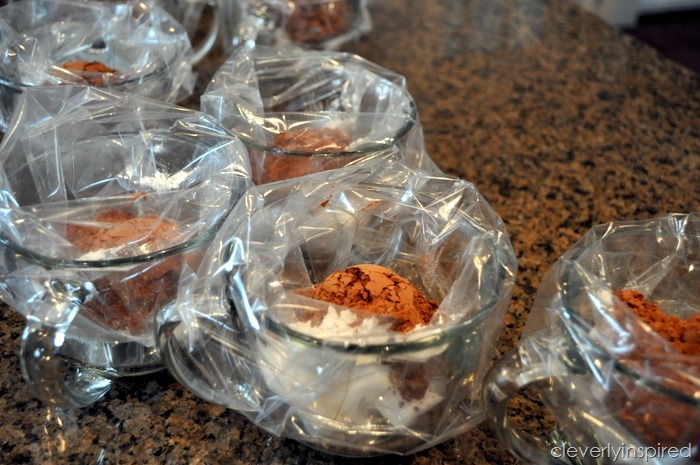 The instruction card will tell your guest the rest of the recipe so they can make it at home.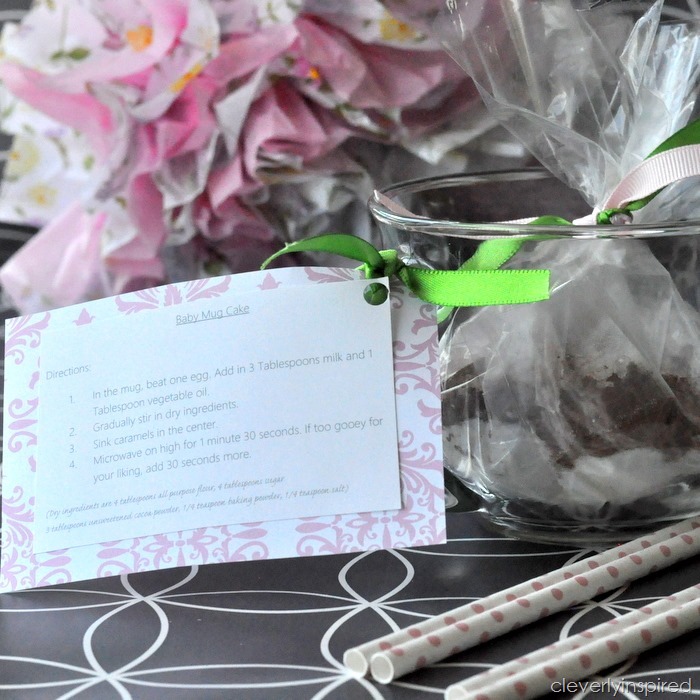 Here is a tag you can print out…just right click on it to print.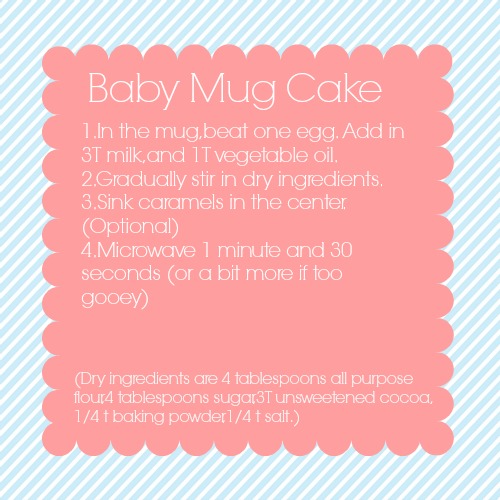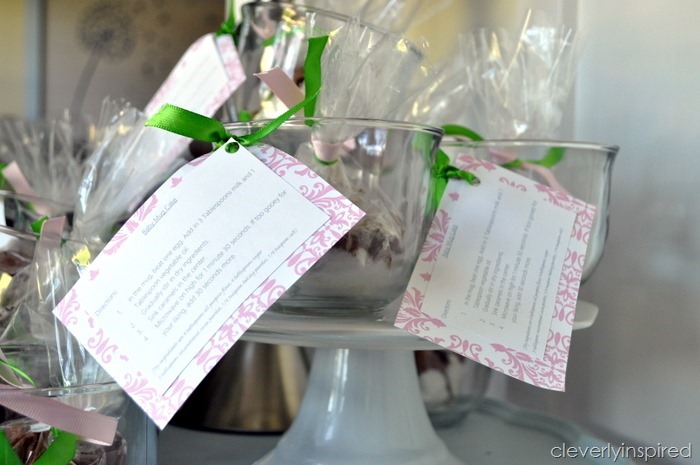 Attach a cute tag with the instructions. Tie up bags with some fun ribbon and that is it! Best part is you can make these a few days ahead of time…so no rushing around:)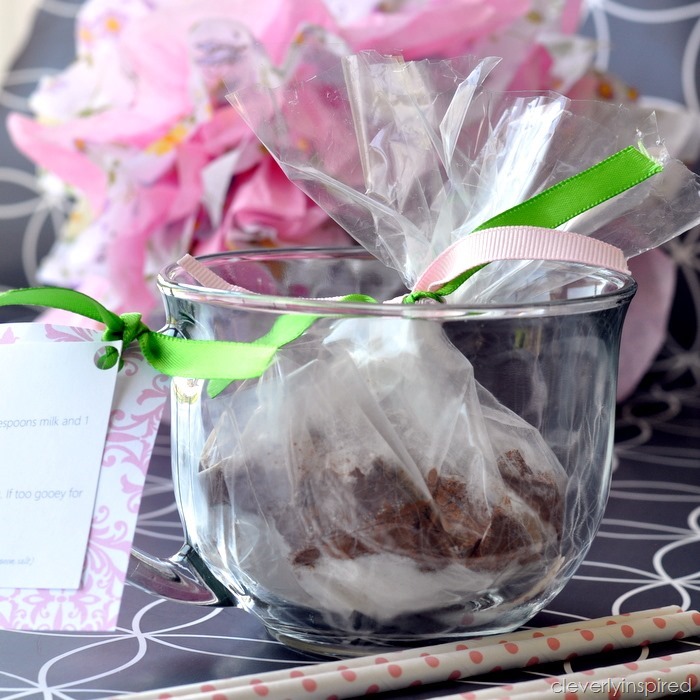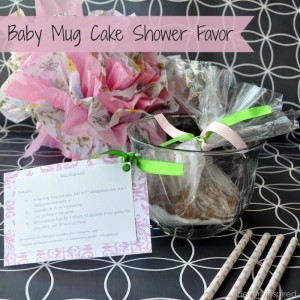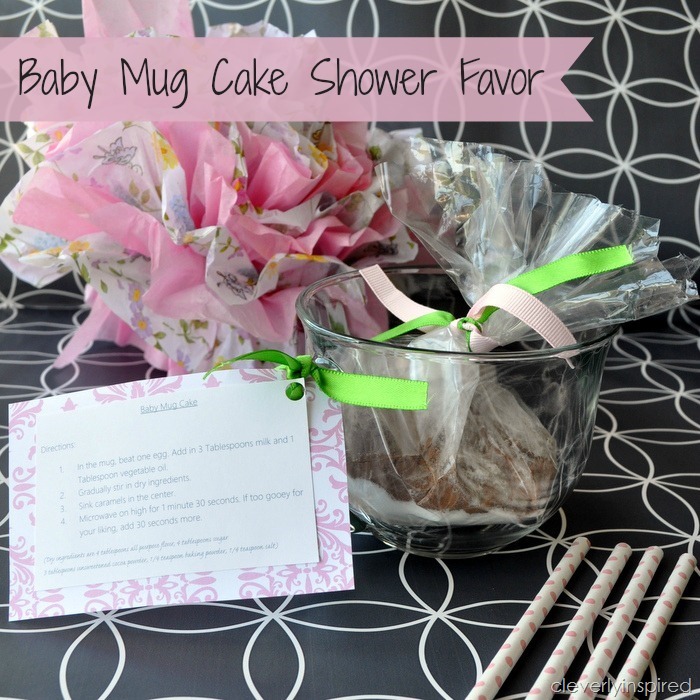 Baby Mug Cake: Baby shower favor
Ingredients
4

tablespoons

all purpose flour

4

tablespoons

sugar

3

tablespoons

unsweetened cocoa powder

1/4

teaspoon

baking powder

1/4

teaspoon

salt

1

egg – beaten

3

tablespoons

skim milk

1

tablespoon

vegetable oil

2

caramels-Optional
Instructions
Procedure:

Into a small bowl add: flour, sugar, cocoa, baking powder, salt, egg, milk, and vegetable oil. Mix to combine.

Pour mixture into a regular sized coffee mug. Drop caramels into center of mixture one at a time.

Microwave on high for one minute and 30 seconds. If needed and batter is too gooey...microwave 30 more seconds.
(adapted from Babble)
Where I share fun ideas:
BeDifferentActNormal, The36thAve, Whipperberry, TipJunkie, Tatertots&Jello, TodaysCreativeBlog, SerenityNow, PositivelySplendid, IHeartNaptime, ByStephanieLynn, TheDIYClub, CRAFT. MadinCrafts. HomeStoriesAtoZ, NotJustAHousewife
If you could take a second to vote for me this weekend….I would be so grateful! I was invited to participate in Earth 911's challenge this month. Repurpose a camera strap….(I am number 4) You can vote on the very last page of their post…and you can vote once a day. Thanks!