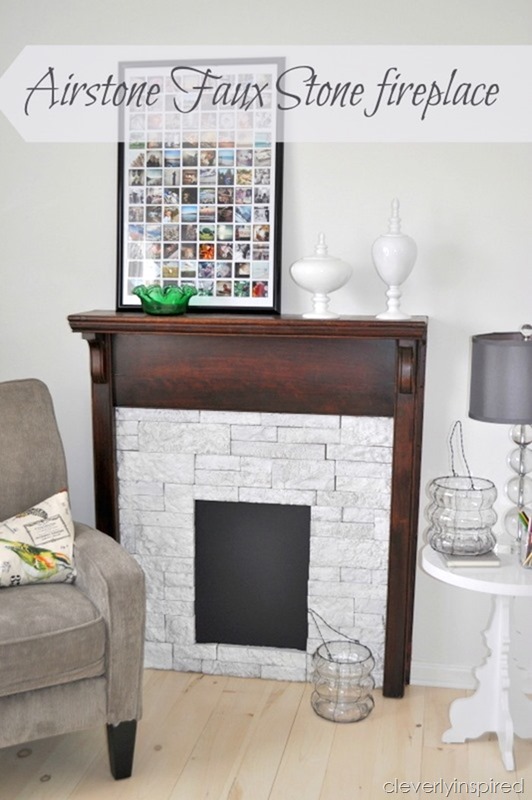 Back when I redid my new craft space…I told you about this mantle that I found for $40 at my local consignment shop. I wasn't sure where to use it at first…but it seems to fit perfect on this wall in my office. The jury is still on on weather or not it will get a coat of paint….I am leaning towards painting it.
We tossed around several ideas for the inside of the "fireplace"…chalkboard paint…tiles, glass mosaic…etc. Then I stumbled upon this new product at Lowes called Airstone. After some research…I was smitten. There are so many great uses for this product. It is a DIYer's dream to work with too.
I did decide to "white wash" my Airstone…just because the brown was a bit too brown. Airstone comes in 2 colors…after looking back on it…I should have chosen the gray. Live and learn.
We decided to not adhere Airstone directly to the drywall simply because if I ever want to move this mantel…it will be a lot easier to do so. We screwed in some 2 by 4's to the studs…then placed plywood on top and screwed that to the boards. We applied the Airstone to the plywood surface and it worked great.
The installation is so easy. We bought 2 boxes and one can of adhesive. You trowel the adhesive on the back of the stone and set in place. You have about 20 minutes of wiggle room…but the glue does set up quick. I marked out and area in the center (faux firebox) and I eventually painted that black.  I found it easiest to layout all the stone and pick random pieces…it is kind of like putting a puzzle together. This fireplace took me about and hour. So easy!!
I really love the texture it adds to the room. We already have another project in mind for Airstone. You can put it on top of ANY surface…it is lightweight, water resistant and looks very real.
If you would like more information on Airstone (including really helpful videos…) See the website here. Airstone is available at Lowes.
I am a brand ambassador for companies that I believe my readers are interested in learning more about. I work with Social Spark and Clever Girls, along with individual companies that are targeting their products to my readers. I will always be mindful of your time and needs…and keep with the mission of CleverlyInspired; which is to inspire you to be clever in your own home. Doing sponsored post help me to continue crafting, baking, and projecting here at CleverlyInspired. I appreciate your understanding. I have been compensated for my time, however all opinions and thoughts are 100% mine.

Airstone supplied the materials for this project. However all opinions are 100% mine own.