I was chatting with my fabulous blog designer Allison a few months back about updating the look on the blog. We both thought that I should do away with the "character" and instead use my own picture. The longer I blog, the more I learn…and first and foremost this blog needs to connect with people. I know when I visit blogs that I love….I hear the voice of the writer and there words "come to life" a bit more when I can connect a picture of them with their words. I hope you agree;)
I really love what Allison was able to come up with based on very little input from me. Really, the only direction I gave here was that I was in love with the idea of branches and jars….I mean how cute is this….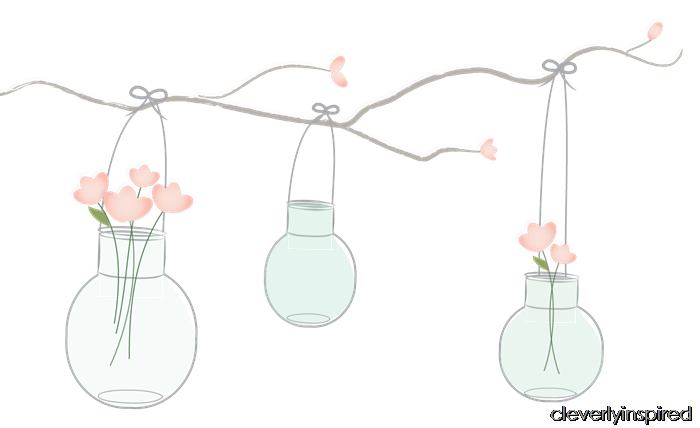 It is soft and feminine and lovely…but yet clean and classic and modern too. It is simply perfect. After we had this "vase" concept….we came up with a color palette. It is much different from what I had before…but I really love that the backdrop is white…it allows the pictures to really shine through.
While she was redesigning…we decided to change things up a bit on the side bar. My hope is that past projects are easy and quick to find. There are several ways to search for things….and I am going to explain them a bit…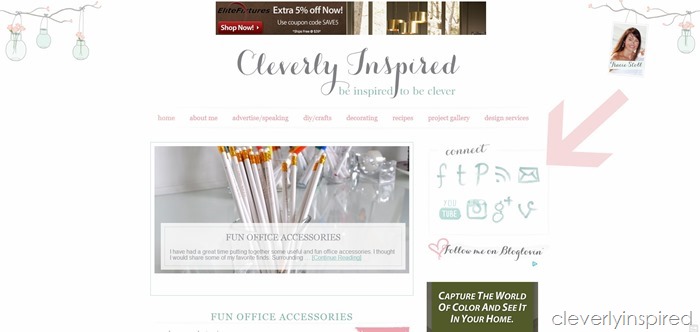 The header has remained unchanged. Each tab at the top has a pull down menu to ease in finding exactly what you are searching for. The connect buttons at the top link directly to my pages on those sites (Facebook, twitter, pinterest, Subscribe in reader, email, YouTube, instagram, google + and Vine)….no short on ways to connect huh;)?!?! You can also click on the "follow me on bloglovin" which is a fabulous way to read all your blogs in one place.
The slider on the left will rotate the past 7 post. You can click on it if you see one that you missed. Below the slider is the most current post in it's entirety.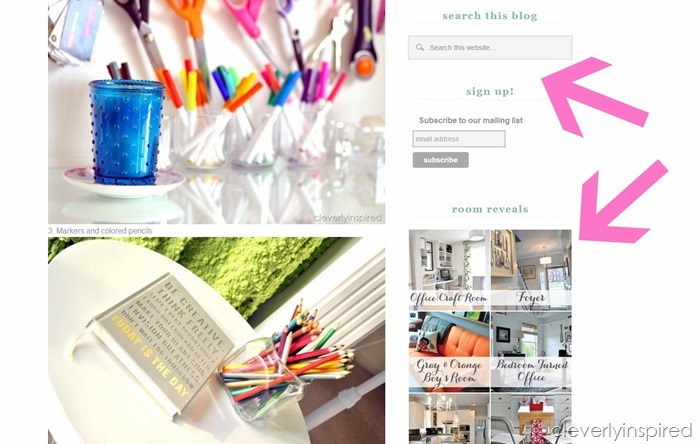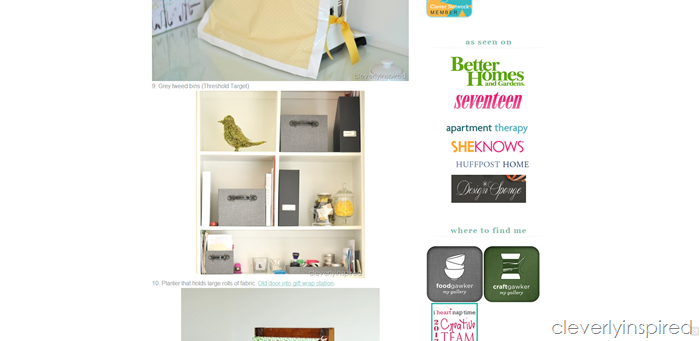 Scrolling down some more you will see a Search box and a sign up box. You can enter what you wish in these boxes and press enter / or subscribe. When you subscribe…you will be asked to enter an email address…CleverlyInspired post will be emailed directly to your email box. I also placed some popular places I have been featured in the past….and under sponsors I have links to my referral page with Social Spark and Clevergirls.
Below that is all my "room reveal" projects. Just click and you will be taken to that particular post..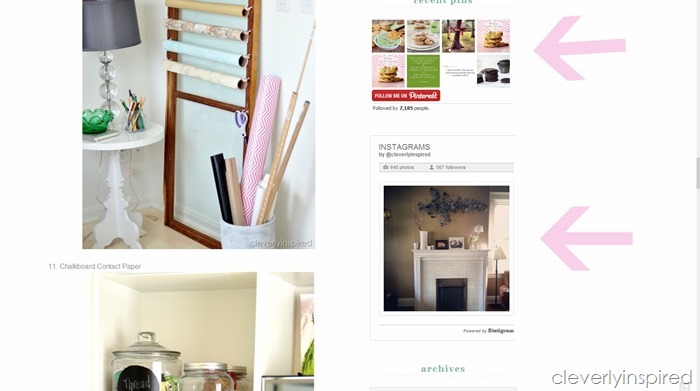 Keep scrolling and you will see "recent pins"…which are items I have recently pinned on pinterest…along with an instagram box showing recent photos. Under that is an archives button where you can pull up past post by month.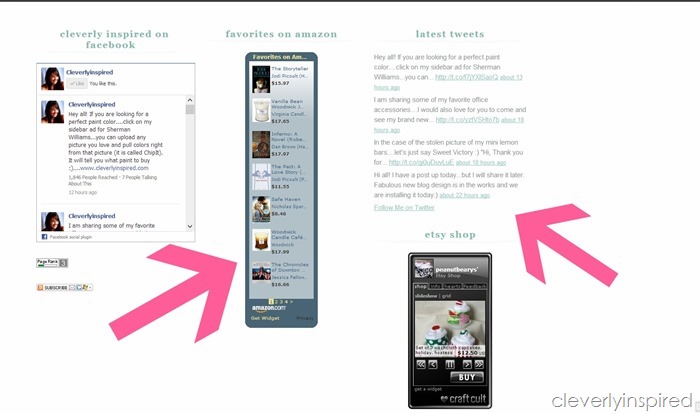 On the footer section of the blog I placed recent happenings on facebook along with recent tweets. You can also be connected to fabulous finds that I have picked on Amazon (this is an affiliate link) Along with my recent selections in my etsy shop. Just for your browsing enjoyment.
So tell me….do you like the new look?? I cannot thanks Allison enough from Green Tangerine designs. She is amazing!!!!