What , say what?!?! Tracie, you my friend, have LOST IT! Bacon…on a chocolate cupcake? Dude, don't knock it till you've tried it. One word….heaven-on-top-of-heaven. Amen.
I recently took this to a friends house to share (leaving the bacon crumbles on the side….for those to dare to try). The vote was 50/50…surprisingly to me…the kiddos were more willing to try than the adults! In our house…we were 50/50 as well…Bill and I loved it…our kids would rather not have bacon on the top. (then I seriously questioned…are these my kids? Am I sure I took home the correct babies 12 years ago?!?! I joke I joke…but for real…no Bacon on a chocolate cupcake?? Who are you??! It's like I don't even KNOW you…) hahaha
Prepare batter. Combine dry ingredients first. Mix in wet. It will appear thin…that is ok ;)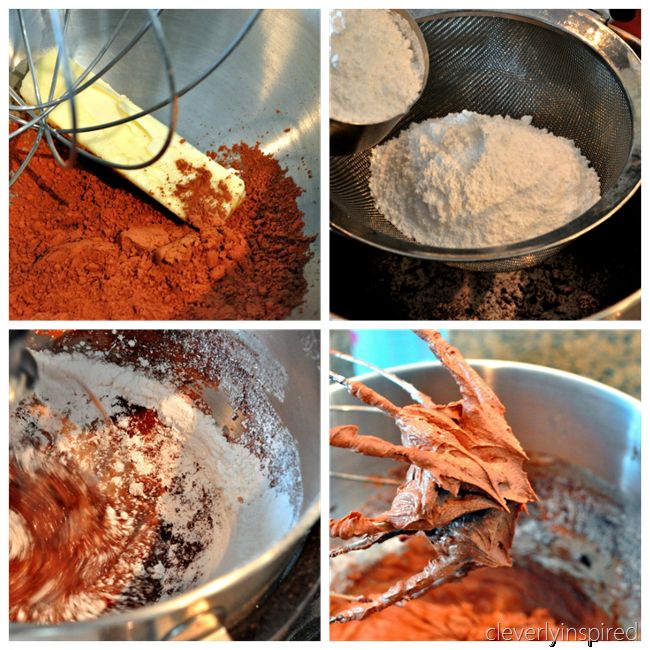 I use a whisk attachment to make the frosting extra fluffy. Mix on medium for at least 3 minutes (will have peaks when it is finished)
Drizzle a little melted caramel too…if you are feeling extra naughty…
Classic Chocolate CupCakes (makes 24):
Ingredients
2 cups white sugar
1 3/4 cups all-purpose flour
3/4 cup unsweetened cocoa powder
1 1/2 teaspoons baking powder
1 1/2 teaspoons baking soda
1 teaspoon salt
2 eggs
1 cup milk
1/2 cup vegetable oil
2 teaspoons vanilla extract
1 cup boiling water
Preheat oven to 350 degrees F (175 degrees C). Grease and flour two nine inch round pans.
In a large bowl, stir together the sugar, flour, cocoa, baking powder, baking soda and salt. Add the eggs, milk, oil and vanilla, mix for 2 minutes on medium speed of mixer. Stir in the boiling water last. Batter will be thin. Pour evenly into the prepared pans.
Bake 30 to 35 minutes in the preheated oven, until the cake tests done with a toothpick. Cool in the pans for 10 minutes, then remove to a wire rack to cool completely.
Frosting
8 tbsp. (1 stick) butter, at room temperature
2/3 cup unsweetened cocoa powder
3 cups confectioners' sugar, sifted, plus additional if needed
1/3 cup milk, plus additional if needed
2 tsp. pure vanilla extract
1/4 tsp. salt
Place the butter and cocoa powder in a large mixing bowl. Blend with an electric mixer on low speed until the mixture is soft and well combined, 30 seconds. Stop the machine. Place the confectioners' sugar, 1/3 cup milk, vanilla and salt in the bowl, and beat with the mixer on low speed until the frosting lightens and is fluffy, 2 to 3 minutes. Add more milk if the frosting is too thick or confectioners' sugar, 1 tablespoon at a time, if the frosting is too thin.
I use a ziploc to frost mine (just clip off end of bag ).
Sprinkle with cooked crushed bacon (you can drizzle with caramel too if you'd like )
People will love you and sing your praises all the day long. Amen :)
I found this recipe in an old recipe book of my Grammies…and I adapted it a bit:) I like how easy it is…and scratch made;)
Be sure to stop by and see me today over at Sand and Sisal….I am sharing some of my top summertime post over there :)
Look forward to lots of fun guest post from some of my bloggy friends next week…while I take a little time off! Catch me in between post on Facebook, Twitter and Instagram :) Thanks!
Sharing at tatertots & jello
funky junk
whipperberry
[shopeat_button]