Lucky number 7 Carla was our winner for the Minwax giveaway!! Congrats Carla…contact me for your prize! I hope you all had a great weekend! We are in full summer mode at our house. School's out and the livin is fine!! I will probably cut my post down to about 3 a week…just like I did last summer. I am sure I will have lots of fun things to share this summer…just not quite as much time to write ;) Be sure to check in and follow along on Facebook, Twitter and Instagram. It's so fun to share from my phone ;) Since my summer fun has already started…I thought today I would do something a little fun to get you ready for summer…..
Growing up on the Jersey Shore (the really NICE Jersey shore…not at all like the one on TV)…during the summertime was a bit of a dream. We biked everywhere…never locked the house…showered outside because we were always sandy…a total dream. I was lucky enough to spend my entire childhood at the beach during the summer months. When school was out…we packed up and went to Grammie's. Our summer was filled with beach days, trips to the boardwalk, skeeball, hoagies, pick up games of t ball…it was really the most fun and I feel so blessed that I got to experience it all!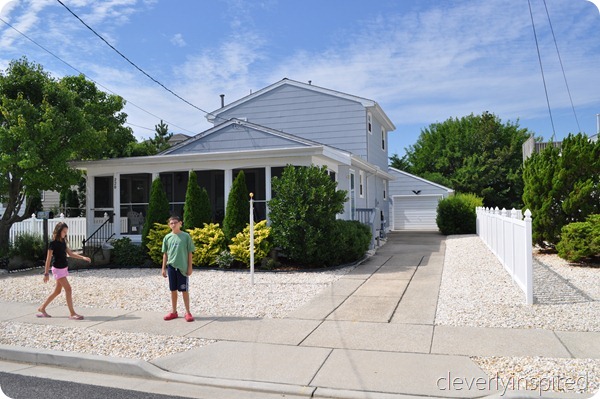 (a picture from last summer…in front of my Grammie's old house…)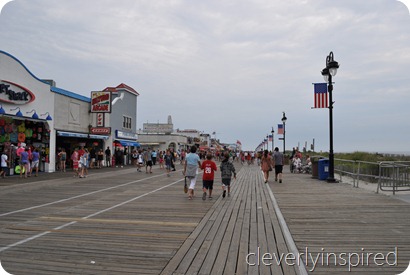 (the Ocean City boardwalk…)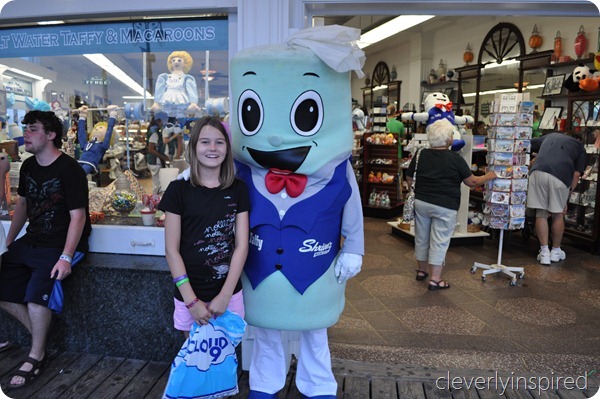 (passing on my love for homemade candy….at the Shriver's store)
There are some things that I want to be sure my kids have great knowledge of…and salt water taffy is high on that list. If they are ever in a situation to list the best things that come from the east coast…they will be well prepared. It is my job as a good parent ;) I have never gone without salt water taffy in the summer. I order direct. Before the days of the internet and online ordering, my bff Melissa was in charge of shipping some to me. Every year, a few weeks before Memorial Day I order my supply of Shriver's salt water taffy. It is made local in Ocean City, NJ and it is hands down the best piece of candy you will ever eat. Period. When I was young we used to go to the Ocean City boardwalk…walk the boards and eat. We always made the Shriver's candy shop our last stop…so that we could take the goodness home to enjoy.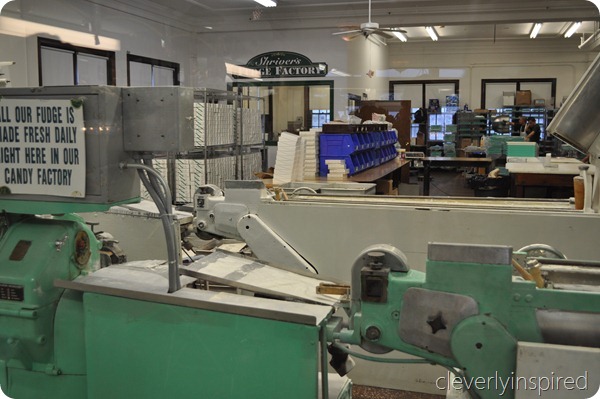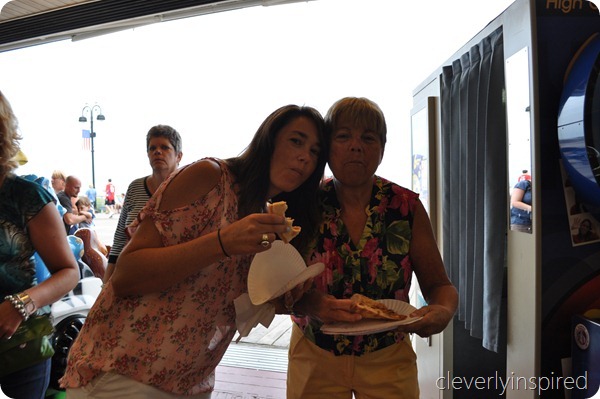 (now I just have to figure out a way to have Mack n Manco ship direct :) The best pizza on earth. We couldn't stop eating long enough to smile for the camera.)
I would love to pass my love of this family owned candy company onto you….so why don't you leave me a comment and tell me your favorite flavor of salt water taffy…(oh yeah…they have like every flavor known to man…..) They rotate some seasonal flavors…these are current selections per their website…
· Chocolate
· Vanilla
· Strawberry
· Grape
· Wintergreen
· Lime
· Banana
· Peppermint
· Molasses
· Licorice
· Teaberry
· Spearmint
· Orange
· Peanut Butter
· Cinnamon
Molasses Mint
Lemon
* Root Beer
* Watermelon
* Blue Raspberry
* Cremesicle
* Sour Cherry
* Strawberry-Banana
* Chocolate Peanut Butter
* Coconut
* Sour Apple
* Peach
* Bubblegum
* Sweet Cherry
* French Vanilla
* Blueberry
* Mango
* Spicy Pumpkin
* White Chocolate
* Chocolate Banana
* Chocolate Coconut
* Flippy Fruit
* Super Smashing Sour
* Insanely Cinnamon
* Oh So Very Berry
* PB 'N Joy
* Lemon Sour Pucker Power
So tell me….what would you pick??? I will be sending 2 lbs of Shriver's to a lucky reader !! They are not a sponsor of mine…I am just wanting to share the love ;)
Winner will be picked on June 1!! For an extra entry you can tweet, pin or facebook share this post…and tell me that you did so…
WINNER OF THIS GIVEAWAY IS 13!!! Denise!
Sharing at Centsational Girl