I remember shopping in Macy's and hearing those bells ding….what was up with that? Anyone know why department stores use those bells? Do you know what I am talking about? Surely they just use text now right?
I used a word processor in college and I remember how advanced I thought that was. It was a bulky Smith Corona….and I used to sing My Sherona…all the time. My way of procrastination. It's how I roll…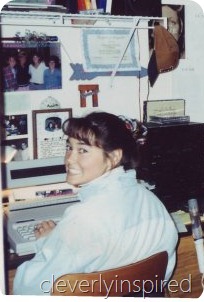 (items to note in the vintage pic….scrunchie (plaid no doubt), chambray jean shirt with turtleneck underneath(was basically permanently attached to my body), and of course the vintage Smith Corona word processor….it was super high tech in 1992)
Do you think Dewey decimal is rolling over in his grave ? ( I know..his name is actually Melvil Dewey) Is there an app now for Dewey decimal for libraries? Now that would be handy….:)
The quick brown fox jumped over the lazy dog … will most likely never mean anything to my children. I kind of miss the lost art of penmanship…even though mine is horrible.
In college, if I wanted to have lunch with someone I had to call them the night before to make sure they would meet me at the same spot. Sounds hilarious to my kids…."why wouldn't you just text them after class??" Well, because nobody had cell phones. (insert blank stare from children) Isn't it funny they will never know what that is like? NOT being able to get a hold of someone….(kind of a nice thought huh?!?)
Circling yes or no on a note in school was a main form of communication to express you "love" for another. Now you just use instagram.
My husband is a third generation road paver. It is what makes our country great…people who take a chance…make a success of themselves and in turn help others to make successes for themselves. How great is our country?!?!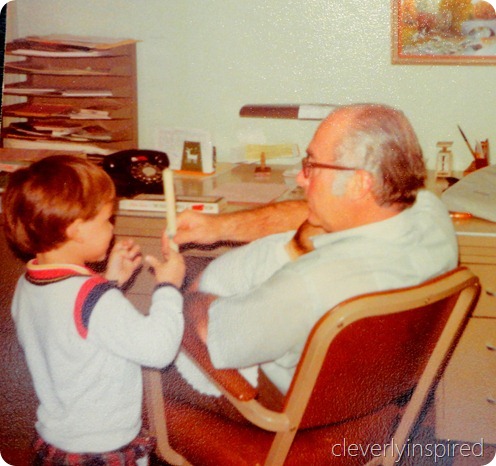 (Bill with his Grandfather at their company "headquarters"….Bill's brother David on his chest…)
Thanks for listening to my very random wonderings…..do you have any ? I would love to hear them….:)
Also…side note:
I am so excited to be hosting a little Thanksgiving inspiration week along with Thistlewood Farms and The Hunted Interior. If you haven't visited their blogs yet…you must go see! True talent in design! Plus….they are super sweet girls who I have really enjoyed getting to know…and I know you will love them too. We will also be doing a Christmas inspiration week too! So many great ideas to share with you all….