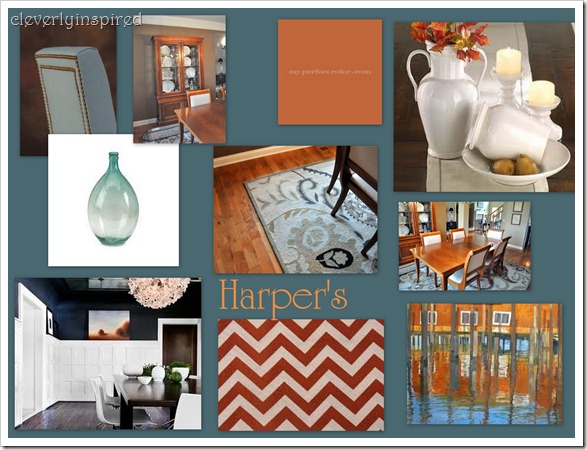 My friend Richelle asked for a little assistance with decorating her dining room. I jumped at the chance to help. She is one of those people who completely light up a room…her personality is contagious and she is one of the funniest people I know. I knew we would have a blast decorating this room together.
She has really great style…and she knows what she likes and doesn't like. Which I think is so helpful when you are trying to create a space for someone else's home. You want them to be comfortable and really reflect who they are and how they will use the room.
We originally were thinking of going with a spring green color on the walls. But Richelle found this fabulous rug at a great price (at Tuesday morning). The colors work so well in the space…but there wasn't a real prominent green in the rug. Richelle picked Azalea leaf (by Porter paint) It is a lovely blue (shown as the background on the moodboard above). So complimentary to the rust colors and beiges that are in adjoining rooms. And it really looks so good with the rug. The color also really blends well with the wood tones of her table.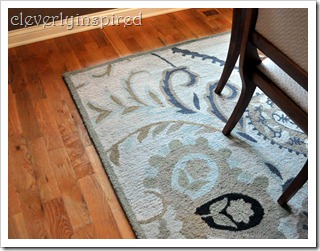 We are also going to do a tall board and batten trim treatment that will be painted out in white just like the trim. The room is a comfortable size and can handle some more architecture. The hutch is going to get a coat of cream paint and possibly some new wood shelves. It is a piece that Richelle isn't fond of in it's current state…but it is solid and really fits the space nicely so we are going to make it work!
We are also on the lookout for parsons chairs in maybe a blue or beige color. Some fabric panels in the rust color will also be added to soften the window. Another narrow buffet table and some lamps for the opposite long wall would also fit nicely in the space.
Ok, Richelle…get to work girl ;)
We will give you an update as we go!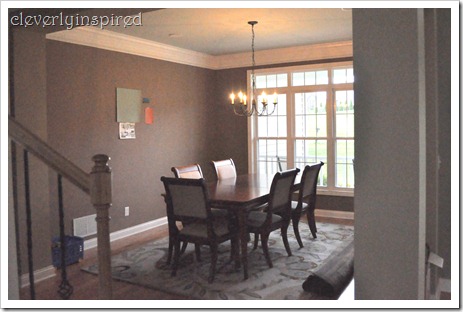 (sources: potterybarn, ben moore color rust, porter paint color azalea leaf, artwork localism.com)
Be sure to sign up for the Cutting Edge Stencils today…giveaway ends tonight ;) Good luck!