What a week we have ahead of us….sadly my husband's grandfather passed away last week. We have his funeral tomorrow. He was probably the kindest man I will ever know…and his grandson surely takes after him. He lived a full life and for that we are all very thankful.
I wanted to share our Christmas porch in case you wanted some ideas for your outdoor spaces. I will be taking some time off this week to enjoy the holiday with my family. I wish you a very restful and happy Thanksgiving. I sure am thankful that you come here to visit me everyday….much love to you all!
Pull out your comfy pants….grab a cup of coffee or hot cocoa put and a warm pair of socks and join me on a little tour of the outside decorating that we did this year.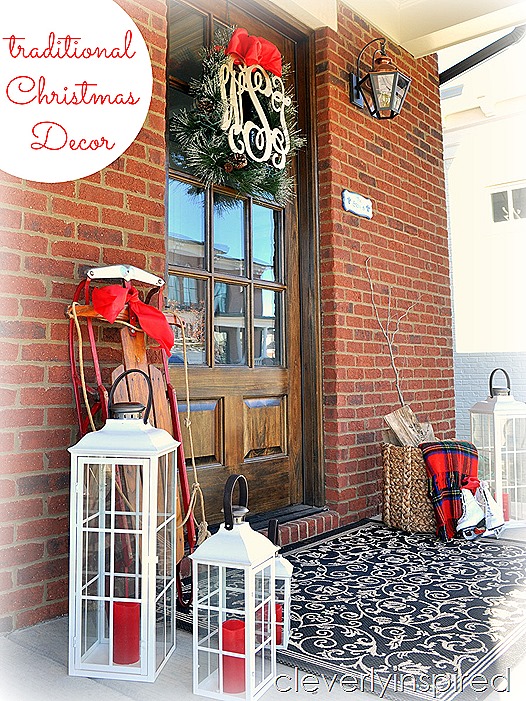 One of the things we love about our new house is its traditional colonial style. I wanted to stay true to the style of decorating when it came to getting the house styled for Christmas. When we went to Colonial Williamsburg last year I noticed that many of the houses are just decorated with fresh greens and seasonal fruits.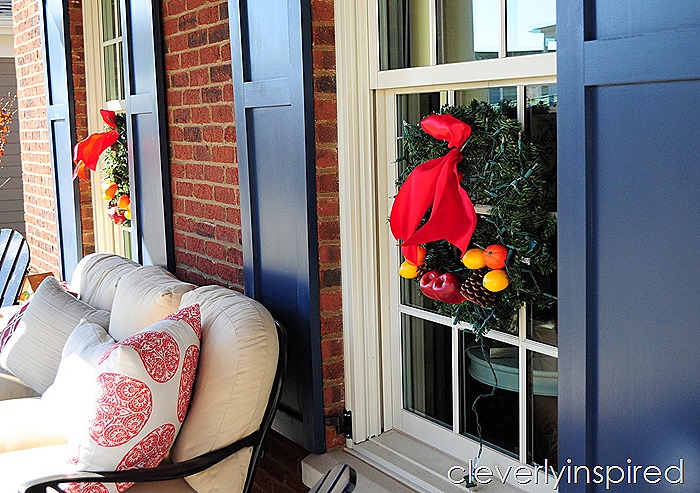 I thought it would be fun to recreate that on our house but use fake fruits so that I don't have to do this every year hahaha. These wreaths came together quickly and for a total of 5 wreaths I spent just $125. Not too bad….that includes the wreaths the light and the fake fruit. I found the wreaths and lights at old time pottery …the fruit on Amazon and the extra wide red ribbon in Michaels wedding section. This ribbon came in a large bowl of 20 yards and I use my 50 percent off coupon. I have used it everywhere inside and out!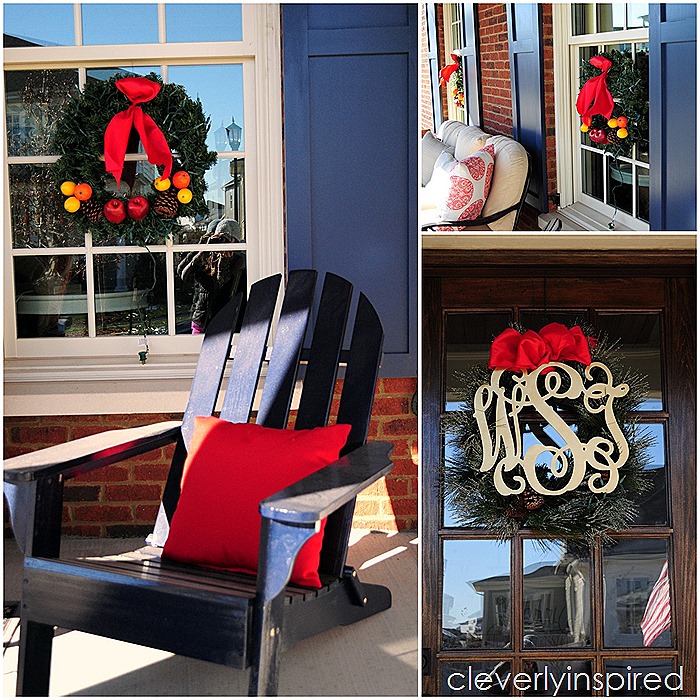 Much cheaper than the Christmas ribbon. I put the lights on the wreath first… Then hot glued the fruit on. I thought I would have to wire the fruit on but I found that the hot glue made it stay a lot more secure and in place. Place the fruit on the wreath first  to see how you can make them uniform. Instead of doing a large bow on all of the reasons I decided to just fold a long piece of ribbon in half and wire it about 5 inches from the center..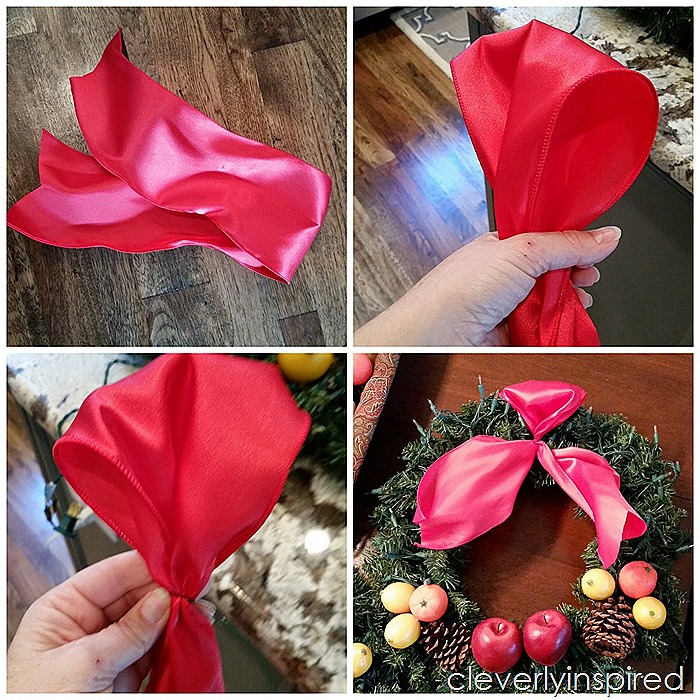 The great thing about this bow is  it doesn't take up much ribbon but it adds a nice splash of color and you don't have to fiddle with bow making! So that is a win!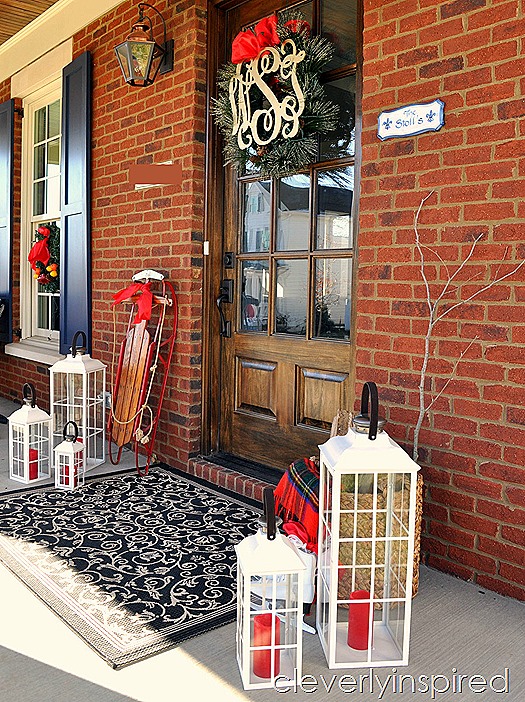 Around the front door I reused my wreath from last year and placed on the monogram that I bought recently in the fall. Around the door I decided to use some light lanterns in varied sizes with red candles. Splashes of red on the thrift store radio flyer sled that I found last year. A basket with a plaid throw and firewood with some ice skates leaning up against it…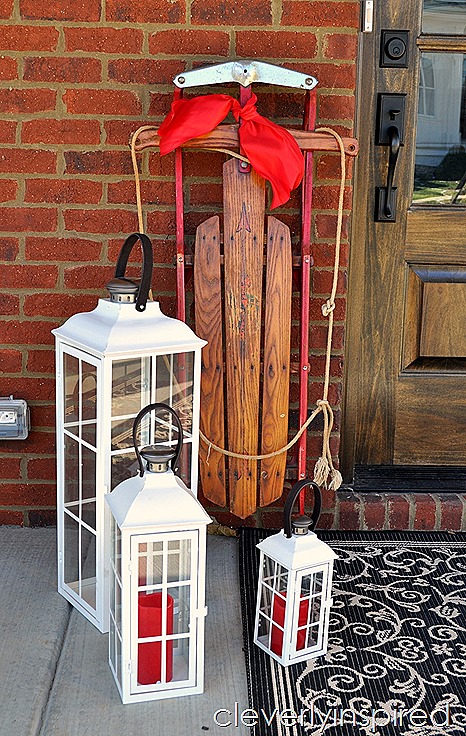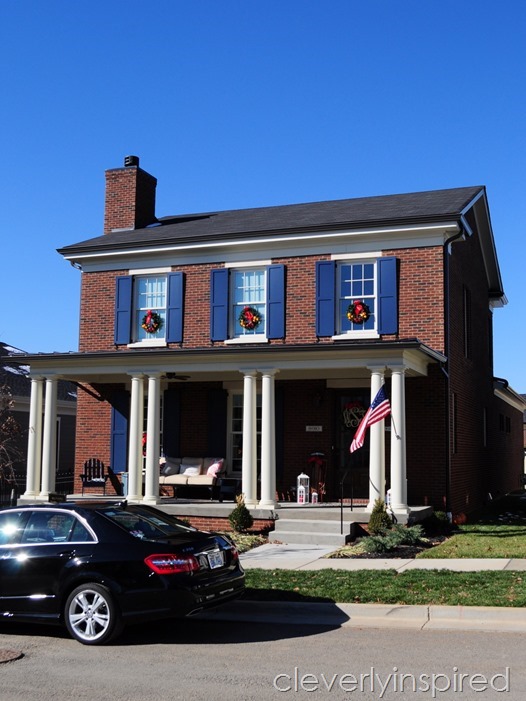 All I'm missing are some carolers outside my window am i right? I think this whole look goes well with our colonial style house…. Kind of like Bob Cratchit lives here or something. That is if he was given that raise that Scrooge promised him and move to America in the mid 1800's but you know what I mean. The lanterns were such a good deal! I found them at Old Time pottery. The nice thing about them is they work in any season really so I'm sure I'll get a lot of use out of them.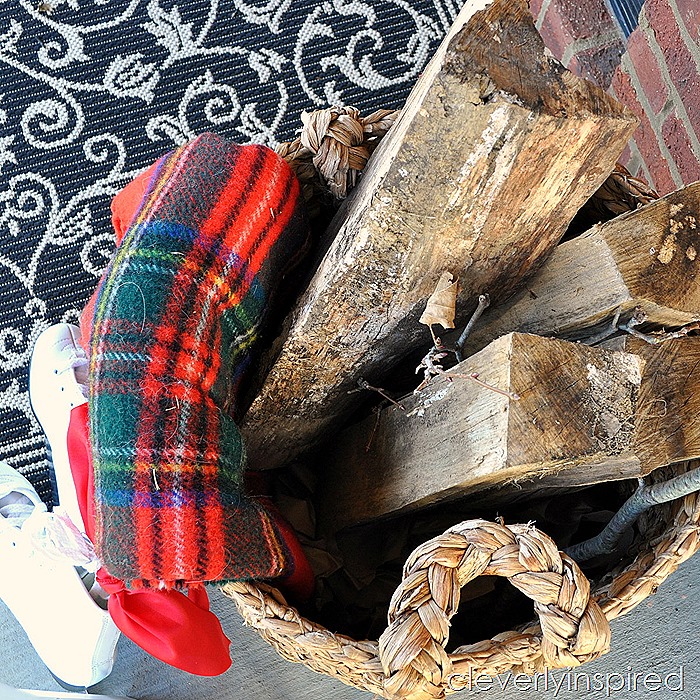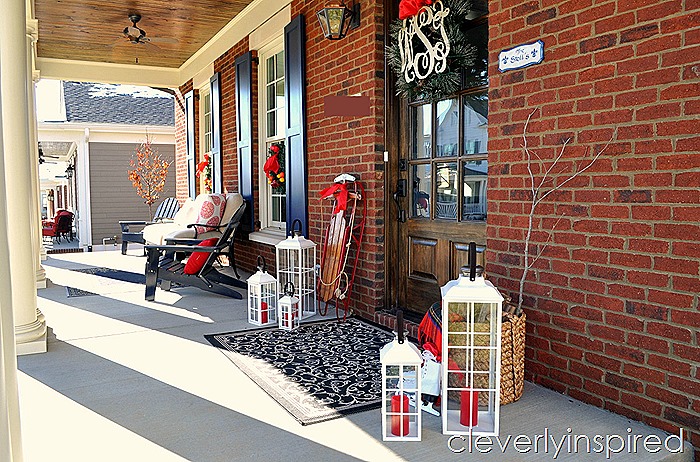 It has been a lot of fun decorating this new space for Christmas. I love to change it up a bit and this is definitely I knew quote old quote style for me.
Happy Thanksgiving week! I will be popping in on instagram and Facebook a bit….see you there:) And if you are new here…welcome! Be sure and look at the past projects on the tabs at the top of the page:)
xo