Eat an elephant. That is what it feels like we have to do every December. Rush to get it all done. That is never fun for anyone….people get grouchy…grouchy is not fun. Here is a list I compiled of for the month of November. Feel free to swap out things that will make it more helpful to you.  There are 30 days in November….just think…if you crossed one thing off the list everyday…you may just be able to really enjoy the best parts of the holiday….without rushing through it all.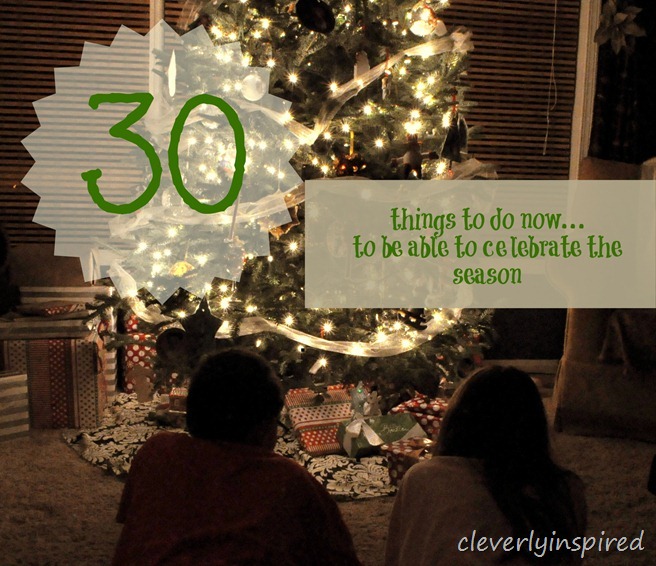 List for November
Pick a picture for holiday cards.

Make a list of gifts to give.

Order holiday cards.

Put up outdoor lights.

Buy teacher gifts.

Buy any hostess gifts.

Wrap teacher gifts and hostess gifts.

Purchase 5 gifts on your list.

Create a calendar for everyone to view of seasons "events"

Clean up the room where the Christmas tree will be.

Address holiday cards.

Prepare

advent trinkets

(wrap up books for each day of Dec., or make an Advent chain..)

Stamp holiday cards.

Decide on any handmade gifts. Order or purchase things to make them.

Decorate the foyer.

Decorate the mantle.

Purchase 5 more gifts on your list.

Purchase gingerbread houses to decorate.

Make sure to locate Christmas ornaments.

Purchase 5 more gifts on your list.

Online shopping night to knock out rest of gifts.

Take an afternoon and wrap gifts.

Put up Christmas tree.

Decorate tree.

Be sure to have any baking ingredients.

Put a baking day on the family schedule.

Wrap up and prepare shipping any packages that will be mailed.

Mail holiday cards.

Prepare and freeze appetizers for any last minute guest.
Doesn't sound so bad huh?? One thing everyday…to get er done !

Comments
comments