I realized the other day when I was trying to get rid of some pictures on my computer that I never shared with you this simple woodworking project that we did in Emily's room this past summer. She has a small little nook in her room that we weren't really sure what we would do with it. Originally we thought that a dresser may fit well in this space but the window frame is a little too close and does not allow much room especially if you have to open a drawer. So what we thought we would do is build a small floating shelf to have a little makeup area.  It's nice because it's right next to the window so it provides some natural light. Pretty easy project and a great use of a odd little nook area.
(color on the walls in her room is Ballet Slippers by Valspar. We used rustoleum Weathered Grey stain for the shelf.)
There are a ton of projects out there that are very similar. This is a great first DIY to try. Here is what you will need to build this floating shelf…
piece of pine (ours was 10 deep by 3/4 thick) cut to the width of your opening
our support pieces are 1×2 pine (a piece for the back, then 1 for each side support)
screws
stud finder
measure tape
level
Start by "dry fitting" your shelf into the space to be sure it is cut correctly.
Measure, cut and screw the back 1×2 into the wall where you want to the shelf to sit keeping in mind the shelf will sit ON TOP of the support.
Measure, cut and screw the side supports in the wall
Stain the shelf and the front ledge.
Using a air gun or finishing nails, attach the ledge to the front of the shelf.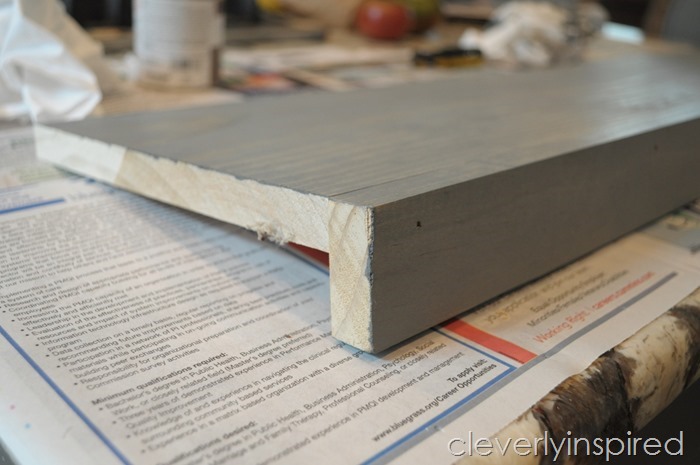 sit the shelf on the supports and screw into back support on the corners so that shelf it secure.
That is it! A great way to make a small little nook have a bunch of purpose!
Looking for some fabric for her windows now….I probably should get to that huh…lived here for almost 2 years;)