Even though it seems that fall and summer have swapped places (not cool by the way Mother Nature…not cool….) It hasn't stopped me from decorating the front porch a bit for fall. And so begins the story of the rocker…not the kind of rocker…like head-banger rocker…not that I am not cool with that or anything…but this kind of rocker…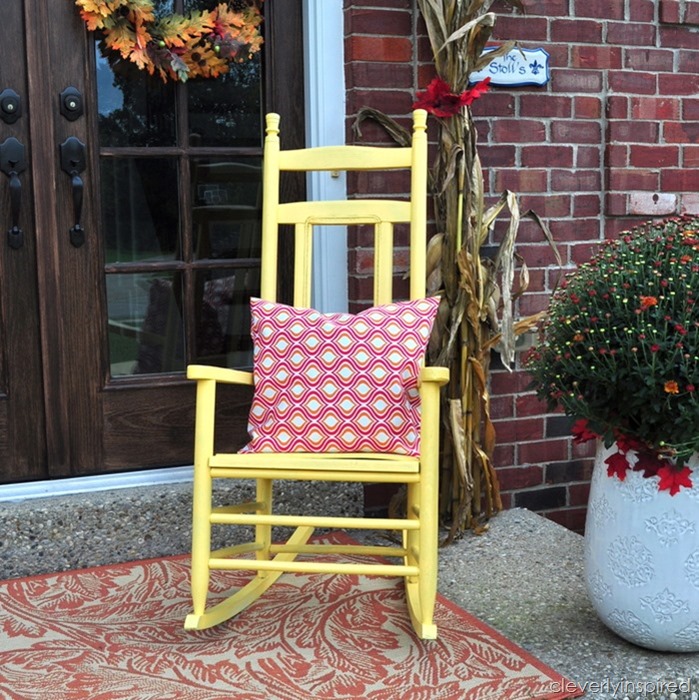 Text from my friend Lauren:
L: "Did you see that rocker on the side of the road?" (in our neighborhood)

Me: "Yes, but I am already late for my appointment…drats…"

L: "If it is still there when I am on my way home I will pick it up for you."

Me: "That would be completely awesome…"
Next thing I know this little lady is in my garage…hand delivered. My friends rock.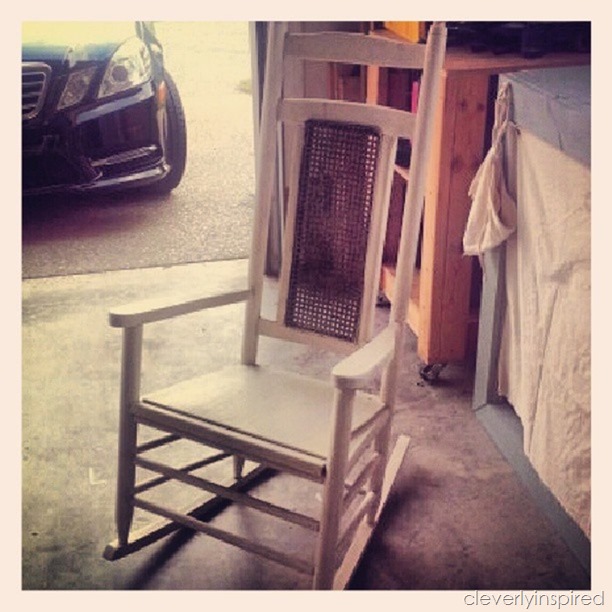 I had no clue what I was going to use it for….but I knew I liked it. (Come to find out this rocker belonged to another friend of mine that is in our bunco group…) Anywho, It was in need of a little love…the caning on the back was ripped and paint was chipping…but it was still really useful.
Then I thought it would look really sweet painted yellow…with a cute fall pillow on the seat…and it would fit in perfectly on the front porch. I went to work…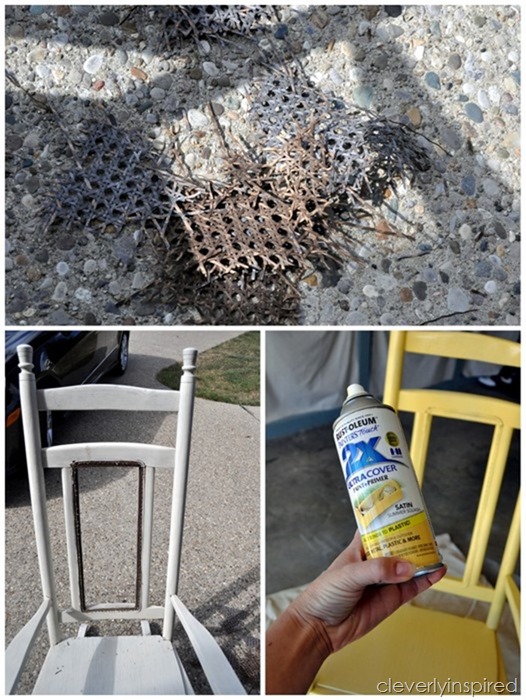 I took all the caning out…I was originally going to try and replace it…but it wouldn't budge. I ended up using a sharp razor blade and cutting it all away. I used a sander to get rid of the sharp edges. Then I wiped the whole chair off with some Krud Cutter. Now it was ready for paint…a couple of coats and she's good as new.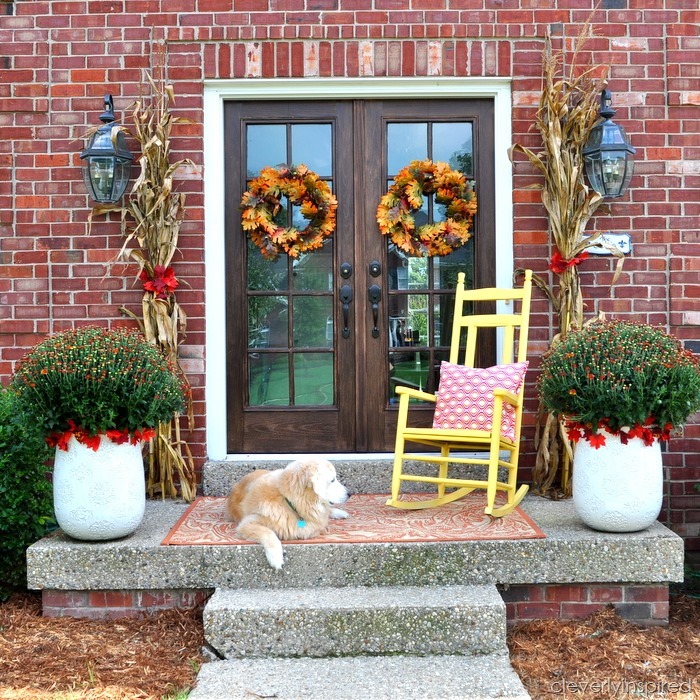 (Putter sees a bird….but yet…too lazy to go get it….I hear ya Putt…takes too much energy…)
Some corn stalks, mums and fall leaves around the pots make my wreaths on the door that much more special.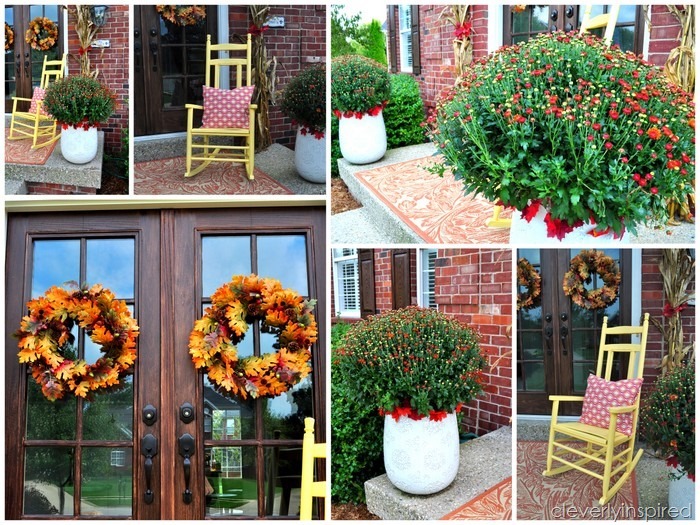 So note to self: Keep friends around who encourage your crazy passions…:) They are gems…:)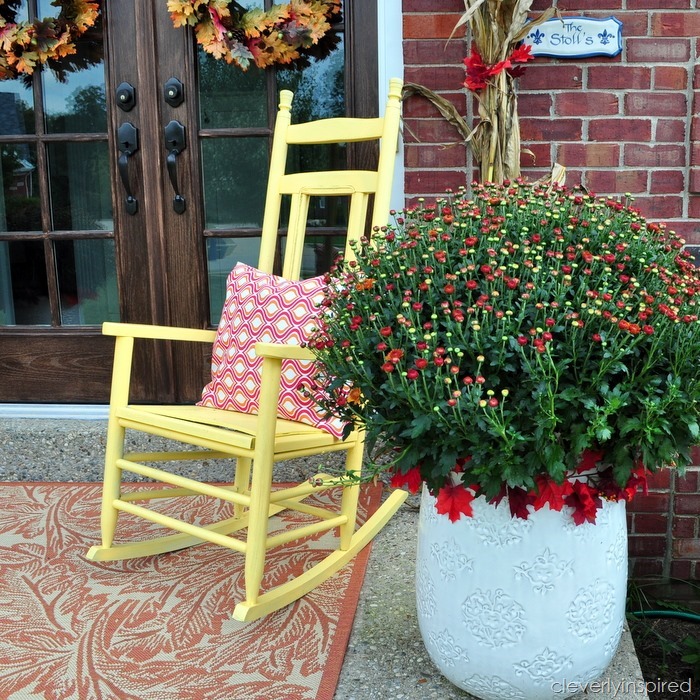 (the pillow is just fabric covering my summer pillow….I'm super lazy like that…shhhhh don't tell….) Oh and I swapped out the summer rug for a more fall-like one (Overstock.com)…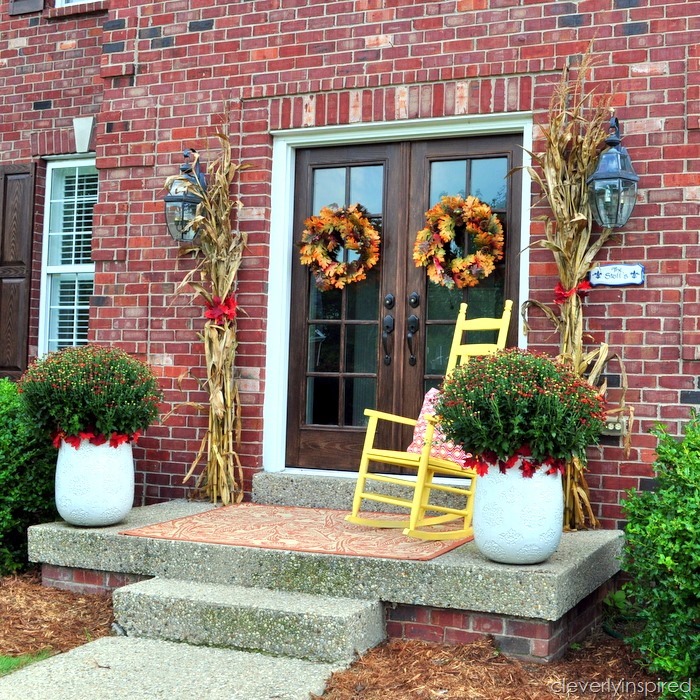 It even looks pretty from the inside….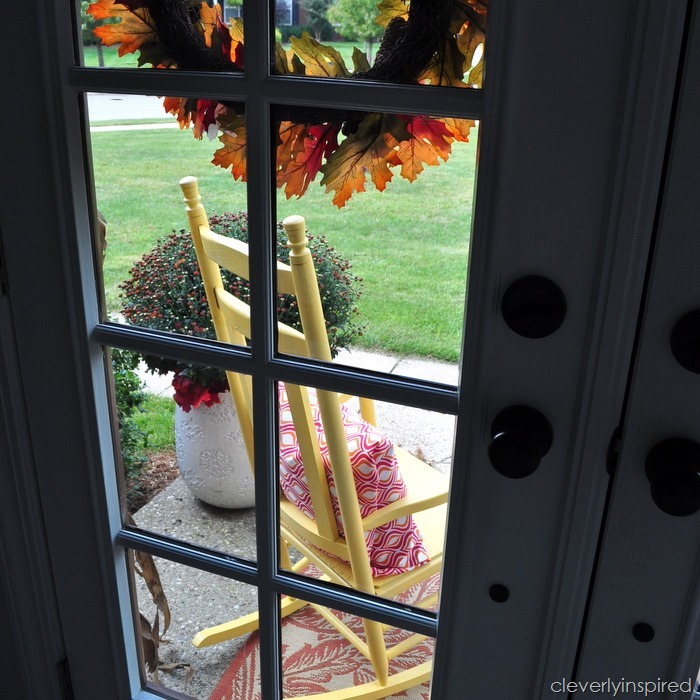 Even though summer seemed so short…I am ready for fall. I love the crisp nights, jeans and boots..scarves and fires in the fireplace….bring it;)
Have a great weekend friends!!