January is normally clean up month—the hustle and bustle of the holidays are behind us and we all feel like simplifying. I was asked to participate in a "get clean" blog hop. Lots of fabulous ideas will be shared (please click through on some of the great ideas below my post)….cleaning, diy, storage, organizing….all of it aimed to help you get your clean on! :)
I wanted to share with you an easy way to shed a bit more favorable lighting. I really do think it can make or break the start to your day—begin with a positive—and hopefully that will be the direction for your entire day.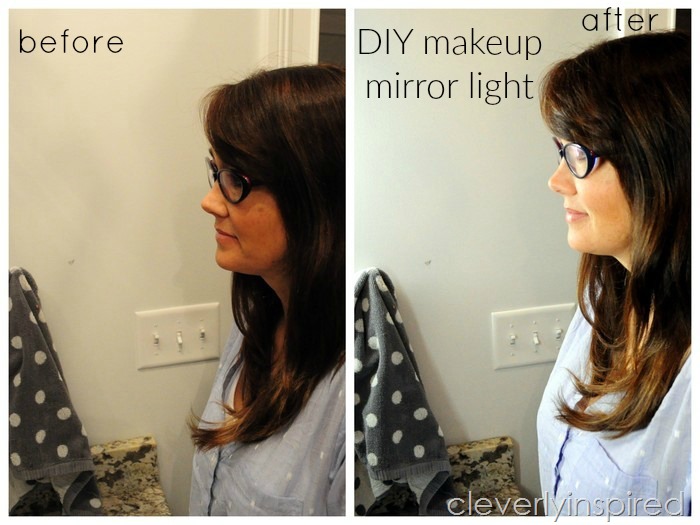 I fell hard for these fabulous pendant lights that we put in our new home. They were so elegant and I loved the light reflection on the wall—what I did not think about was that they made terrible task lighting in the bathroom.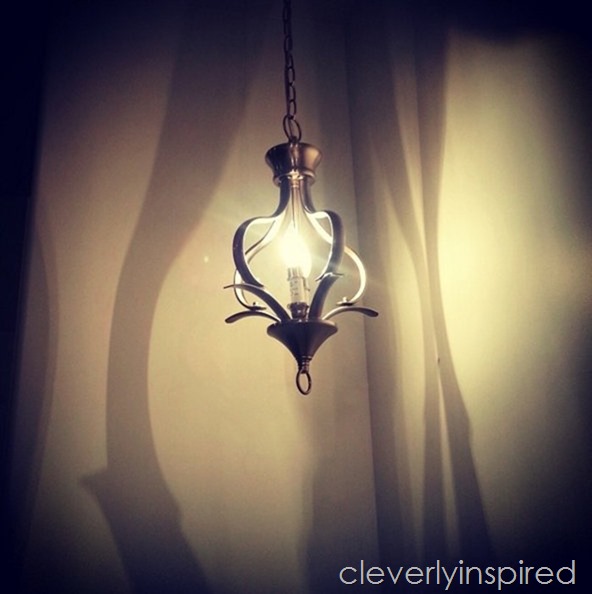 I needed to have a clearer truer light that was more direct…so that I could clearly see all the wrinkles…err I mean makeup;) I set out to see what was available for "makeup mirrors"…and I was kind of disappointed with what I found. They were all pretty expensive…and not all that large. I really wanted the light to be even and clear. See the lighting below is casting a bit of a dull glow….not very flattering….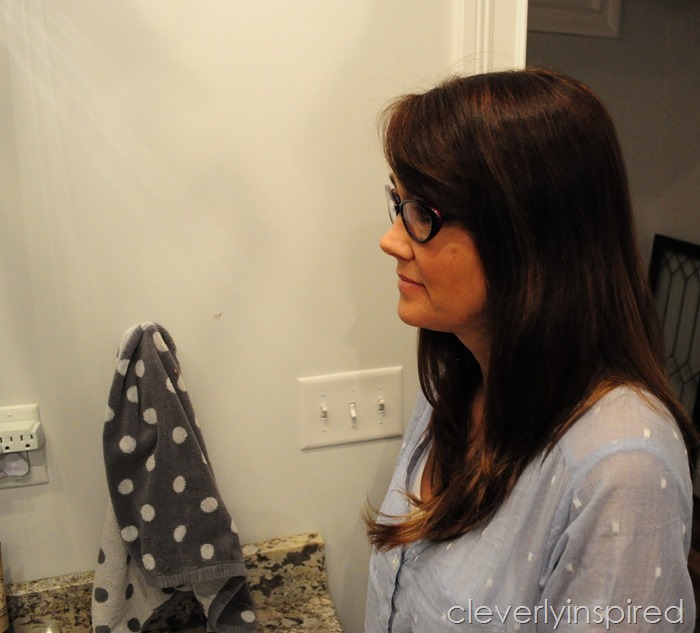 What I decided to use was a bit unconventional but works exactly as I had planned. I used cool white under cabinet lights (very similar to these)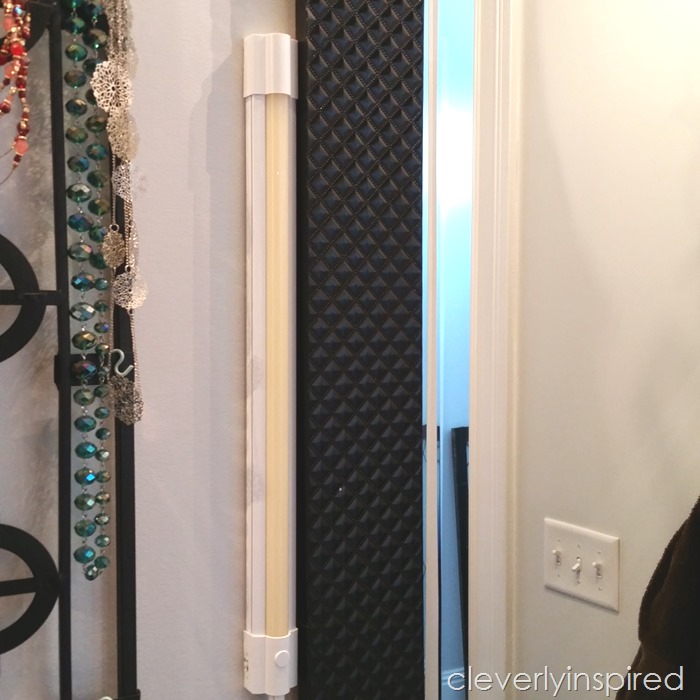 Just installed with a simple screw and some command double sided tape on the bottom….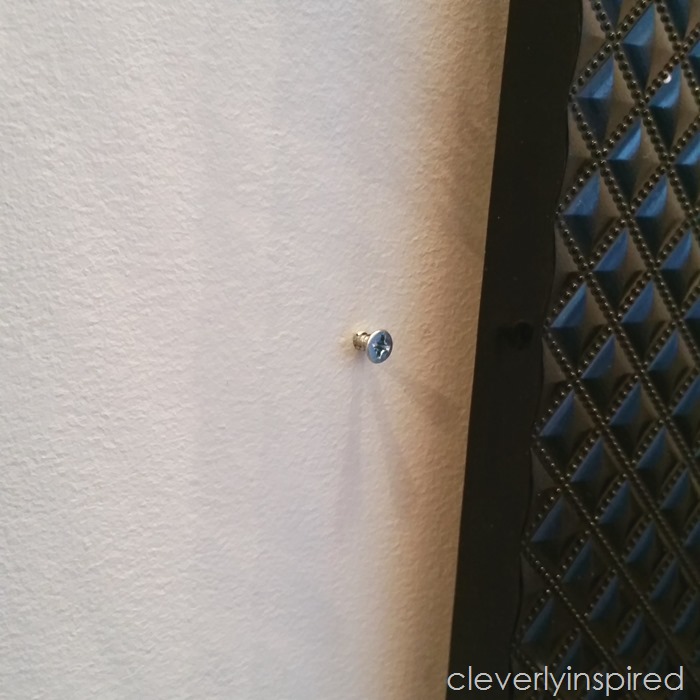 Now the light is so clear—-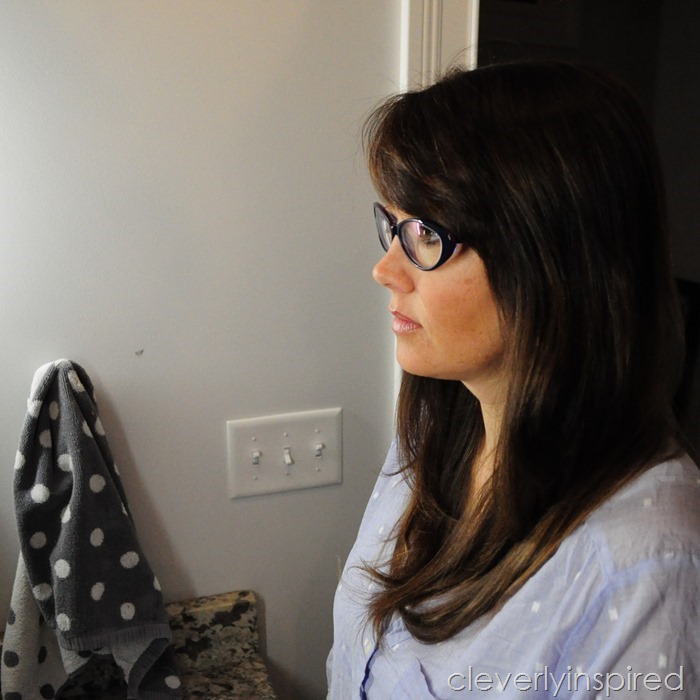 I was able to install 2 lights…one on each of my mirror for about $40. Not too bad considering most of the makeup mirrors with decent lights will set you back about $50 and are not nearly as large.
A great weekend project and one that will have you starting your day a bit brighter:) Also, another sidenote…many of you were looking for the Norwex link….it is now on the side bar so just click on the pic and you can order. Let me know if you have any problems:)
Check out these great cleaning and organizing ideas:
SUNDAY – CLEAN AND ORGANIZATION PRINTABLES
Domestically Speaking | Simply Designing | Hymns and Verses
Fresh Idea Studio | Decor Adventures
MONDAY – CLEANING TIPS & RECIPES
Refresh Restyle | Cupcakes and Crinoline | Stone Gable
What Meegan Makes | My Uncommon Slice of Suburbia
TUESDAY – KITCHEN ORGANIZATION AND DIY PROJECTS
Postcards from the Ridge | H2O Bungalow
Yesterday on Tuesday | Inspiration for Moms
WEDNESDAY – BATHROOM ORGANIZATION AND DIY PROJECTS
Petticoat Junktion | Redhead Can Decorate
The Silly Pearl | Cleverly Inspired
THURSDAY – LAUNDRY ROOM ORGANIZATION AND DIY PROJECTS
The Interior Frugalista | Setting for Four
FRIDAY – PANTRY & LINEN CLOSET ORGANIZATION AND DIY PROJECTS
Dukes and Duchesses | Organized Island
Occasionally Craft | Organize and Decorate Everything
Here is another great post about organizing the bathroom:)