The other day I had probably the most difficult discussion with my husband in our 19 years of marriage.  It was a topic that has been weighing on my heart for some time now. I've had visions of how to approach it and the delicate words that need to be strung together for the conversation to go just right. It was a warm Saturday afternoon. We had just gotten back from walking are pup. Carelessly laughing about something random. This was my opportunity. I needed to get it off my chest……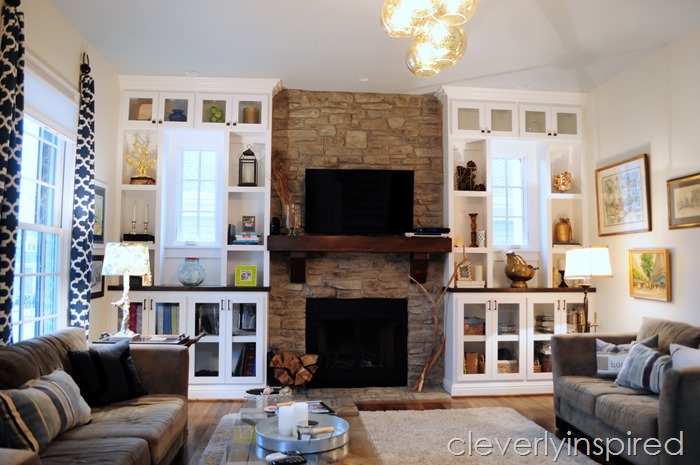 The TV in the family room needed to be covered up. I couldn't live with it anymore. I had been secretly collecting photos and inspirational pictures on houzzz for the past 6 months….such a cheater am I.  I couldn't keep it a secret any longer. My plan needed to come to fruition. The black hole that takes away so much from my stately cedar mantel and stone work….it needed to be covered. I had a plan and I just needed to help him see my vision. Why you ask do I hate this so? I can't tell you. I really don't know. All I know is that 25% of the time in this room we're watching TV and the other 75% of the time I'm staring at this ugly black television just thinking of all of the decorating I'm missing out on (I know….I have issues, carry on….) I'm starting to really think about it too much…. let's just say borderline obsessed. I'm obsessed with being able to style it or at least make it look like it belongs. The problem is in this room this is really the only spot for a TV. I do like the TV on sometimes…I am American after all;) We need a TV in here and I get that. I just really want it to be hidden when we're not using it. So I stated my case….and he began to see my vision…..Love that guy… after we had discussed it and thought about possibly building it ourselves we decided to hire out this project. Our carpenter enjoys working with reclaimed lumber and has the same kind of vision that we do. After sketching a few things out I showed him a few of these images that I had collected and we were off and running…..Here are few examples….
Our tv cabinet is built and we are so excited to see it installed! A few of the criteria's that we wanted to  consider….the unit needed to be removable in case we needed to get a new tv in there.   Another consideration was to be sure that the doors would open the entire way….so that all could view from any seat.
I am so excited that we will have some doors to close. You know what goes really nice on a door wreath! Heck yeah you know where I'm going with this! I can't wait to show you…I will snap some pics this weekend! Or maybe I'll just fill the spot with books;)…
Have a great weekend!
xo