Hi yall! Hope you had a great weekend. We went up to Dayton…apparently it's been 20 years since we graduated. It is so hard to get my head around that….seriously seems like we were there yesterday. It was so much fun to catch up in person. We called it "facebook live"…it was funny because with the invention of Facebook….you kind of take all that "small talk" stuff out of the way already. It was really kind of nice:) I do love my Flyer family and Bill and I both look forward to going back for our next reunion. It always feels like going home….good times;)
Today I wanted to pop in and share a fabulously easy potato salad recipe. My Nana made an amazing potato salad…this one is not quite as labor intensive as hers. It is great to whip up for a summer picnic and will please your whole crowd. Have a great Monday!!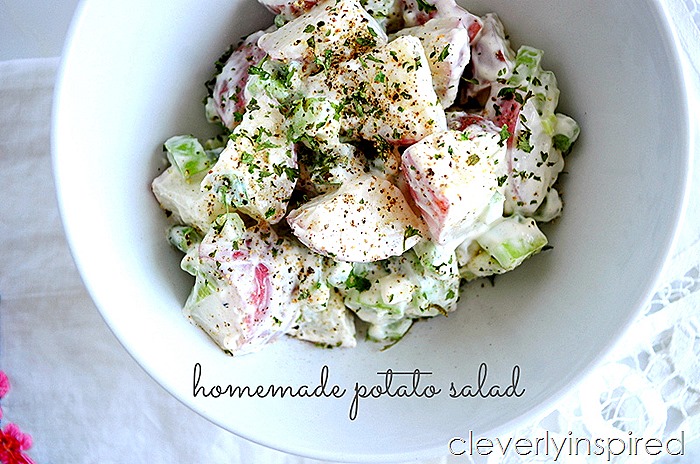 You want to be sure to use red potatoes for this recipe. They hold up nicely when cold…mealy potatoes are a yucko!! Also helps to cut them in uniform shape so that they cook fairly even.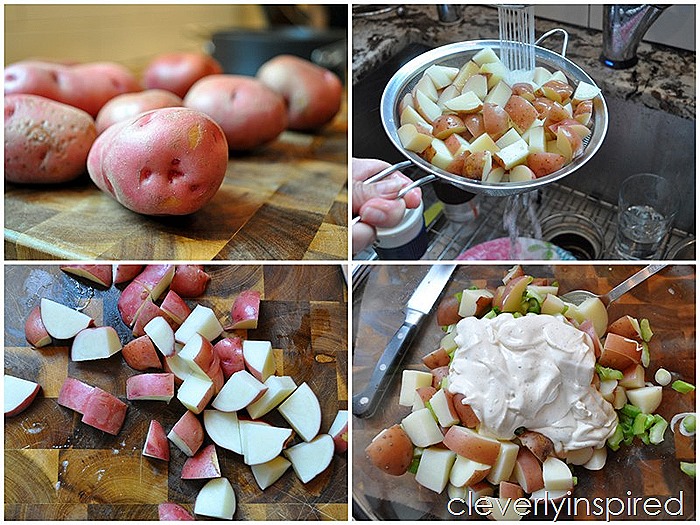 I placed the quartered potatoes into boiling water and let them simmer for about 9 minutes. When you can poke the potato with a fork and the potato slides off….that is when they are done. Not too tender…not too hard….the goldilocks of potato doneness if you will…..;)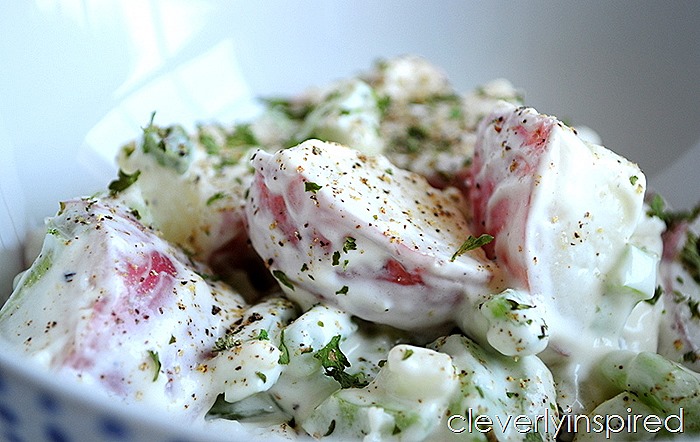 Best served up when the salad has had proper chill time:)

Easy Homemade Potato Salad
Author:
Tracie at CleverlyInspired
Ingredients
10 med red potatoes cubed
1 bunch green onion chopped
3 stalks celery chopped
1 c mayo
1 T sour cream
1 tsp salt
1 tsp pepper
1 tsp vinegar
Instructions
Boil large pot of water and add in potatoes
Meanwhile combine in a bowl mayo, sour-cream, salt, pepper, vinegar
Chop celery and set aside.
When potatoes are done (about 8 minutes), drain and rinse with cold water.
Toss potatoes and celery
Toss with dressing.
Chill at least a couple hours. Keeps nicely for about 3 days.
xo
Tracie