It seems that the hit show fixer-upper on HGTV is all the rage. I absolutely love Joanna Gaines's style. It's casual and comfortable but also very put together. I love how she repurposes things and breathes life into spaces with use of old funky things. When we built our house last summer I really wanted to do something kind of funky and interesting in this small powder room that runs off of the back hallway. The flooring is the same throughout which is the wide random plank Hickory floor that is stained the Jacobean color.  My thought was that even though this is a very small space it could pack a big design punch.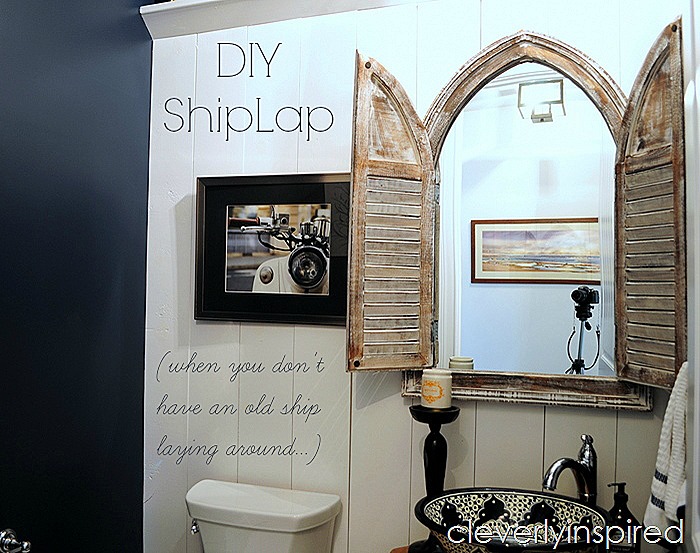 I went searching for table to place a pedestal sink. The sink in this room basically dictated exactly what I ended up doing. I found this beautiful pottery vessel on eBay.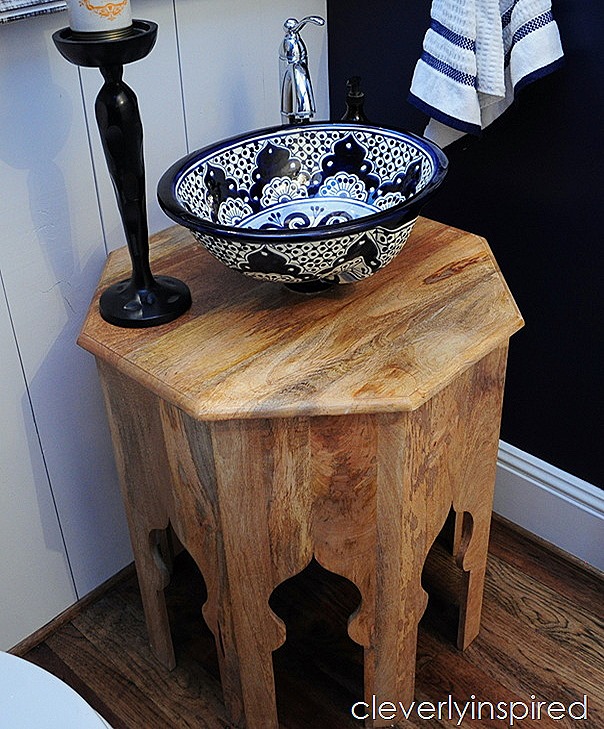 It was made in Mexico and it was a steal at nearly $100. It was the exact blue and white color scheme that I wanted.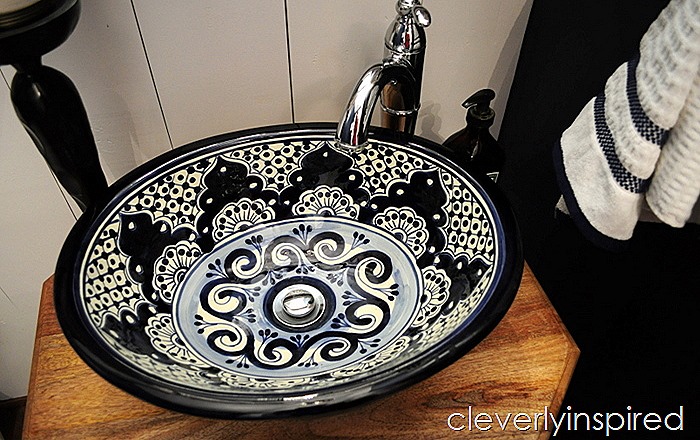 The plumber loved me when I told him that I also found a table at home goods that I needed him to mount the sink on:)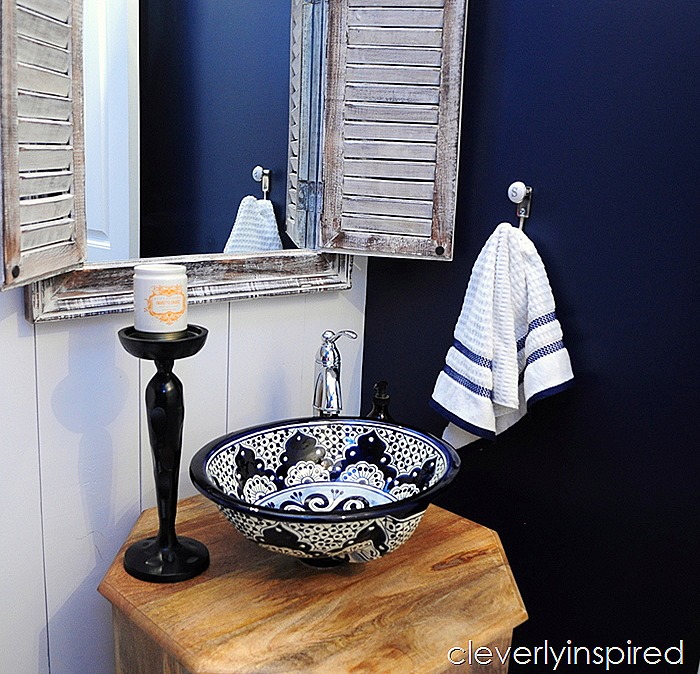 I found the faucet for the vessel sink on build.com…When I saw the sink in person it really made me think of Mexico and I wanted this space to really highlight the beauty of the sink. To do that I thought I could do white pine boards (shiplap;) behind the sink to give another texture. We ended up using 6 inch pine just nailed to the drywall and painted white. The gaps give it a rustic feel….no need to be perfect. The boards look great vertical or horizontal…and they are cheap! Just cut it to size…trim out on the floor with 1/4 round.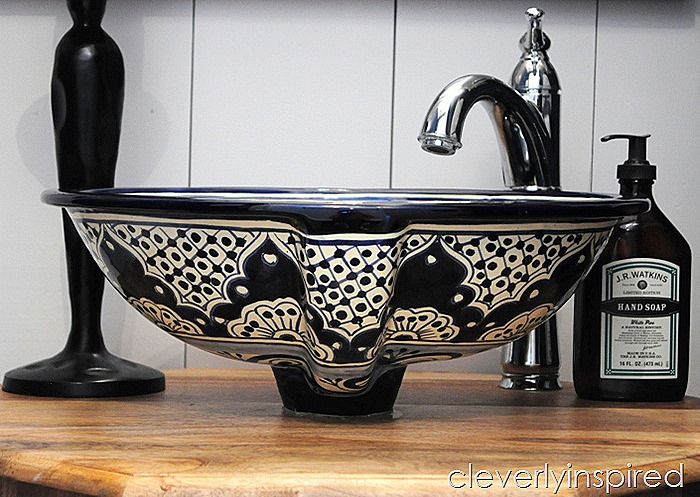 The boards were capped off at the top with a wide molding…perfect for a few picture frames.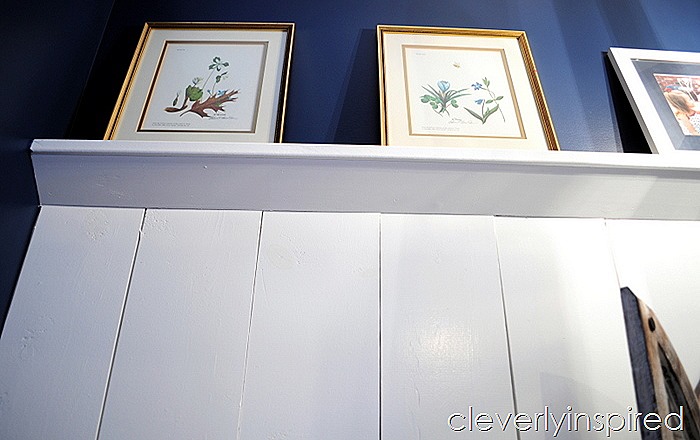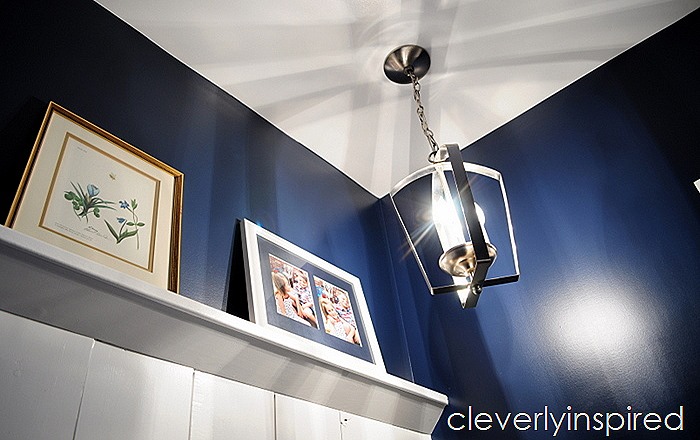 The color on the walls is navel by Sherman Williams. It is a true Navy and goes beautifully with the color of the sink. The mirror also lends itself to kind of a Mexican vibe…. I found it at home goods and scooped it up and have not seen another one since. I still need to do a few other things on the walls but this room with the pine walls has so much character already. And I love now that I can call it shiplap and pretend that I am Joanna gains in some form or another.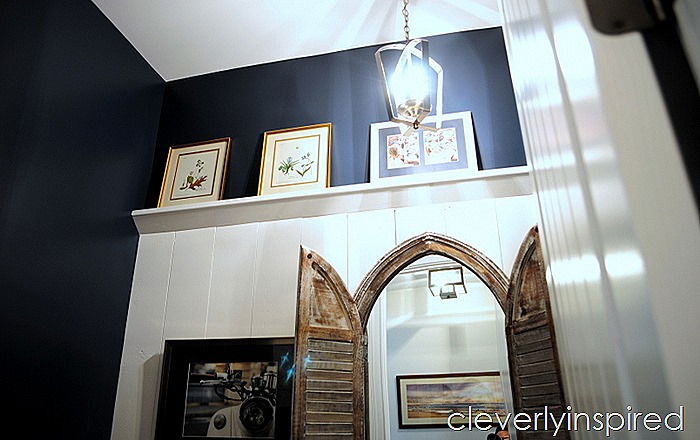 Have you thought of using pine boards in your home at all? We used them in a few other spaces…I will show you soon:)
Here are a few other post about this space…
Also….some fun news!! I will be co-hosting the Handmade Hangout each and every Thursday with these lovely ladies….Every week bloggers can link up their most amazing current projects…and every week I will be picking a few to feature. It is a great way to find new inspiration…and if you a new blogger it is a great way to get yourself out there and be seen!! Link up every Thursday evening at 6:00pm EST. Check out my fellow co-host below….they are all seasoned bloggers who share awesomeness daily:)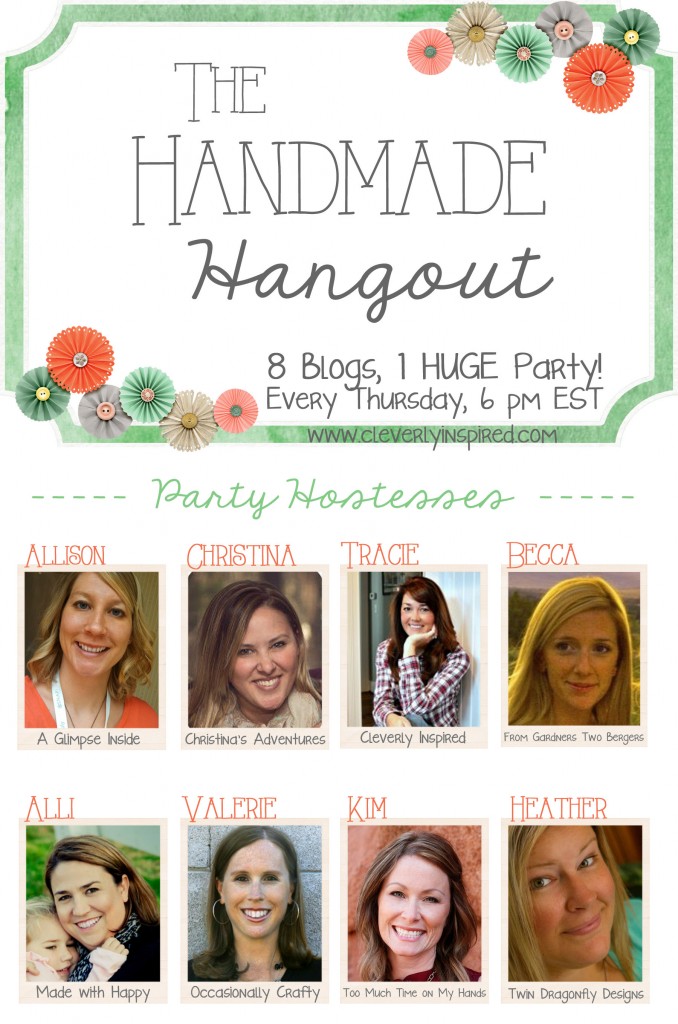 Allison from A Glimpse Inside
Blog – Facebook – Pinterest – Instagram – Twitter – Google+
Christina from Christina's Adventures
Blog – Facebook – Pinterest – Instagram – Twitter – Google+
Becca from From Gardners to Bergers
Blog – Facebook – Pinterest – Twitter – Hometalk – Google+
Beth from Farm Fresh Vintage Finds
Blog – Facebook – Pinterest – Twitter – Instagram
Kim from Too Much Time on My Hands
Blog – Facebook – Twitter – Pinterest – Google+ – Hometalk – Instagram – Bloglovin
Heather from Twin Dragonfly Designs
Blog – Facebook – Twitter – Pinterest – Google+ – Instagram
Valerie from Occasionally Crafty
Blog – Facebook – Twitter – Pinterest – Google+ – Instagram – Hometalk
Tracie from Cleverly Inspired
Blog – Facebook – Twitter – Pinterest – Google+ – Instagram – YouTube – Food Gawker
Alli from Made with HAPPY
Blog – Facebook – Twitter – Pinterest – Google+ – Instagram – Hometalk – YouTube – Bloglovin